Hillary Clinton mocks Trump for failing to press his demand for wall on Mexico border
Trump's plan to build a wall and a strong deportation policy would rip the country apart and is not in tune with the values of the nation, the former secretary of state said.
Washington: Republican presidential candidate Donald Trump "choked" while meeting with Mexican President Enrique Pena Nieto as he failed to press on his promise of making Mexico build a wall along the US' southern border, his Democratic rival Hillary Clinton alleged on Thursday.
"When it comes to the wall that Donald talks about building, he went to Mexico, had a meeting with the Mexican president but did not even raise it, he choked and then got into a Twitter war because the Mexican president said we are not paying for that wall," Clinton, 68, said during the third and final presidential debate in Washington.
Trump's plan to build a wall and a strong deportation policy would rip the country apart and is not in tune with the values of the nation, the former secretary of state said.
"We are both a nation of immigrants and we are a nation of laws and that we can act accordingly. And that is why I am introducing comprehensive immigration reform within the first 100 days with the path to citizenship," Clinton said.
Trump, 70, refuted Clinton's allegations, saying "I had a very good meeting with the President of Mexico. Very nice man. We will be doing very much better with Mexico on trade deals. The NAFTA deal signed by her husband is one of the worst deals ever made of any kind, signed by anybody. It is a disaster".
"Hillary Clinton wanted the wall. Hillary Clinton fought for the wall in 2006 or thereabouts. Now, she never gets anything done, so naturally the wall was not built. But Hillary Clinton wanted the wall," Trump claimed. He alleged that Clinton wants to give amnesty.
"This is a disaster and very unfair to all of the people that are waiting on line for many, many years. We need strong borders. Illegal immigrants are coming to the country and many of them are engaged in criminal activities. They are coming in illegally. Drugs are pouring in through the border. We have no country if we have no border," the business tycoon said. "Hillary wants to give amnesty. She wants to have open borders. I want to build the wall. We need the wall. And the Border Patrol, ICE, they all want the wall. We stop the drugs. We shore up the border.
"One of my first acts will be to get all of the drug lords, all of the bad ones - we have some bad, bad people in this country that have to go out. We are going to get them out, we are going to secure the border. And once the border is secured, at a later date, we will make a determination as to the rest. But we have some bad hombres here and we are going to get them out," Trump said.
Clinton said she does not want to be sending parents away from children. "I do not want to see the deportation force that Donald has talked about in action in our country. We have 11 million
undocumented people. They have four million American citizen children, 15 million people.
"He said as recently as a few weeks ago in Phoenix that every undocumented person would be subject to deportation. Now, here is what that means. It means you would have to have a massive law enforcement presence where law enforcement officers would be going school to school, home to home, business to business, rounding up people who are undocumented.
We would then have to put them on trains, on buses to get them out of our country," Clinton said. "I think that is an idea that is not in keeping with who we are as a nation. I think it is an idea that would rip our country apart," she said.
Clinton said her comprehensive immigration reform plan of course includes border security. "But I want to put our resources where I think they are most needed: Getting rid of any violent person. Anybody who should be deported, we should deport them," she added.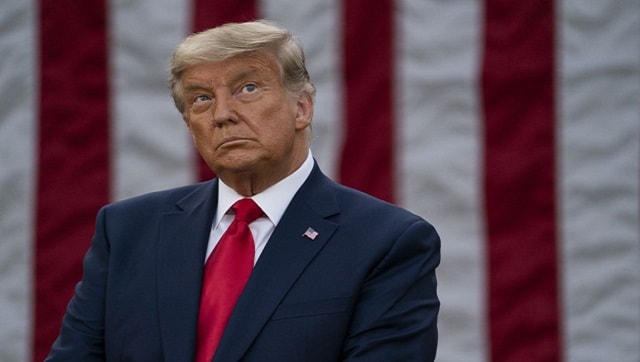 World
Former president Donald Trump has said the official ought to be tried for treason if the report was true
World
The speech Biden delivered sounded much like what he would have said before the Taliban took Kabul, Afghanistan, without resistance, and before the pivot to Asia became a hindrance to relations with Europe
World
The financial drain from a sprawling counterterrorism campaign has been vast, fueling the military's budgets even years after major combat in Afghanistan and Iraq ended