The third presidential debate is long over and the campaign for the US presidential election is in the last leg.
While Republican nominee Donald Trump's presidential race has so far been guided by his vitriolic, misogynist, xenophobic outbursts and often incorrect understanding of state and foreign policies, Democratic presidential nominee Hillary Clinton, despite holding her ground and currently leading the race, is still perceived as "untrustworthy" by a certain section of Americans. The Associated Press reports that Clinton if elected as the President, she will enter the White House as one of the least popular first-term presidents in generations.
And while voting data shows that Clinton is leading in Florida, North Carolina and Maine, Trump is likely to have an edge in the states of Ohio, Iowa and Georgia. Early poll data shows that against Trump and independents Gary Johnson and Jill Stein, Clinton may manage to secure 50 percent of the vote.
As explained on potus2016.org, a candidate needs to win 270 of the 538 electoral votes. Of the 50 states, even though most of the states are either marked blue (Democratic) or red (Republican), it is the battleground states that are often the kingmakers.
What are battleground states?
Every election determines a set of battleground states or purple states whose electoral votes can be a deciding factor for electing the next president. A battleground state which neither has a Democratic nor Republican majority can tip the scale and pick the inner. Apart from the party affiliation, racial, age and economic diversity characterise a battleground state. In fact, campaigners are known to spend on influencing the voters in these states.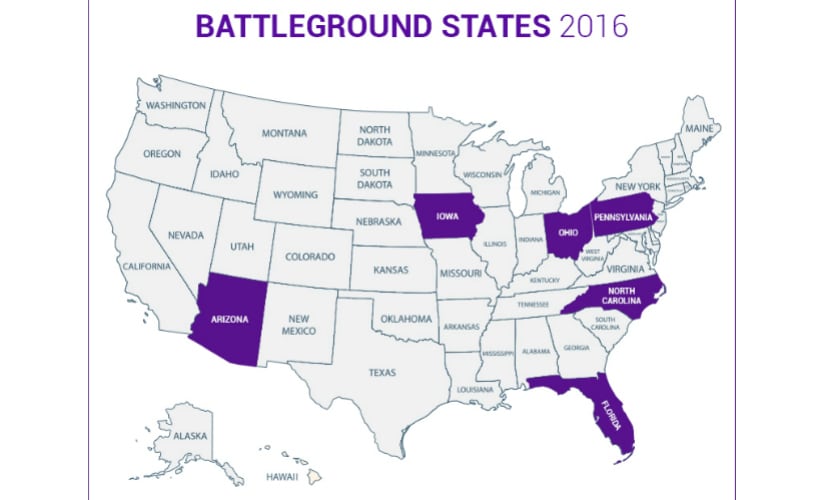 In this highly polarised election, here's why the battleground states will play a major role: After levelling allegations of the election being "rigged," during the third presidential debate when Trump was asked whether he will accept the election results, if he losses, in his trademark belligerent style he had said "will look at it at the time" and "I'll keep you in suspense." Clinton camp is already looking into possibilities in case Trump refuses to concede. To avoid such kind of complication, her team has to ensure a win by a huge margin. A narrow victory would make it more difficult for her to claim substantial political capital at the start of her administration, reported AP. In such a situation, electoral votes of the swing states become extremely crucial.
Even though a dozen states are identified as battleground states, here's a look at some of the crucial states which are projecting a swing in the voting pattern:
Ohio
Early projections show that Trump might be losing ground in Ohio because of the disastrous last few weeks, a state which has been a Republican stronghold. According to The Conversation, "Every successful candidate since 1960 has won Ohio, and no Republican has won without it." In 2008, Barack Obama won the state by four points and The Washington Post had described it as one of the toughest states with its "older and whiter population", in 2012, however, he had sailed through to victory in the battleground state. According to The New York Times, though Trump had the support of the large white population with his "America first" motto, Clinton may be closing in on the gap. The report, however, added that Ohio might not be a game changer if Clinton manages to clinch win in Pennsylvania, Colorado and Virginia.
Pennsylvania
According to Politico, Clinton is leading the state by 6 percent. The report explains that for Trump, Pennsylvania is a must win and that the Republican party has set aside $4.5 million for advertising in the state in the last leg of the election. Historically, Pennsylvania has been a Democrat dominated state and has never voted for a Republican since 1988. The LA Times described the state as the Clinton lynchpin and Philadelphia as the Democratic hot seat. While Trump has appealed to the blue workers, Clinton have to target the African-American voters which helped Obama rake up a margin of half a million votes in 2012, the report added.
North Carolina
In North Carolina, Democrats have moved ahead of Republicans in early voting. According to AP, Clinton will be the next President if she either wins North Carolina or Florida. While Obama had won from North Carolina in 2008, Mitt Romney won in 2012 by a narrow margin. As per Bustle, Obama was the first Democrat to win from North Carolina since 1976 when Jimmy Carter won it. Earlier in March, The Atlantic had reported that job losses in the textile and furniture industries pushed this relatively moderate state to the Republican side with Trump's 'America First' agenda, however, the report added that Democratic black voters are in favour of Clinton.
Florida
The CNN described Florida as "swingiest swing state". The report added these swing voters are mainly young voters with a large population of Hispanics. In the 2000 election, Florida tipped the presidency in favour of George W Bush. The winner was decided after a month-long legal battle. In 2000, the television networks had made a premature call and had announced that Bush had won. Al Gore conceded as Florida was the deciding state. However, it was later announced that the it was too close to call. As per the American law, the situation called for a recount. After a month-long legal tussle, the Supreme Court of America rejected the Florida court's recount order and Gore had to concede once again. Poll data shows that Clinton is leading in this battleground state.
Iowa
This purple state has voted mostly for the Democrats and Obama won this state twice, however, this election Trump seems to be holding ground in Iowa. A look at the swinging nature of Iowa, The Economist reported that in 2000, Al Gore had won the state, the following year Bush won it by 10,000 votes. Even though Obama won both times, this election it will once again be a close fight. The report added that nearly 92 percent of the population in Iowa are white and a majority of them don't have a college degree and since Obama's last win, there has been a "shift against the Democrats".

Arizona
Traditionally, Arizona has been a Republican bastion. The last Democratic President to win this state was Bill Clinton in 1996 and before him it was Harry Truman in 1948, according to the BBC. The report added that the state might go Hillary Clinton's way as the latest poll indicate that she is leading by five percent. Trump's promise of building a border wall with Mexico to stop illegal immigration has not resonated well with the high Hispanic population in the state, Reuters reported. A Reuters/Ipsos opinion poll indicated that 47% of Arizona residents believed that the wall was a "waste of money". The Washington Times explained that "shifting voter demographics" and Trump alienating white women voters have given an edge to Democrats in "states where they didn't stand a chance eight years ago".
Your guide to the latest election news, analysis, commentary, live updates and schedule for Lok Sabha Elections 2019 on firstpost.com/elections. Follow us on Twitter and Instagram or like our Facebook page for updates from all 543 constituencies for the upcoming general elections.
Updated Date: Oct 26, 2016 20:23:51 IST