'Bern'! Confident Hillary declares herself Democratic nominee, even as Sanders fights on
Democratic presidential front-runner Hillary Clinton has asserted that she would secure her party's nomination, even as she is yet to reach 2,383 delegates
Washington: Democratic presidential front-runner Hillary Clinton has asserted that she would secure her party's nomination, even as the former Secretary of State is yet to reach the magic number of 2,383 delegates.
"I will be the nominee for my party. That is already done in effect. There is no way that I won't be," Clinton told CNN in an interview on Thursday.
However, Clinton is yet to reach the coveted figure of 2,383 delegates required to become the nominee of the Democratic Party for the November presidential election and face presumptive Republican nominee Donald Trump.
She currently has 2,293 delegates, while her primary rival Vermont Senator Bernie Sanders has 1,533. Sanders, however, has refused to leave the race and says he would fight till the last vote in the primary election is cast till early June.
But political pundits believe Clinton is on her way to become the first woman to be nominated as a presidential candidate of a major US party.
The Sanders campaign was quick to criticise Clinton for claiming to becoming the nominee even as she doesn't have enough delegates.
"In the past three weeks, voters in Indiana, West Virginia and Oregon respectfully disagreed with Secretary Clinton. We expect voters in the remaining eight contests to also disagree," said Michael Briggs, spokesman of the Sanders' campaign.
"And with almost every national and state poll showing Senator Sanders doing much, much better than Secretary Clinton against Donald Trump, it is clear that millions of Americans have growing doubts about the Clinton campaign," Briggs said.
But, in her interview to the CNN, Clinton exuded confidence that she would be the nominee of the party as the numbers and the math are on her side.
"I am confident. Well, in part from my own experience, you know?" she said when asked where from she was getting the confidence. "I went all the way to the end against then Senator Obama. I won nine out of the last 12 contests. Back in 2008, I won Indiana, Kentucky, West Virginia, so I know the intense feelings that arise, particularly among your supporters as you go toward the end. But, we both were following the same rules, just as both Senator Sanders and I are following the same rules," she explained.
"I'm three million votes ahead of him, and I have an insurmountable lead in pledged delegates, and I am confident that just as I did with Senator Obama, where I said, you know what? It was really much closer than it is between me and Senator Sanders right," she asserted.
"I worked really hard to make the case, as I'm sure Senator Sanders will, that whatever differences we might have, they pale in comparison to the presumptive nominee of the Republican party. Name an issue you care about, domestic or international, and clearly we are much closer — Senator Sanders supporters and mine, than either of us is with Donald Trump," Clinton said.
"Look what Trump has done just in the last week. He's attacked our closest ally, Great Britain. He has praised the reckless dictator in North Korea. He has said we should pull out of NATO, our strongest military alliance. He has advocated for more countries having nuclear weapons," she said.
By his dangerous rhetoric, Trump is being used to, essentially, be a recruiter for more people to join the cause of terrorism, she claimed.
"I think if you go through many of his irresponsible, reckless, dangerous comments, it's not just somebody saying something off the cuff; we all misstate things. We all may not be as careful in phrasing what we say. This is a pattern. It's a pattern that has gone on now for months, and it's a pattern that adds up, in my opinion, having watched presidents, having seen the incredibly difficult work that they do, and the decisions that they have to make, the thinking that goes in — sitting in the Situation Room," she said.
"Do we go after Bin Laden, or not? I was part of that. Was it a clear easy choice? Of course not. Did it have to be carefully parsed, and analysed, and then we all gave our opinions, but it was up to the President to decide. I know how hard this job is, and I know that we need steadiness, as well as strength and smarts in it, and I have concluded that he is not qualified to be President of the United States," Clinton said.
Hours later, the real estate tycoon fired back by asking the former secretary of state who are responsible for the Egyptian plane crash, an incident being described by some as an act of terror.
"Ask Hillary who blew up the plane last night — another terrible, but preventable tragedy," Trump said in a statement.
"She has bad judgement and is unfit to serve as President at this delicate and difficult time in our country's history. The fact that Hillary thinks the temporary Muslim ban, which she calls the "Muslim ban", promotes terrorism, proves Bernie Sanders was correct when he said she is not qualified to be President," the presumptive Republican nominee said.
"Look at the carnage all over the world including the World Trade Centre, San Bernardino, Paris, the USS Cole, Brussels and an unlimited number of other places. She and our totally ignorant President won't even use the term radical Islamic terrorism," he alleged.
World
NATO is urging China to join international efforts to limit the spread of nuclear weapons amid concerns that the country is rapidly developing missiles capable of carrying atomic warheads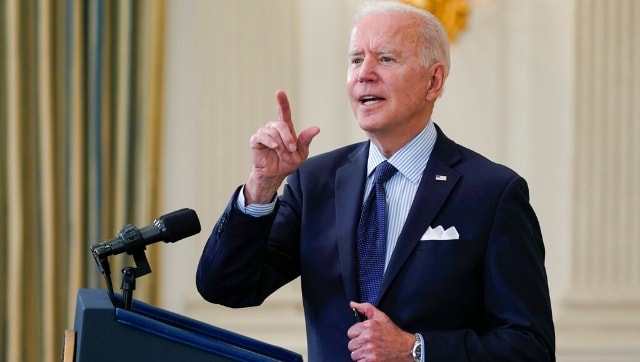 World
The remark comes in the wake of the announcement of the formation of a new interim government in Kabul by the Taliban
Entertainment
The Netflix documentary paints Muhammad Ali and Malcolm X as unhinged victims, rather than powerful narrators, of the black rage lining the periphery of America's White Supremacist movement.