Highlights - Excerpts from interview with U.S. Senate leader McConnell
WASHINGTON (Reuters) - Here are highlights from a wide-ranging Reuters interview on Wednesday with U.S. Senate Republican Leader Mitch McConnell.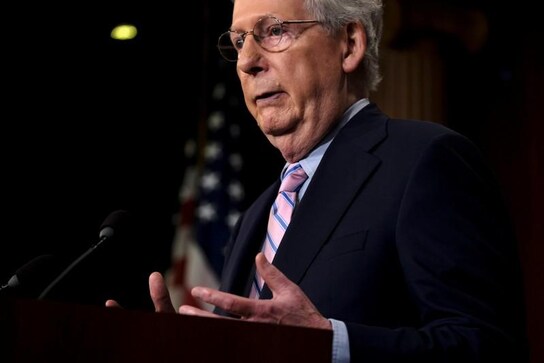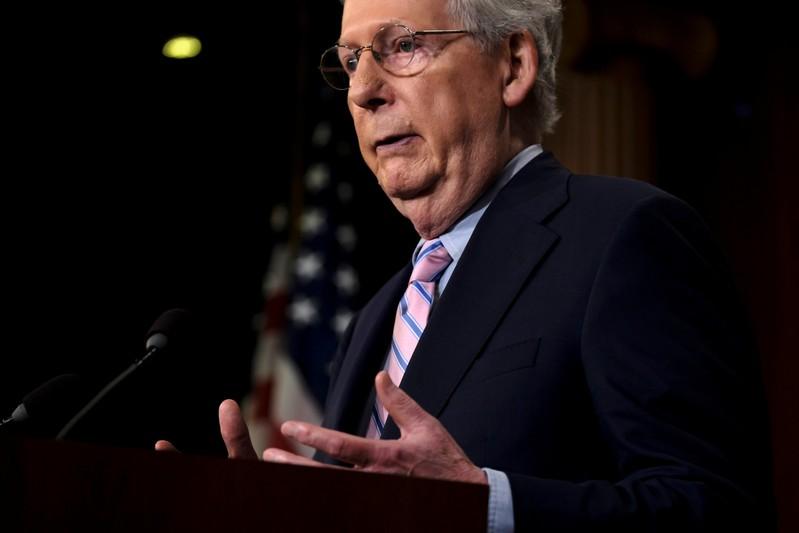 WASHINGTON (Reuters) - Here are highlights from a wide-ranging Reuters interview on Wednesday with U.S. Senate Republican Leader Mitch McConnell.
'KNIFE FIGHT' NOVEMBER ELECTIONS, KAVANAUGH
On the upcoming Nov. 6 U.S. congressional elections and the recent bitter struggle over the confirmation of U.S. Supreme Court Justice Brett Kavanaugh, McConnell said:
"We all know and have known for months that the Democrats are sky-high in their enthusiasm to participate in the election.
"The real question for us was, 'Were we going to be enthusiastic?' And I think, while nobody could have predicted it at the time, the confirmation fight over Justice Kavanaugh did in fact produce that. ... I'm optimistic we're going to match them on enthusiasm.
"You still have to win it race by race. As of right now we have the following races that are basically cliffhangers: Arizona, Nevada, Montana, North Dakota, Missouri, Indiana, Tennessee and Florida. ... Every one of these races is kind of like a knife fight in an alley."
RUSSIA, MUELLER, ROSENSTEIN
On U.S. relations with Russia and the ongoing investigation into Russia's role in the 2016 U.S. presidential election, as well as possible collusion between President Donald Trump's campaign and Moscow:
Russia is "up to no good everywhere, everywhere. And certainly here as well. And they are not our friends."
On the investigation led by Special Counsel Robert Mueller: "There's no indication there's going to be any interruption of that until completion, and we're all anxious to find out what he has to say. ... I don't think there's any threat to Mueller finishing his job."
On whether Trump might fire Deputy Attorney General Rod Rosenstein, who is supervising Mueller: "I don't think he's going to do that. I don't think that would be in his own best interest, and I don't expect him to do that."
TRADE
On trade tensions between the United States and other countries: "The tariffs are beginning to have some impact in a negative way so I hope that we make some progress quickly on some of these other fronts, in particular with China."
"If the end result of this is better trading relationships with all of these countries, particularly if it happens sooner rather than later, I think it would be great."
China "has been eating our lunch for years."
OBAMACARE
On Republicans possibly revisiting their failed attempt of 2017 to repeal the Affordable Care Act, the healthcare law dubbed Obamacare: "I think whether that is possible would depend on the outcome of the election."
"If we had the votes to completely start over, we'd do it. But that depends on what happens in a couple weeks."
ECONOMY
"I'll be happy to comment on the economy. I think it's red hot. We have the lowest unemployment in 50 years and I believe the steps that we've taken on tax reform and regulatory changes and revisions to Dodd-Frank have all contributed to the robust growth that we're experiencing."
FARM BILL
On pending congressional action on funding for programs ranging from food aid and crop subsidies to rural development and conservation: "We have to finish the farm bill. We can't let that go into next year. Farm country is not in great shape."
TRUMP CHALLENGER IN 2020?
On whether Trump will face a challenge from within his own party when he runs for re-election in 2020: "I would seriously doubt it."
TRUMP'S TWEETS
On whether he still urges Trump, with whom he speaks regularly, to cut back on his Twitter use: "I've given up on that."
(Reporting by Washington newsroom; Writing by Doina Chiacu; Editing by Kevin Drawbaugh and Will Dunham)
This story has not been edited by Firstpost staff and is generated by auto-feed.
World
BAGHDAD (Reuters) - Rockets hit near U.S. forces and contractors in Iraq on Wednesday, including an air base north of Baghdad and a military base at Baghdad International Airport, the Iraqi army and security officials said. The army reported at least three rockets hit Balad air base, where U.S
World
By Silvia Ognibene and Silvia Aloisi FLORENCE, Italy (Reuters) -Italian police have arrested a Chinese couple accused of running a leather goods business which exploited immigrant workers it employed to make handbags for a Burberry supplier, according to an arrest warrant seen by Reuters. Tax police in Florence said in a statement that the two Chinese nationals were arrested on Wednesday as part of an investigation into alleged labour exploitation and tax fraud and that restrictive measures had been imposed on two other family members, including a ban on them leaving Italy
World
WASHINGTON (Reuters) - The United States on Wednesday blacklisted four Nicaraguans, including a daughter of President Daniel Ortega, as Washington warned it would continue to use diplomatic and economic tools against members of the leftist government engaged in repression. The U.S. State Department called on Ortega to release detained presidential candidates as well as other civil society and opposition leaders arrested over the past week in what Washington called "an increasing wave of repression." "There are costs for those who are complicit in the regime's repression.