Hezbollah leader says group will stay in Syria until further notice
BEIRUT (Reuters) - The leader of Lebanon's Iran-backed Hezbollah, a key Damascus ally, said on Wednesday his group would keep its military presence in Syria until further notice, commending a Russian-Turkish deal over Idlib as a step towards a broader political solution. But Sayyed Hassan Nasrallah indicated the number of fighters of the powerful Shi'ite group would be reduced as fronts across Syria become more quiet. 'We will stay there (in Syria) even after the settlement in Idlib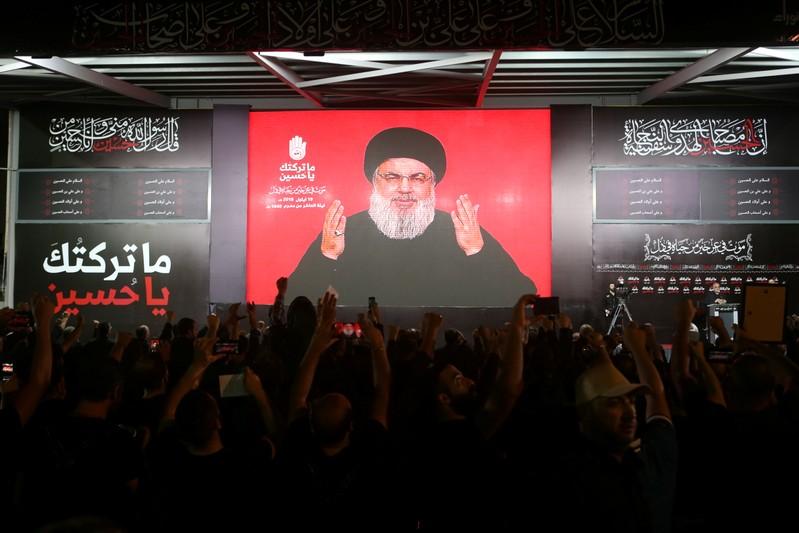 BEIRUT (Reuters) - The leader of Lebanon's Iran-backed Hezbollah, a key Damascus ally, said on Wednesday his group would keep its military presence in Syria until further notice, commending a Russian-Turkish deal over Idlib as a step towards a broader political solution.
But Sayyed Hassan Nasrallah indicated the number of fighters of the powerful Shi'ite group would be reduced as fronts across Syria become more quiet.
"We will stay there (in Syria) even after the settlement in Idlib. Our presence there is linked to the need and the consent of the Syrian leadership," he said in a televised address to hundreds of cheering followers in southern Beirut on the eve of the annual Ashura religious rally.
"The quietness of the fronts and less number of threats.. will naturally affect the current numbers (of Hezbollah fighters)," he added. "Syria is heading to a great calm".
Ashura, the holiest day of the Shi'ite calendar, falls on Thursday. It commemorates the martyrdom of Hussein, a grandson of the Prophet Mohammad, and is marked by large public processions.
Hezbollah has provided vital support to Syria's military in the seven-year war, helping it regain swathes of the country. "We will stay there until further notice," Nasrallah said.
Nasrallah commended the outcome of the Iranian, Russian and Turkish diplomacy to spare Idlib a military offensive that could have led to a catastrophic humanitarian situation.
On Monday, Russian and Turkey agreed to rule out a military solution in the Idlib region, the opposition's last big foothold in Syria along with adjoining territory north of Aleppo, in favour of enforcing a new demilitarized zone from which "radical" rebels will be required to withdraw by the middle of next month.
"The outcome (of the diplomatic efforts) is good and reasonable but depends on results," Nasrallah said, describing the agreement as a step towards reaching a political solution to the conflict.
Russia, the biggest outside backer of Syrian President Bashar al-Assad in his fight against rebels, has been preparing for an offensive on the city of Idlib, controlled by rebels.
The United Nations had warned such an attack would create a humanitarian catastrophe in Idlib province, where about 3 million people live.
Assad has recovered other areas once held by rebels, with decisive military support from Iran and Russia.
(Reporting by Dahlia Nehme and Laila Bassam; Editing by Ed Osmond and John Stonestreet)
This story has not been edited by Firstpost staff and is generated by auto-feed.
Entertainment
The film is a teen revenge drama set against the backdrop of high school shaming and ostracising.
Entertainment
Mia Goth's dual role proves to be the X-factor in Ti West's ode to low-budget filmmaking of all stripes.
Entertainment
The actor turns 40 today, but the exuberance he brings to his otherwise erratic and enigmatic characters suggests he shall always be modern Hindi cinema's favourite man-child.