Here's why Indian strategists should worry about China's $46 billion funding to Pakistan
China is full steam ahead in empowering a nuclear-armed restive neighbour who will inevitably use its to-be-acquired economic and military strength against India.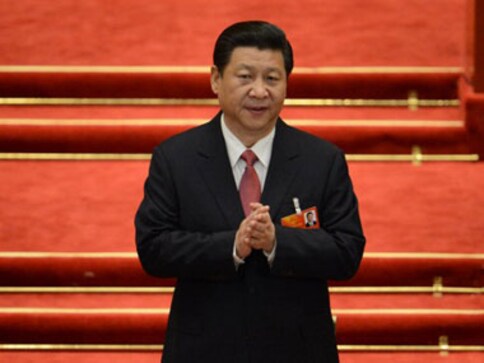 There is only one way of looking at the Chinese President Xi Jinping's maiden visit to Pakistan during which the two countries India has fought wars with signed 51 agreements between them. If monetised, it would mean that China would pour a whopping $46 billion into Pakistan once these agreements come to fruition.
This sum would be a good $15 billion more than the United States has pumped into Pakistan since 2002.
It conveys a chilling message to India – that Pakistan is about to become a far more powerful country only because the Chinese munificence. It also means that China is full steam ahead in empowering a nuclear-armed restive neighbour who will inevitably use its to-be-acquired economic and military strength against India.
Considering the fact that the Pakistan-China strategic partnership is coinciding with Pakistan's fast-increasing strategic ties with Russia, a Pakistan-China-Russia axis is on the anvil. This is bad news for the Indian strategic establishment.
This is a reality check for India and Narendra Modi who is planning to embark on his maiden prime ministerial visit to China in less than three weeks.
Much of the Chinese money is for building a modern equivalent of the fabled ancient Chinese Silk Route from central and western Asia through to the Middle East and Europe.
In monetary terms, the $46 billion Chinese funding for an ambitious 3,000-km-long China-Pakistan Economic Corridor (CPEC) which will shorten the route for Chinese energy imports from the Middle East by 12,000 km, is the biggest overseas investment by China announced yet.
The CPEC corridor is expected to be operational within three years. And make no mistake about it that given the proven track record of China, Beijing will leave no stone unturned in completing the project on schedule, if not before time.
The project would link China's far-western region to Pakistan's Gwadar port (built with Chinese investment and technical expertise) and would provide 14,000 MW of electricity to the energy-starved Pakistan.
Once completed, the CPEC project would enlarge China's strategic footprints in the Indian Ocean and would change the regional power matrix forever.
One of the fallouts would be that China would then wield a much more powerful influence in the Indian Ocean even though geographically speaking China is not an Indian Ocean power.
Moreover, once completed, the CPEC project would mean that the Chinese presence in entire Pakistan, including Pakistan Occupied Kashmir, becomes all pervasive and powerful.
This is a nightmarish scenario for the Indian strategic establishment. Needless to say, China's hectic economic and so-called "commercial" engagement with Pakistan, which is nothing but a strategic gamechanger in the region, would go a long way in making Pakistan a richer and stronger entity than ever before.
This is truly a red rag for India given the fact that a strong and resurgent Pakistan would inevitably needle India all the more.
The doomsday scenario has a flip side too which is aimed at China. The seamless integration of China and Pakistan can bring in a major security headache for China. An adverse fallout of the CPEC project, from the Chinese viewpoint, is that China will be more vulnerable to the mushrooming jihadist elements in Pakistan.
In other words, China's soft underbelly Xinjiang will inevitably be more prone to Pakistan-based jihadist elements exporting their terror ideology to China.
Thus far the Chinese mega investments across the globe have not had a significant security ramification for Beijing. But the CPEC project may change this situation forever. It is extremely likely that China's Xinjiang province will be more exposed than ever before to the threat of jihadists based in Pakistan.
The agreements that poured in thick and fast between China and Pakistan during President Xi's visit to Pakistan may actually become a running sore for China from the security point of view.
While India cannot obviously intervene or influence China-Pakistan bilateral relations, New Delhi will have to think out of the box and come up with pragmatic solutions in the shortest possible time.
India is not alone in this. The United States and its allies also find themselves at the wrong side of the Chinese stick.
China is invariably the elephant in room and epicenter of all discussions whenever two powerful nations engage with each other irrespective of their geographical locations. But after Xi Jinping's historic visit to Pakistan means that Pakistan will be the proverbial gorilla in the room when PM Modi confabulates with his Chinese interlocutors in Beijing next month.
Therefore, when PM Modi travels to China next month he will have to be mindful of lot of minefields. China and Pakistan have just prepared a new one for PM Modi!
World
China has stepped up its military activities around Taiwan in recent years, including almost daily Air Force incursions into the island's air defence identification zone
World
Xi Jinping said, in a closed-door meeting with members of the National People's Congress, that greater self-reliance and development in science and technology is the only path to advancing 'high quality development' and building China into 'a great modern socialist country'
World
The southwest corner of Taiwan's ADIZ saw the tracking of two Shenyang J-16 fighter jets, one Shaanxi Y-8 anti-submarine warfare aircraft, and one BZK-007 reconnaissance drone. A Harbin Z-9 anti-submarine helicopter also appeared in Taiwan's identification zone's southeast portion