Helsinki Summit: Ahead of Trump-Putin meet, global media is clear on who will walk away with upper hand
The stage is set for a meeting between US President Donald Trump and Russian President Vladimir Putin in the Finnish capital of Helsinki on Monday. The two leaders are expected to discuss a range of issues including Syria, Ukraine and nuclear disarmament.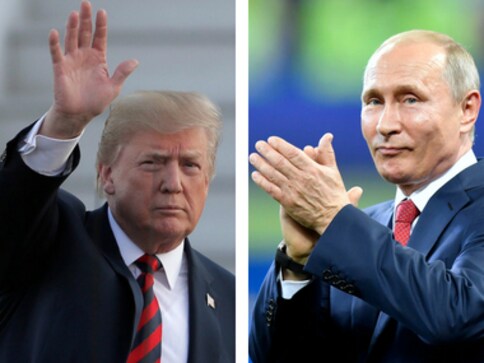 The stage is set for a meeting between US president Donald Trump and Russian president Vladimir Putin in the Finnish capital of Helsinki on Monday. The two leaders are expected to discuss a range of issues including Syria, Ukraine and nuclear disarmament. And even as the world waits in anticipation for the outcome of another big meet involving Trump after the historic Korea peace summit, international media has termed it as a win-win situation for Putin. Or, as The Guardian chose to put it, "the two presidents' histories and personalities tell us that this meeting is likely to be bad for America, and worse for its allies."
According to The New York Times, Putin "will already have accomplished virtually everything he could reasonably hope for" by securing this meeting. But it would be interesting to see as to how Trump discusses the Russian interference in 2016 US Presidential Election with Putin, since he has always had a soft corner for the Russian president and has often been on the receiving end of a backlash from Democrats for this outreach. Thus, even as on Friday, indictment was announced in Washington against 12 Russian military intelligence officers, Trump chose to call out the Russia investigation as a "rigged witch hunt" that "really hurts our (US) relationship with Russia". Also, last month, Trump had suggested for Russia's re-admission to the Group of seven (G-7) industrialised democracies from which the later was ejected after the annexation of Crimea from Ukraine.
However, Russian diplomacy experts remain wary of Trump's stance and as The New York Times puts it, "have been playing down the prospect of any startling breakthroughs". "They know that, no matter what  Trump agrees to with Putin, he still has to get it past an American establishment that remains deeply suspicious of Russia", Andrew Higgins and Neil MacFarquhar write for The New Yorker. "Trump has said that Putin — who has seen three previous American presidents come and go and frustrated each one's early hopes of a new dawn in relations — "may be the easiest" leader to deal with. But that is a minority view in Russia as well as in the United States", the report states.
And this stems mainly from the fact that the United States has a democratic government while Russia does not. "Unlike Trump, who has to contend with public opinion and the checks and balances of a democracy, Putin largely has a free hand", the report argues.
Even though, Trump had signaled a willingness to discuss issues such as lifting of sanctions on Moscow, the recognition of Russia's annexation of Crimea and halting NATO's military exercises in the Baltics, experts believe that Putin should not expect a swift action on any of these.
According to The Washington Post, "a top Putin ally in Russia's parliament, Andrei Klimov, described Trump as a pragmatist with whom Moscow can work productively, in contrast to the 'academic idealist' Obama who Klimov said focused on 'irrational matters' such as promoting liberalism and democracy in places like Ukraine." European leader, meanwhile, fear that "Trump will legitimise Russia's claim on Crimea and that would mean ending sanctions against Russia, blowing up the security response and giving a green light to the redrawing of international borders by force", The Washington Post report said.
However, according to The Guardian, "a narrower deal – with Russia promising to ensure Iranian-backed forces stay away from the Israel border, in exchange for the US withdrawing from positions in eastern Syria and accepting Bashar al-Assad's continued rule – might be somewhat more plausible." But the report also maintains that even though there is plenty that the two presidents should address, they are unlikely to dwell on these pressing issues and might not just reach to an agreement.
The Guardian report says that while "Trump can't lift the sanctions, he could well offer some form of words that makes Russia's case for it – and, in the longer run, helps shift the political mood."
But, The Independent's Oliver Caroll feels that "many in Moscow worry that Trump, while appearing conciliatory, may not fully understand the issues at stake". According to his report, "ahead of the summit, the Kremlin suggested that the 'new arms race' would be the starting point for discussion. But it is unclear if Trump has any appetite for such a complex issue. It is also well known his new national security advisor John Bolton is no fan of control treaties." And the issues that most worry Russia, i.e the sanctions, fall outside of Trump's presidential authority.
"Russia will be more than happy to create a media narrative of diplomatic triumph, only to lock him in and force painful concessions down the road", former Kremlin advisor Vladmir Frolov was quoted as saying in The Independent's report.
Whereas, The New Yorker's Jonathan Chait asks "if it would be dangerous not to consider the possibility that the upcoming Trump-Putin summit is less a negotiation between two heads of state than a meeting between a Russian-intelligence asset and his handler."
On the contrary, the United States' Ambassador to Russia, Jon M Huntsman Jr said on Sunday that the event should not even be called a summit, because the two presidents were not seeking to forge an agreement about any particular topic. "It isn't a summit," Huntsman said in an interview on NBC hours before Trump took to twitter to clarify that it indeed was a "meeting".
Monday's summit is scheduled to start at 6 am in Washington (3.30 pm IST) when the Finnish president Sauli ­Niinisto will welcome Putin and Trump at Helsinki's Presidential Palace. the two leaders will first meet one-on-one and then be joined by their top advisors for a working lunch. They will then conclude their visit with a joint news conference — the first such joint news event between an American and Russian president since 2010, The Washington Post reported.
Meanwhile, the Finnish people aren't happy with their country being used a neutral ground for playing out "great power politics". On the eve of the summit, more than 2,000 people denounced Trump and Putin and hailed human rights, press freedom and dissent as they marched in the city's Senate, The Associated Press reported. As The Guardian report puts it, the Finns are proud of hosting some of the cold war's most historic summits but many in the country will tell you: don't call Helsinki "neutral ground".
However, the choice of the Finnish capital for the first substantial meeting between the presidents is not coincidental. According to Russian sources, Vienna was the original choice, but White House officials insisted on a change. A number of explanations were offered for the change including security issues. "But Helsinki has hosted history before. It was here, in 1975, that US President Gerald Ford broke the ice with Soviet leader Leonid Brezhnev, with both agreeing to respect post-WWII borders. And, 15 years later, George Bush and Mikhail Gorbachev met here to coordinate joint positions on Iraq. While in 1997, Bill Clinton offered Boris Yeltsin membership of the G7 economic elite", according to the The Guardian report.
On the other hand, Finnish journalists have written an open letter to both the leaders welcoming them to the countryand to remind them that "European matters should not be decided over the heads of Europeans".
For Trump's part, meanwhile, it isn't the first time he has lent an olive branch to his Russian counterpart. He had in March 2018, called to congratulate Putin following the latter's election victory despite official instructions of not doing so. He had also invited him to Washington then. Later, he helped facilitate the exits of national security advisor Herbert McMaster and secretary of state Rex Tillerson, two men associated with a cautious Russia policy.
But experts believe that what works in the favour of two leaders is their almost similar style of leadership and extremist ideology. As Hilary Clinton once articulated Putin as the leader of the worldwide "authoritarian, white-supremacist, and xenophobic movement" who is "emboldening right-wing nationalists, separatists, racists, and even neo-Nazis"; it is no coincidence that Trump himself is vilified in the same dire Hitlerian terms once reserved for foreign targets of regime change like Slobodan Milosevic, Saddam Hussein, and Muammar Gaddafi — RT's Jim Jatra remarks.
However, some Americans also believe that "claims of Russian collusion and attitudes toward Trump have obscured the fact that Russia is the only country on the planet with a nuclear establishment on a par with theirs and that even during the worst periods of the first Cold War with the USSR, US administrations of both parties kept in mind that a minimum of mutual respect and open communication was prudent", the RT report addds.
But, to quote The New York Times, "no matter how well Trump and Putin may bond over their shared approach to leadership, few expect them to produce many concrete results beyond a vaguely worded statement pledging to work together and to refrain from interfering in each other's internal affairs."
World
Russia observes 9 May as Victory Day to mark its defeat of Nazi Germany in 1945. Hence, it becomes significant since President Vladimir Putin has pitched his special military operation as 'denazification' of Ukraine, a country with a Jewish president
World
In an interview, Volodymyr Zelenskyy said that Ukraine will never recognise Crimea as part of Russia, which they annexed in 2014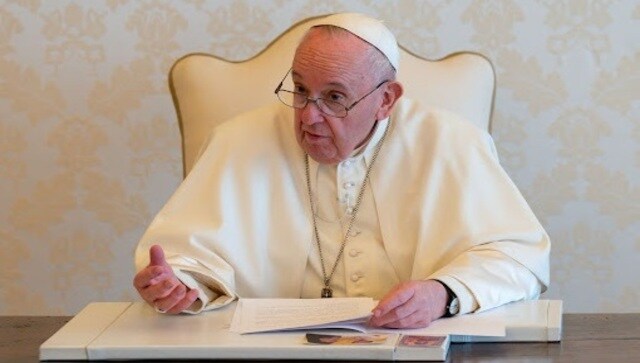 World
The remarks came as the pope reiterated that he requested a meeting with Russian president Vladimir Putin over Ukraine