Help each other, pope tells prisoners at foot washing rite
By Philip Pullella ROME (Reuters) - Pope Francis washed and kissed the feet of 12 prisoners on Thursday at a traditional service, telling them to shun any inmate hierarchy structure or law of the strongest and to help each other instead. Francis' predecessors held the traditional Holy Thursday rite in one of Rome's great basilicas, washing the feet of 12 priests. But to emphasise its symbolism of service, Francis transferred it to places of confinement, such as prisons, immigrant centres or old age homes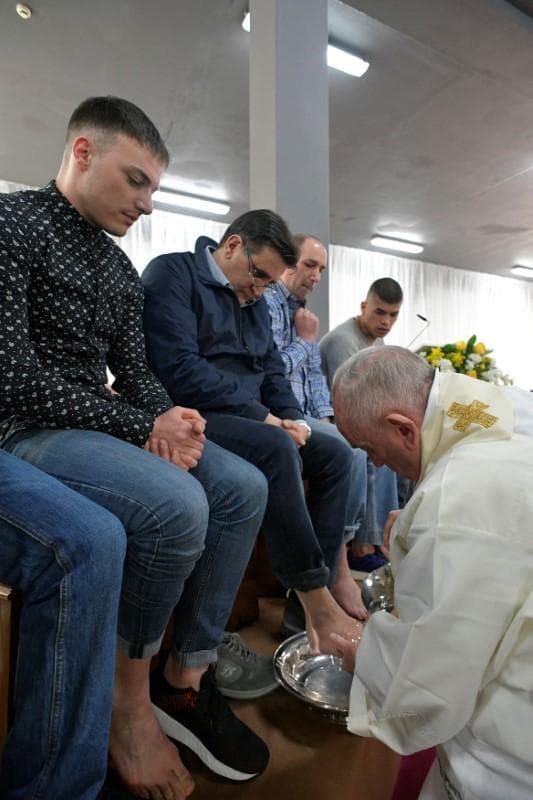 By Philip Pullella
ROME (Reuters) - Pope Francis washed and kissed the feet of 12 prisoners on Thursday at a traditional service, telling them to shun any inmate hierarchy structure or law of the strongest and to help each other instead.
Francis' predecessors held the traditional Holy Thursday rite in one of Rome's great basilicas, washing the feet of 12 priests. But to emphasise its symbolism of service, Francis transferred it to places of confinement, such as prisons, immigrant centres or old age homes.
He travelled this year to a prison in the town of Velletri, about 40 km south of Rome.
It is the fifth time since his election in 2013 that he has held the service, which commemorates Jesus' gesture of humility toward his apostles on the night before he died, in jail.
Francis told the inmates that in Jesus's time, washing the feet of visitors was the job of slaves and servants.
"This is the rule of Jesus and the rule of the gospel. The rule of service, not of domination or of humiliating others," he said.
"Among you, it must not be this way (domination). The strongest must serve the smallest one. The one who thinks he is the strongest must be a servant. We must all be servants," he said.
Of the male inmates whose feet Francis washed, there were nine Italians, one Brazilian, one Moroccan and one Ivorian. The Vatican did not give their religions.
In the past, conservative Catholics criticised the pope for washing the feet of women and Muslim inmates.
The Velletri prison, which is overcrowded like most Italian jails, mostly holds foreigners for common crimes, but one section holds turncoats who collaborated with investigators and get special protection.
On Good Friday, Francis, marking his seventh Easter season as Roman Catholic leader, is due to lead a Via Crucis (Way of the Cross) procession around Rome's ancient Colosseum.
The 82-year-old leader of the world's 1.3 billion Roman Catholics leads an Easter vigil service on Saturday night and on Easter Sunday reads the traditional "Urbi et Orbi" (To The City and The World) message.
(Reporting By Philip Pullella; Editing by Hugh Lawson)
This story has not been edited by Firstpost staff and is generated by auto-feed.
World
BAGHDAD (Reuters) - Rockets hit near U.S. forces and contractors in Iraq on Wednesday, including an air base north of Baghdad and a military base at Baghdad International Airport, the Iraqi army and security officials said. The army reported at least three rockets hit Balad air base, where U.S
World
By Silvia Ognibene and Silvia Aloisi FLORENCE, Italy (Reuters) -Italian police have arrested a Chinese couple accused of running a leather goods business which exploited immigrant workers it employed to make handbags for a Burberry supplier, according to an arrest warrant seen by Reuters. Tax police in Florence said in a statement that the two Chinese nationals were arrested on Wednesday as part of an investigation into alleged labour exploitation and tax fraud and that restrictive measures had been imposed on two other family members, including a ban on them leaving Italy
World
WASHINGTON (Reuters) - The United States on Wednesday blacklisted four Nicaraguans, including a daughter of President Daniel Ortega, as Washington warned it would continue to use diplomatic and economic tools against members of the leftist government engaged in repression. The U.S. State Department called on Ortega to release detained presidential candidates as well as other civil society and opposition leaders arrested over the past week in what Washington called "an increasing wave of repression." "There are costs for those who are complicit in the regime's repression.