Heavy courthouse security ahead of synagogue shooting suspect's arraignment
By Jessica Resnick-Ault PITTSBURGH (Reuters) - A man charged with shooting 11 worshipers to death at a Pittsburgh synagogue was released from a hospital a few hours before he was to be arraigned on Monday while sympathetic contributors gave hundreds of thousands of dollars to the victims of the deadliest attack ever on America's Jewish community. 'I think people are in various stages of trauma, mourning, disbelief, shock all rolled into one,' Rabbi Jeffrey Myers of the Tree of Life Synagogue said on ABC's 'Good Morning America' on Monday. There was a heavy security presence at the federal court in Pittsburgh, with police officers with dogs and a team of sharpshooters outside in chilly, gray weather ahead of what U.S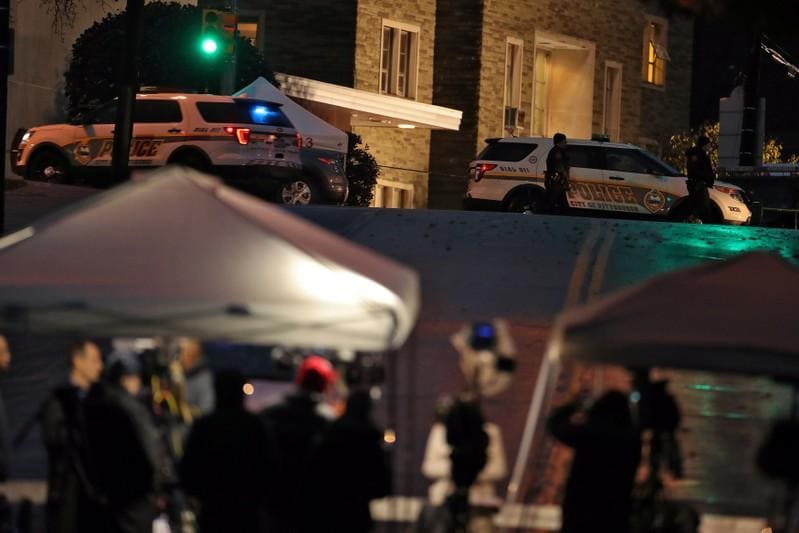 By Jessica Resnick-Ault
PITTSBURGH (Reuters) - A man charged with shooting 11 worshipers to death at a Pittsburgh synagogue was released from a hospital a few hours before he was to be arraigned on Monday while sympathetic contributors gave hundreds of thousands of dollars to the victims of the deadliest attack ever on America's Jewish community.
"I think people are in various stages of trauma, mourning, disbelief, shock all rolled into one," Rabbi Jeffrey Myers of the Tree of Life Synagogue said on ABC's "Good Morning America" on Monday.
There was a heavy security presence at the federal court in Pittsburgh, with police officers with dogs and a team of sharpshooters outside in chilly, gray weather ahead of what U.S. attorney's office spokeswoman Margaret Philbin said would be a short arraignment for Robert Bowers, 46.
Bowers, who has a history of posting anti-Semitic material online, faces 29 criminal counts, including the violation of U.S. civil rights laws in what federal prosecutors say was a hate crime.
Reactions to the Saturday morning massacre spilled into the political realm as a group of Jewish leaders told President Donald Trump in an open letter he was "not welcome in Pittsburgh until you fully denounce white nationalism."
Trump critics say his rhetoric has encouraged right-wing extremism - criticism the Trump administration has rejected - with congressional elections set for Nov. 6 to determine if Trump's Republicans maintain the majority in Congress.
Several of the charges against Bowers, who was wounded in a gun battle with police, can be punishable by the death penalty. Bowers was discharged from Allegheny General Hospital on Monday ahead of an afternoon arraignment.
Bowers is accused of storming into the Tree of Life temple in Squirrel Hill, a neighborhood that is the heart of Pittsburgh's close-knit Jewish community, yelling, "All Jews must die" as he opened fire on members of three congregations holding Sabbath prayer services there on Saturday morning.
According to a document filed at the U.S. District Court for the Western District of Pennsylvania by the Federal Bureau of Investigation, three handguns and an AR-15 rifle were recovered at the scene.
The complaint quoted Bowers as saying to one law enforcement officer, in substance, "They're committing genocide to my people."
"I just want to kill Jews."
In addition to the 11 mostly elderly worshipers who were killed, six people, including four police officers who confronted the gunman, were wounded before the suspect surrendered. Two of the surviving victims remained hospitalized in critical condition.
U.S. Attorney General Jeff Sessions, speaking at an event hosted by the Boston Lawyers Chapter of the Federalist Society on Monday, said targeting people because of their faith would not be tolerated.
"This was not just an attack on the Jewish faith, it was an attack on all people of faith," he said.
FUNDRAISERS FOR VICTIMS
A GoFundMe campaign has raised more than $642,000 for victims. The Islamic Center of Pittsburgh by Monday had raised nearly $120,000 for victims.
About 2,500 people attended an interfaith memorial service for the victims late on Sunday on the University of Pittsburgh campus.
The killings rocked the Squirrel Hill community, an enclave that encompasses several synagogues and Jewish religious schools, and sparked security alerts at places of worship across the country.
Gab.com, the website where the suspected gunman posted anti-Semitic views, said on Monday it has provided "plenty of evidence" to the Department of Justice and the FBI.
Gab went offline after GoDaddy Inc asked it to move the domain to another registrar while PayPal Holdings Inc and Stripe Inc blocked the website from using their payment services.
Gab said it is working around the clock to get back online but will be inaccessible for a period of time.
The massacre also took on political overtones as some complained that the confrontational, nationalistic rhetoric of U.S. President Donald Trump has encouraged right-wing extremists and fed a surge in activity by hate groups.
Trump, who branded Saturday's shooting an act of pure evil and called on Americans to rise above hatred, was already facing similar criticism after pipe bombs were mailed last week to some of his most prominent political adversaries. The targets, mostly Democrats, included former U.S. President Barack Obama.
Cesar Sayoc, 56, a strip club DJ and part-time pizza delivery man whose van was pasted with pro-Trump images and slogans disparaging the political left, was arrested in the pipe bomb case on Friday and faced his first court appearance on Monday in Florida.
(Reporting by Jessica Resnick-Ault; Writing by Steve Gorman and Nick Zieminski; Editing by Daniel Wallis and Bill Trott)
This story has not been edited by Firstpost staff and is generated by auto-feed.
Find latest and upcoming tech gadgets online on Tech2 Gadgets. Get technology news, gadgets reviews & ratings. Popular gadgets including laptop, tablet and mobile specifications, features, prices, comparison.
Business
By Howard Schneider WASHINGTON (Reuters) - A rebounding stock market and massive federal aid payments pushed the net worth of U.S. households back to pre-coronavirus levels in the second quarter, the Federal Reserve reported on Monday, with savings accounts and equity portfolios both rising sharply despite the pandemic
Business
By Rodrigo Campos NEW YORK (Reuters) - Stocks across the world hit their lowest in seven weeks and other risk assets sold off on Monday on concerns over renewed lockdown measures in Europe and Britain, as well as the United States' inability to agree on fiscal stimulus that would support millions of unemployed. Oil prices fell nearly 5%, the dollar rallied and an index of emerging market currencies fell by the most in six months. The MSCI world equity index , which tracks shares in 49 countries, touched its lowest since Aug.
Business
By Rodrigo Campos NEW YORK (Reuters) - Stocks across the world hit their lowest in seven weeks and other risk assets also sold off on Monday on concerns over renewed lockdown measures in Europe and Britain, as well as the United States' inability to agree on fiscal stimulus that would support millions of unemployed. Oil prices fell more than 3%, the dollar rose against a basket of peers and an index of emerging market currencies fell by the most in six months. The MSCI world equity index , which tracks shares in 49 countries, ended at its lowest since Aug