'Has it finished?' Brazil's Bolsonaro questions the U.S. election
BRASILIA (Reuters) - Brazilian President Jair Bolsonaro, a close ally of Donald Trump and one of the few prominent world leaders still not to have congratulated Joe Biden on his election win, asked on Thursday whether the vote in the U.S. was really over. Talking to supporters outside his official residence, Bolsonaro was asked what he thought of the American election result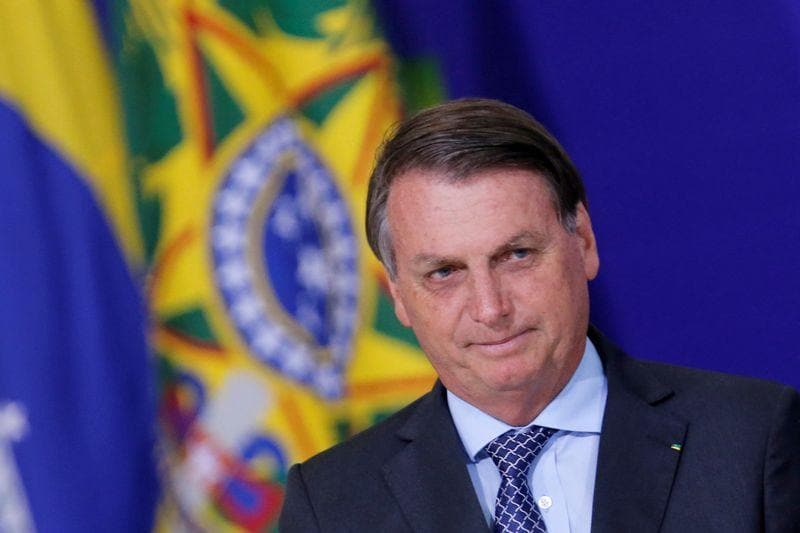 BRASILIA (Reuters) - Brazilian President Jair Bolsonaro, a close ally of Donald Trump and one of the few prominent world leaders still not to have congratulated Joe Biden on his election win, asked on Thursday whether the vote in the U.S. was really over.
Talking to supporters outside his official residence, Bolsonaro was asked what he thought of the American election result.
"But has it finished, have the elections already finished?," he asked the supporter, breaking into a smile before posing for selfies.
The Brazilian leader, who had vowed to be the first to congratulate Trump on his re-election, is approaching a week without passing on congratulations to Biden, who has been projected to win the majority of both the popular and electoral vote.
The Brazilian leader's posture could herald a rocky start in relations with Biden, whose agenda with Brazil would likely include addressing Amazon deforestation and human rights.
On Tuesday, he also took a swipe at Biden referring to him as a "candidate" and taking issue with a comment Biden said during a U.S. presidential debate that Brazil should fight deforestation with foreign help or face unspecified "economic consequences."
"We saw recently there a great candidate for head of state say that if I don't put out the fire in the Amazon, he will put up commercial barriers against Brazil," Bolsonaro said.
"And how can we deal with all that? Just diplomacy is not enough ... When saliva runs out, one has to have gunpowder, otherwise it doesn't work."
(Reporting by Ricardo Brito, Writing by Stephen Eisenhammer; Editing by Aurora Ellis)
This story has not been edited by Firstpost staff and is generated by auto-feed.
Find latest and upcoming tech gadgets online on Tech2 Gadgets. Get technology news, gadgets reviews & ratings. Popular gadgets including laptop, tablet and mobile specifications, features, prices, comparison.
World
VIENNA (Reuters) - The U.N. nuclear watchdog and the United States pressured Iran on Wednesday to finally explain the origin of uranium particles found almost two years ago at an old but undeclared site that Israel has called a "secret atomic warehouse". Israeli Prime Minister Benjamin Netanyahu drew attention to the Turqazabad site in Tehran in a speech to the United Nations in September 2018, urging the International Atomic Energy Agency to visit it
World
NEW DELHI (Reuters) - Sri Lankan President Gotabaya Rajapaksa said on Wednesday he had delivered on a key election promise to rebuild the island nation's intelligence network in the year since assuming office.
World
WARSAW (Reuters) - Polish authorities said on Wednesday a former secret service agent and a Chinese citizen who worked for a telecommunications company have been charged with spying for China. Reuters previously reported on the allegations against an employee of Huawei and a former Polish domestic intelligence operative who were being investigated by the Warsaw government for suspected espionage