Hammer and tongs: China entrepreneur leads handmade wok revival
DATIAN, China (Reuters) - A Chinese entrepreneur is reviving old ways of wok-making and hopes to tap into growing demand for niche, handmade goods from China's young, affluent consumers. Tian Huan, 27, started his business selling handmade iron versions of the famous round-bottom cooking pan three years ago in Datian, near his home village in central Hubei province. Tian was inspired during a visit to a Japanese artware shop in Beijing, where he saw gift items made from traditional ironwork that were popular with young Chinese consumers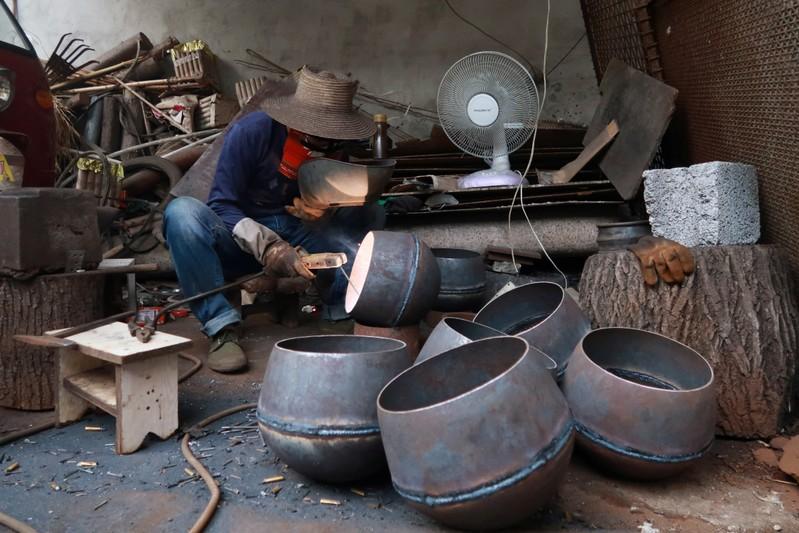 DATIAN, China (Reuters) - A Chinese entrepreneur is reviving old ways of wok-making and hopes to tap into growing demand for niche, handmade goods from China's young, affluent consumers.
Tian Huan, 27, started his business selling handmade iron versions of the famous round-bottom cooking pan three years ago in Datian, near his home village in central Hubei province.
Tian was inspired during a visit to a Japanese artware shop in Beijing, where he saw gift items made from traditional ironwork that were popular with young Chinese consumers.
"It hit me that I could start a business to bring the traditional craft of wok-forging in my home town to life," said Tian, who decided to return home after majoring in design at a Beijing university.
He now owns six shops and employs 12 blacksmiths in Datian, a village of 3,000 people about 1,267 kms (787 miles) from the capital Beijing.
The handmade woks are made from iron plate forged at a heat of up to 1,600 degrees centigrade. The metal is then hammered into shape by a blacksmith and polished.
"You wake up in the morning hearing ding-dong sounds from everywhere in the village," Tang Yunguo, a 58-year-old blacksmith, said of the daily hammering sounds in Datian.
The price of a handmade wok ranges from 600 yuan ($87.94) to 1,000 yuan, depending on the size. It is nearly triple the cost of a mass-produced, machine-made wok.
Tian said he sells 300 to 400 woks per month on the mobile platform WeChat.
He and other handicraft vendors are trying to tap into the craze for handmade goods among young adults in the world's second-largest economy.
Buoyed by their rising spending power, Chinese consumers in their 20s and 30s are willing to spend more to buy what they consider to be unique or higher-quality products.
"More and more people are having a spiritual pursuit of sentiment and buying things that carry temperature and emotion," Tian said.
($1 = 6.8291 Chinese yuan)
(Reporting by Lusha Zhang, Thomas Suen and Se Young Lee; Editing by Darren Schuettler)
This story has not been edited by Firstpost staff and is generated by auto-feed.
Find latest and upcoming tech gadgets online on Tech2 Gadgets. Get technology news, gadgets reviews & ratings. Popular gadgets including laptop, tablet and mobile specifications, features, prices, comparison.
Business
By Howard Schneider WASHINGTON (Reuters) - A rebounding stock market and massive federal aid payments pushed the net worth of U.S. households back to pre-coronavirus levels in the second quarter, the Federal Reserve reported on Monday, with savings accounts and equity portfolios both rising sharply despite the pandemic
Business
By Rodrigo Campos NEW YORK (Reuters) - Stocks across the world hit their lowest in seven weeks and other risk assets sold off on Monday on concerns over renewed lockdown measures in Europe and Britain, as well as the United States' inability to agree on fiscal stimulus that would support millions of unemployed. Oil prices fell nearly 5%, the dollar rallied and an index of emerging market currencies fell by the most in six months. The MSCI world equity index , which tracks shares in 49 countries, touched its lowest since Aug.
Business
By Rodrigo Campos NEW YORK (Reuters) - Stocks across the world hit their lowest in seven weeks and other risk assets also sold off on Monday on concerns over renewed lockdown measures in Europe and Britain, as well as the United States' inability to agree on fiscal stimulus that would support millions of unemployed. Oil prices fell more than 3%, the dollar rose against a basket of peers and an index of emerging market currencies fell by the most in six months. The MSCI world equity index , which tracks shares in 49 countries, ended at its lowest since Aug