Hafiz Saeed leads Eid prayers in Pakistan, says India, US preparing for 'big war'
JuD chief and Mumbai attack mastermind Hafiz Saeed today led Eid-ul-Fitr prayers in nthe city where he sought to whip up hysteria, saying the US and India are signing agreements against Pakistan and there are preparations for a 'big war.'
Lahore: JuD chief and Mumbai attack mastermind Hafiz Saeed on Tuesday led Eid-ul-Fitr prayers in the city where he sought to whip up hysteria, saying the US and India are signing agreements against Pakistan and there are preparations for a "big war."
Addressing a large gathering at the Gaddafi Stadium, the Lashkar-e-Taiba founder called for unity among Muslim community "to fail the design of infidels."
He said international players are conspiring against Pakistan's nuclear programme.
"The United States and India are signing agreements against Pakistan and there has been a preparation of a big war", he said, alleging "drones are parked at Indian airports and our rulers are engaged in a fight with opposition."
Saeed, on whose head the US has put a bounty of USD 10 million, termed Pakistan and Saudi Arabia's growing distance with the US as a "blessing in disguise."
"It is a blessing in disguise that Pakistan and Saudi Arabia are getting distanced from America. This will lay foundation of the Islamic Union which is the need of the hour for the Islamic world," he said.
He condemned the terror attack in Saudi Arabia and alleged the involvement of "foreign hands" in destabilising the Muslim world.
A large number of people offered their prayer behind Saeed amid tight security with police personnel and JuD security wing members deployed in and outside the stadium.
Saeed has been leading the Eid prayers at Gaddafi Stadium for the last many years.
India has repeatedly asked Pakistan to bring Saeed to justice for masterminding the 2008 Mumbai attacks.
He has often been seen addressing anti-India rallies in Pakistan. Islamabad says it has no proof against the Jamat-ud-Dawa chief. A total of 166 people were killed in the attack orchestrated by the LeT in November 2008.
Find latest and upcoming tech gadgets online on Tech2 Gadgets. Get technology news, gadgets reviews & ratings. Popular gadgets including laptop, tablet and mobile specifications, features, prices, comparison.
World
As Washington begins to resemble an armed camp, with more than 25,000 guards expected in the city by early next week, concerns about violence at state capitals have grown in the wake of the recent Capitol riots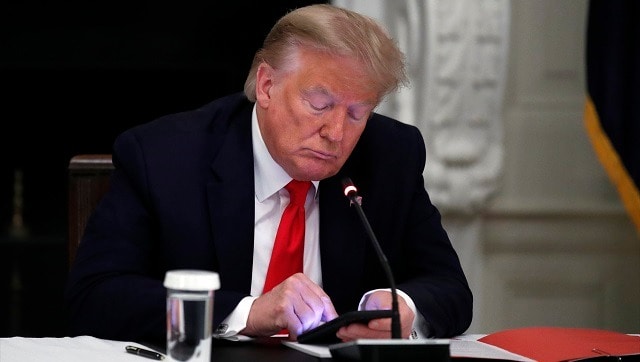 World
Trump kept out of sight in White House as impeachment proceedings played out at the US Capitol. There, the damage from last week's riots provided a reminder of the insurrection that Trump was accused of inciting
World
The Pakistan Electronic Media Regulatory Authority (PEMRA) also imposed a fine of Rs 1 million on Bol News after one of its controversial anchors "cast aspersions" on the chief justice of the Lahore High Court (LHC) and other judges