H1B workers' spouses prepare for strong pushback as H4 work permit faces acid test
Spouses of H1B workers monitoring the perilous situation of work permits - called H4 EAD - say they are "shaken" and "disappointed" by the latest signals from the Donald Trump administration but are also girding for a robust pushback if any change in policy does not factor feedback from spouses of H1B workers.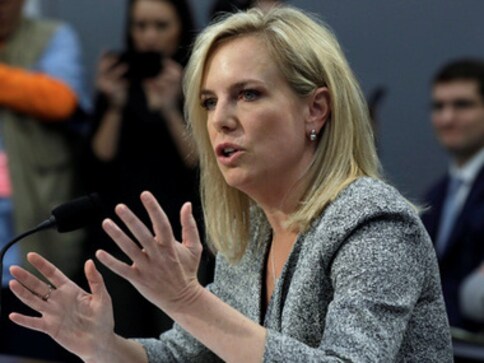 Spouses of H1B workers monitoring the perilous situation of work permits - called H4 EAD - say they are "shaken" and "disappointed" by the latest signals from the Donald Trump administration but are also girding for a robust pushback if any change in policy does not factor feedback from their community.
The United States Citizenship and Immigration Services has indicated that the Donald Trump government is firmly on the path to proposing an end to work authorization for spouses of H1B workers in America. The case file is now lying with Department of Homeland Security boss Kristjen Nielsen - widely understood to have 100% alignment with Trump's Buy American Hire American policy.
"If they (USCIS) change the H4 EAD rule without taking into consideration each and every comment that comes in and fail to respond to our defence of the H4 EAD, you can be sure of lawsuits", says Anirban Das of Skilled Immigration in America, an advocacy group.
The H4 EAD trapeze act speaks to many imponderables of public policy making in the United States. The H1B visa was born of bipartisan consensus back in the late 90s with the signature of a Republican President. Political dealmaking is no longer the way it was back then which is why American Presidents are falling back on executive orders which invariably lead to lawsuits from opponents. The other way is to change rules - a process that does not need Congress intervention. The downside is that rules can be killed off with another rule in a different political climate - which is the story of the ongoing H4 EAD cliffhanger.
New York based immigration attorney Cyrus Mehta has often said that "it makes no sense to eliminate work authorization for H-4 spouses under Buy American Hire American in a full employment economy."
Das and many other we spoke to use the same yardstick of jobs to defend the beleagured H4 EAD.
"Unemployment has been at its lowest in years so it's impossible that an insignificant percentage of the population is taking jobs away from Americans. If that were true, then there would be a crisis for every college graduate in America," says Das, arguing that the ducks don't line up if the governemnt is trying to justify that H4 EADs are creating problems for Americans.
Some background here: The Trump White House has been headlining its record on job creation every couple of weeks. The latest despatch says "we have already created 3 million jobs since the election".
Cyrus Mehta situates the H4 EAD recipient in the heirarchy of the American citizenship process to make his point: "H4 spouses are also Americans in waiting since they would have had green cards and become US citizens if not for backlogs in the India employment based second and third preference categories. Since H4 EAD holders are in line for Green Cards, allowing H4s to work will contribute to the American economy through their taxes and talents. Eliminating work cards for H-4 spouses is not consistent with Buy American Hire American although it may be consistent with xenophobia and white nationalism."
Poonam Gangawane Ghelani who came to the US in 2005 for her Master's has seen the roller coaster of the H1B-H4 from extreme close up. She is on an H4 EAD and planning to move back to an H1B. "It's definitely not going to be smooth ride. My husband has also started our Canada immigration process as he is totally frustrated with all this!", she says in a email response.
Ghelani says she has "3 job offers in my hand" because employers are not finding the right candidates in her area - data privacy. "Now tell me how am I stealing American Jobs?" she asks.
There's another thing that "irritates" H4 visa holders. "We're sick and tired of the numbers being used against us", says a New York based H1B worker's husband who spoke to Firstpost on background. "They say they have issued 104,000 or more H4 EADs in the last three years but are unwilling to reveal how many of those are simply renewals and how many are new entrants. The minute that data is known, the economic case against the H4 EAD is dead."
Also, H4 EAD numbers in isolation do not mean every single person who has this card has a job. In most cases, family responsibility or just job loss itself is keeping many H4 EAD holders out of the job market. "Because of the politics, we are anyway last in line for interview calls," says an H4 spouse looking for work since December 2017 when she got laid off.
Equally, the backlash against H1B visa workers is now hurting H4 spouses too. Sample this in response to an H4 spouse's outpouring on Twitter: "Why should "your" anything matter to US citizens who form and pay for US govt.? Who are you? #H4 is a dependent of #H1B which is a non immigrant temporary labor visa.
You have NO right to demand anything on foreign soil."
H4 spouses we spoke to have maintained that their biggest hurdles have not come from changes in US policy but the original asymmetry itself - that the H1B visa reduces the two income household into a single income family even in cases where the H4 visa holder has more education, skills and so on.
The USCIS confirmed to Firstpost that it does not reveal the breakup of H4 EADs by the criteria of fresh applications and renewals in its regular information stream. That question has to be put to another agency.
Education
Today is the last day to apply online for recruitment to the post of Assistant Director advertised by the Tamil Nadu Public Service Commission (TNPSC)
Education
Bihar Central Selection Board of Constables (CSBC) has released a notification for the recruitment to the post of Prohibition Constable. Apply for the vacancies at csbc.bih.nic.in.
Education
RRB has released the exam schedule for the pan-India Level I Group D recruitment exam, Phase 1. Check the exam notice at the official website on rrbcdg.gov.in.