H1B workers, DACA both get sidelined in US funding bill
Indian high skilled workers and recipients of an Obama era concession to illegal childhood arrivals popularly called DACA got nothing out of a massive budget bill that plodded through US Congress Thursday after weeks and months of intense negotiations.
Millions of Indian high skilled workers on valid work visas and recipients of an Obama era concession to illegal childhood arrivals popularly called DACA both got nothing out of a massive budget bill that plodded through US Congress Thursday after weeks and months of intense negotiations. The bill passed the House of Representatives and must pass with a supermajority in the Senate which the Republicans hold by a slender majority.
These two camps represent two extremes of the immigration spectrum - Indian high skilled workers are legal, they are in the US because the US created the H1B visa back in the 90s and the country's rules allow, among other things, for employment based applications for permanent residency subject to stringent entry barriers. On the other hand, DACA recipients came into the country illegally or, more precisely, were brought here by their parents. Donald Trump, by abruptly announcing the end of DACA protections last year, ensured that DACA, and in effect, illegal immigration becomes the headline in the immigration debate. Despite months of lobbying efforts by Indian high skilled workers who organized on social media and made some headway in Washington DC, the last bill before the midterm elections drew a blank for this cohort.
The reason legal high skilled immigration did not find space in the 2000 page budget bill is because illegal immigration's headliners - DACA recipients - are no longer a political tinder box after the courts have stepped in to protect them.
Also, Democrats are in no mood to bend to Trump's demands now that they sense they're in with a real chance for a House takeover in
November's midterm elections.
Donald Trump wanted to use long-term funding for his wall as bait to trade for a short-term renewal of DACA. The negotiating pie has long been about Trump's "big, beautiful wall" along the Mexico border and DACA - both primarily revolve around illegals and national security.
Legal workers have been standing back and watching this unfold, aghast at the terms of reference: "They (DACA) are being promised the moon and even a path to citizenship while we pay taxes and follow the rules and invest in real estate and yet wait for 15 years on average just to see a Green Card application come to fruition," is an all too common gripe.
White House officials reportedly said they wanted $25 billion for the wall in exchange for extending DACA protections till September 2020. At this point, Democrats are understood to have dug in and demanded a path to citizenship for 1.8 million DACA immigrants. White House backed off and the deal melted away.
For now, negotiation ended with Trump ended up getting just $1.6 billion for his wall and other border security steps, a year's worth of funds.
"Until they stop acting like idiots and stop trying to use Dreamers as hostages to pass their stupid xenophobic laws and stupid ideas like the border wall, nothing changes," Rep. Ruben Gallego, D-Ariz., a member of the Congressional Hispanic Caucus, said Wednesday.
Trump took a different view, expressed in a tweet late Wednesday: "Democrats refused to take care of DACA. Would have been so easy, but they just didn't care. I had to fight for Military and start of Wall."
Trump ended the program last year, though federal judges have ordered the administration to keep renewing DACA's two-year permits until legal challenges to Trump's action are resolved.
The program, created by President Barack Obama, temporarily shields from deportation a group of immigrants brought to the U.S. illegally as children.
Negotiators also discussed trading a three-year DACA extension for three years of wall money while Trump's team wanted more money for enforcement agents and beds for detained immigrants. Democrats stonewalled. The idea of helping Trump build his wall in exchange for temporary crumbs for immigrants is something Democrats are unwilling to take.
Bottomline - for a whole bunch of reasons, the immigration debate in America is dominated by those who crossed the border illegally. Legal high skilled workers' anxieties come a distant second.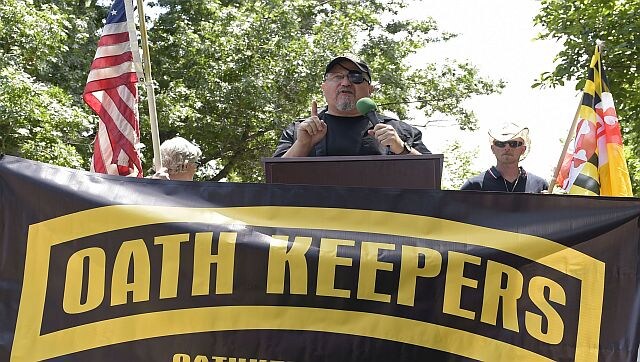 World
Members of the anti-government group, founded in 2009, have been charged with seditious conspiracy in the 6 January riot at the US Capitol. Prosecutors say the members spent weeks amassing weapons, and readying armed teams outside Washington to stop Joe Biden from becoming president
World
Jaishankar in his meeting with the US Secretary of State Antony Blinken on Tuesday raised the issue of the backlog of visa applications from India to which the top American diplomat said he is sensitive to the matter and had a plan to address it.
World
Donald Trump is injecting new life into the fading QAnon conspiracy cult- whose members have embraced him as a new icon