Gulf diplomatic crisis: How natural gas, wealth reserves ensure Qatar remains stable
Qatar's financial markets stabilised on Monday after a week of losses as the government showed it could keep the economy running in the face of sanctions by its neighbours.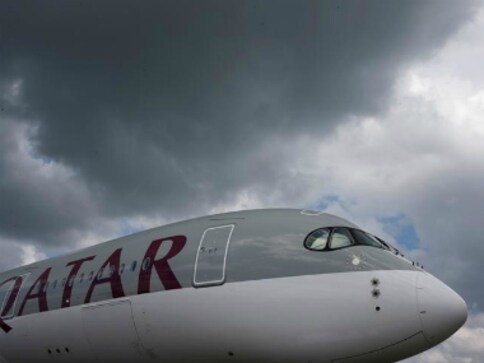 Doha/Dubai: Qatar's financial markets stabilised on Monday after a week of losses as the government showed it could keep the economy running in the face of sanctions by its neighbours.
The finance minister of the world's richest country per capita played down the economic toll of the confrontation, and said the government was "extremely comfortable" with its financial position, with the resources to endure the pressure.
Saudi Arabia, the United Arab Emirates, Bahrain and Egypt cut diplomatic and transport ties with Qatar a week ago, accusing it of fomenting regional unrest, supporting terrorism and getting too close to Iran, all of which Doha denies.
The biggest diplomatic rift in years among the rich states of the Gulf has disrupted Qatar's imports of food and other materials and caused some foreign banks to scale back business.
On Monday, it was becoming clear that Qatar could keep the economic damage from becoming critical. Some of its food factories were working extra shifts to process imports from nations outside the Gulf, such as Brazil. Shipping lines have re-routed container traffic via Oman instead of the UAE.
Such measures may involve delays and raise costs for Qatar; on Monday Fitch put Qatar's AA credit rating on Rating Watch Negative, saying a sustained crisis could hurt its credit outlook. But they are unlikely to prevent the economy from functioning in any fundamental way, economists say.
The diplomatic confrontation has become a major test for the United States, which is closely allied to the countries on both sides. Qatar hosts the Middle East headquarters for US air forces; Bahrain hosts the main base for the US Navy.
Natural gas might come to Qatar's rescue
As the world's leading exporter of liquefied natural gas, Qatar's wealth has allowed it to crown its small Gulf peninsula with skyscrapers. It has also given the government the means to take an outsized role in regional affairs, sponsoring factions in revolts and civil wars and brokering peace deals across the Middle East. Several neighbours have been furious for years.
Qatar's supplies keep homes warm in the British winter, fuel Asian markets and even power the electrical grid of the United Arab Emirates, one of the main countries that has cut ties to the energy-rich nation. So far, its supplies have continued uninterrupted since the diplomatic dispute began last week. Natural gas markets have yet to respond to the rift and prices have remained stable. But Qatar wields a potential economic weapon if the crisis escalates and countries around the world that depend on its supply may find themselves needing to side with the tiny nation that is home to a major US military installation.
"If Qatari gas exports were to be blocked, countries like Britain, Japan, South Korea and China would have an energy crisis and would have to scramble to get their energy elsewhere," said Kristian Coates Ulrichsen, a Seattle-based research fellow at the James A. Baker III Institute for Public Policy at Rice University who has extensively studied Qatar. "For any small country, particularly a small country in the Gulf surrounded by much larger and potentially expansionary powers, having international partnerships is a key tool of your external security," he said. "I think that may be what the Qataris are banking on right now."
Qatar, a country of 2.2 million people where citizens make up over 10 percent of the population, discovered the offshore North Field in 1971, the same year it became independent. It took years for engineers to discover the field's vast reserves, which shot Qatar to No. 3 in world rankings, behind Russia and Iran, with which it shares the North Field. It began exporting natural gas in 1997, just after Qatari Crown Prince Hamad bin Khalifa Al Thani seized power from his father, Sheikh Khalifa, in a palace coup. Sheikh Hamad used revenue from the natural gas to pursue a diplomatic path away from Saudi Arabia, long the heavyweight among Gulf countries. Qatar also secured hosting the 2022 FIFA World Cup, relying on that money to build stadiums and develop Doha, its capital. But all that time, Qatar kept a wary eye on its neighbors. Though both it and Saudi Arabia practice an ultra-conservative form of Sunni Islam called Wahhabism, Qatar allows women to drive and foreigners to drink alcohol. Qatar also has clashed with Saudi Arabia and Bahrain over territory in the past.
Qatar's ship-borne exports of liquid natural gas have continued to travel unhindered out of the Persian Gulf as well, though they could be a target if the crisis escalates. Qatar's biggest Asian clients are Japan, India and South Korea, according to energy research firm Wood Mackenzie. About a third of British gas supplies come from Qatar, which leads Europe. Saad Sherida al-Kaabi, Qatar Petroleum's president and CEO, said Saturday that he wanted to assure customers "of our determined efforts to continue uninterrupted supplies." A statement from the state-run firm also made a point to note that the UAE, Egypt and Jordan all rely on its natural gas.
Qatar could retaliate by shutting down the undersea Dolphin Energy pipeline, which sends about 2 billion cubic feet (56 million cubic meters) of natural gas a day into the UAE, about a third of its daily need. About 200 million cubic feet (5.66 million cubic meters) of that goes onto Oman. Dolphin Energy, owned by the Abu Dhabi sovereign wealth fund called the Mubadala Development Co., French oil giant Total SA and Houston-based Occidental Petroleum, did not respond to a request for comment.
Without that natural gas, electricity plants in Dubai and the UAE capital of Abu Dhabi wouldn't be able to power air conditioners to beat the brutal heat of summer now descending on the desert sheikhdoms, nor run its vital desalination plants producing water. It would take time to import that gas from another source. "If Qatar was to do anything like that, in Dubai the lights would probably go off," said Christopher Davidson, a professor of Middle East politics at Durham University in Britain and adeed, "If this were to happen, it would be such an escalation from Qatar's side, the UAE and Saudi would up the ante even more...If they were to do that, I think it would be no holds barred."
'Starve the beast'
In Washington, US President Donald Trump, who has strongly backed the countries imposing sanctions on Qatar despite a more neutral stance taken by the State Department and Pentagon, said the measures were helping to stop terrorism funding.
"One of the big things that we did and you are seeing it now is Qatar and all of the things that are actually going on in a very positive fashion. We are stopping the funding of terrorism," he said during a photo call with cabinet officials. "We are going to starve the beast."
Qatari Foreign Minister Sheikh Abdulrahman al-Thani told a news conference in France that Qatar "still had no clue" why the nations cut ties. He denied that Qatar supported groups like the Muslim Brotherhood that its neighbours oppose, or had warm ties with their enemy Iran.
So far, the measures do not seem to have caused a serious shortages of supplies in shops. Some people have even joked about being "blockaded" inside the world's richest country: a Twitter page called "Doha under siege" pokes fun at the prospect of readying "escape yachts", stocking up on caviar and trading Rolex watches for espresso.
But an economic downturn could have more dire consequences for the vast majority of Qatar's 2.7 million residents, who are not citizens but foreign workers. Migrant labourers make up 90 percent of Qatar's population, mostly unskilled and dependent on construction projects such as building stadiums for the 2022 soccer World Cup.
In an interview with CNBC television — one of the first public appearances by a Qatari economic policy maker since the crisis erupted — Finance Minister Ali Sherif al-Emadi said the government was "extremely comfortable with our positions, our investments and liquidity in our systems".
The energy sector and economy are essentially operating as normal and no serious impact has been felt on supplies of food or other goods. Qatar can import goods from Turkey, the Far East or Europe and will respond to the crisis by diversifying its economy even more, he told CNBC.
"Our reserves and investment funds are more than 250 percent of gross domestic product, so I don't think there is any reason that people need to be concerned about what's happening or any speculation on the Qatari riyal."
Jason Tuvey, a Middle East economist at London-based Capital Economics, said that as long as the other Gulf countries did not interfere with Qatar's gas exports, the tiny state should be able to carry on without a serious recession.
"It seems Qatar would be able to weather quite a prolonged period of sanctions," he said, adding that economic growth, fuelled by government spending and infrastructure projects, was "highly unlikely to grind to halt".
Qatar, like other Gulf states, has tried to diversify from oil and gas. The sanctions have hurt one of its highest-profile enterprises, fast-growing airline Qatar Airways, which says it has been cut it off from 18 of its destinations.
"It is actually a travesty of civilised behaviour to close airline offices. Airlines offices are not political arms," CEO Akbar Al Baker told CNN. "We were sealed as if it was a criminal organisation. We were not allowed to give refunds to our passengers."
Underpinned by wealth fund
Qatar's riyal currency, pegged at 3.64 to the US dollar, was under pressure last week as banks reacted nervously to the diplomatic rift. On Monday, the currency came off last week's lows in the spot (QAR=) and offshore forwards markets (QAR1Y=W).
Bankers said the central bank, which has $34.5 billion of net foreign reserves backed by an estimated hundreds of billions of dollars of assets in Doha's sovereign wealth fund, was supplying enough dollars to keep exchange rates under control.
The cost of insuring Qatar's sovereign debt against default (QAGV5YUSAC=MG) fell back for the first time in a week. Yields on Doha's international bonds (XS140578215=TE) dropped almost 10 basis points and the stock market (.QSI) stabilised after sliding 8.7 percent in the past week.
Tuvey said the main threat to the economy was that Qatari banks could find it much harder to obtain wholesale funding from other banks to sustain growth in their loan portfolios. However, if the situation becomes critical, the Qatari government can liquidate some of its overseas assets to fund its banks, as Saudi Arabia did last year when its banks faced a squeeze.
Qatar's sovereign wealth fund has major stakes in top Western companies such as Credit Suisse (CSGNS). Asked by CNBC whether it might now sell some of those stakes to raise money, Emadi indicated this was not on the cards for now.
Qatar's normally bustling border with Saudi Arabia was deserted on Monday. Soldiers in an armoured pick-up truck looked out over barbed-wire at sprawling dustland separating Qatar from Saudi Arabia. Indian migrants who work at the border in green uniforms lay on inspection platforms sheltering from the sun.
Normally, thousands of passengers and hundreds of trucks from Saudi Arabia pass through the crossing each day, bringing fruit and vegetables, as well as construction materials.
With inputs from agencies
also read
India
The third G20 Tourism Working Group meeting begins in Kashmir's Srinagar Monday amid a tight security blanket. There have been reports of a plot to carry out a 26/11-type attack and terror threat to schools. The itinerary of foreign delegates has been altered with a visit to Gulmarg cancelled
World
In a significant step towards its goal of barging into weapons markets hitherto ruled by the US, China is reportedly undergoing negotiations with Saudi Arabia and Egypt for massive arms deals
World
Saudi Arabia has now restored bilateral ties with Syria and increased its peace efforts in Yemen, where it leads a military coalition fighting the Iran-backed Huthi rebels