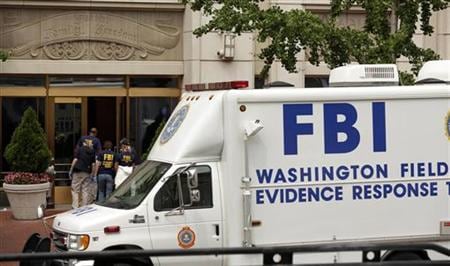 WASHINGTON (Reuters) - A gunman wounded a guard on Wednesday at the Family Research Council, a conservative Christian lobbying group, and he is in FBI custody, authorities said.
The male security guard was shot in the arm after confronting the suspected gunman at about 10:45 a.m. in the lobby of the group's headquarters in downtown Washington, a police spokesman said.
Guards wrestled the suspected gunman to the ground and he was taken into Federal Bureau of Investigation custody. The wounded guard was taken to a hospital, where he is in stable condition.
The Family Research Council strongly opposes same-sex marriage and abortion, and police thought the shooting "might fall under being considered a hate crime. That's why they called us in," said FBI spokeswoman Rebecca Callahan.
The weapon was recovered and the motive for the attack is unknown, the police spokesman said.
Television station NBC4 reported that the suspect was armed with a 9mm handgun. Authorities found two loaded magazines with 15 rounds each in the suspect's backpack, as well as promotional materials for Chik-fil-A, a fast food chain.
Chik-fil-A has been at the center of a recent controversy over gay marriage. Company President Dan Cathy has taken a public stand against same-sex marriage.
Callahan said FBI agents may have found the suspect's car and were seeking a search warrant.
In a statement, Family Research Council President Tony Perkins said: "Our first concern is with our colleague who was shot today. Our concern is for him and his family."
Founded in 1983, the Family Research Council opposes same-sex marriage, abortion, embryonic stem-cell research and disputes that global warming is the result of human activity.
Twenty-six gay, lesbian, bisexual and transgender organizations condemned the shooting in a joint statement carried on the website of the Gay & Lesbian Alliance Against Defamation.
(Reporting by Ian Simpson; Editing by Vicki Allen and Cynthia Osterman)
Updated Date: Aug 16, 2012 05:30 AM