Greek workers strike, seeking wage hike, tax cuts
ATHENS (Reuters) - Public transport was disrupted and ships remained in ports as Greek workers went on strike on Wednesday, seeking increases in minimum wages and the re-introduction of collective bargaining. Greece's biggest private-sector union, GSEE, called the 24-hour walkout, demanding tax cuts and a rise in the minimum wage, which was slashed under the terms of the country's three international bailouts since 2010, which ended in August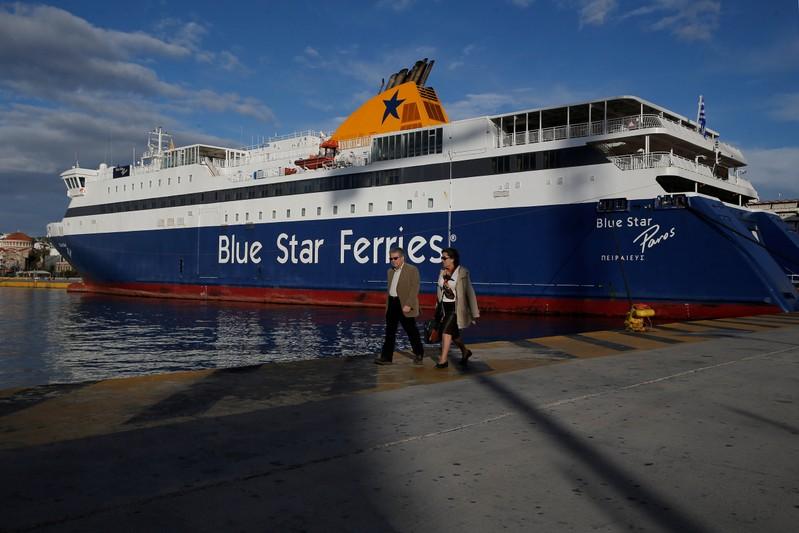 ATHENS (Reuters) - Public transport was disrupted and ships remained in ports as Greek workers went on strike on Wednesday, seeking increases in minimum wages and the re-introduction of collective bargaining.
Greece's biggest private-sector union, GSEE, called the 24-hour walkout, demanding tax cuts and a rise in the minimum wage, which was slashed under the terms of the country's three international bailouts since 2010, which ended in August.
"Salaried employees are demanding a cancellation of the tax rises and an across-the-board (monthly) minimum wage of 751 euros," GSEE, which represents 2.5 million workers, said in a statement. "Policies of a punishing austerity, poverty and impoverishment should end once and for all."
The walkout follows a one-day strike by Greece's main public-sector union earlier this month, which also demanded wage and pension increases, hiring and tax cuts.
Greek ships remained docked at the country's ports on Wednesday, as seamen joined the 24-hour strike.
Since its debt crisis began in 2009, Greece has received 260 billion euros ($302 billion) in bailout loans. In exchange, it laid off public-sector workers, raised taxes and cut pensions as part of an austerity drive.
In its first post-bailout budget for 2019, Greece said it would not implement legislated pension cuts, targeting a primary surplus target of 3.6 percent of gross domestic product next year, in line with its commitment to control public finances.
The government of Prime Minister Alexis Tsipras, which faces elections next year, has also said it would reinstate collective bargaining and raise the minimum wage, which was cut as much as 32 percent to about 500 euros during the crisis, for the first time since 2009.
But GSEE said that the government still would not let employees and employers determine the size of the salaries.
"Today's strike is aiming against another budget of austerity and overtaxation", GSEE's secretary general, Nikos Kioutsoukis, told Reuters. "It is not restoring the collective bargaining regime."
GSEE will hold a protest rally in central Athens later on Wednesday.
(Reporting by Angeliki Koutantou; editing by Michele Kambas, Larry King)
This story has not been edited by Firstpost staff and is generated by auto-feed.
World
Reports suggest that they captured President Alpha Conde and dissolved the government, bust the ground situation remains unclear
News & Analysis
NEW YORK (Reuters) -The price of cryptocurrencies plunged and crypto trading was delayed on Tuesday, a day in which El Salvador ran into snags as the first country to adopt bitcoin as legal tender. Shares of blockchain-related firms also fell as crypto stocks were hit by trading platform outages. But the major focus was on El Salvador, where the government had to temporarily unplug a digital wallet to cope with demand.
News & Analysis
By Joseph White and Sanjana Shivdas (Reuters) -The head of Apple Inc's car project, Doug Field, is going to work for Ford Motor Co to lead the automaker's advanced technology and embedded systems efforts, a hiring coup for Ford Chief Executive Jim Farley.