Greek wildfire kills at least 20 near Athens, residents flee homes
By Vassilis Triandafyllou and Alkis Konstantinidis MATI, Greece (Reuters) - At least 20 people died and more than 100 were injured on Monday as a wildfire swept through a small resort town in eastern Greece with many victims trapped by flames as they fled.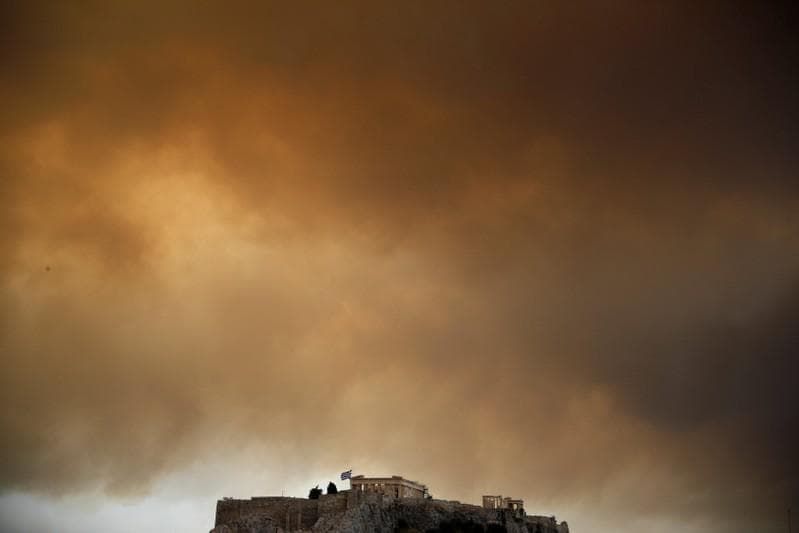 By Vassilis Triandafyllou and Alkis Konstantinidis
MATI, Greece (Reuters) - At least 20 people died and more than 100 were injured on Monday as a wildfire swept through a small resort town in eastern Greece with many victims trapped by flames as they fled.
The fire in Mati village, some 29 km (18 miles) east of Athens, was by far the country's worst since blazes devastated the southern Peloponnese peninsula in August 2007, killing dozens. Monday's fire was one of several that broke out in the country amid a sweltering heat wave.
"Mati doesn't even exist as a settlement anymore," one woman told Greece's Skai TV. "I saw corpses, burned-out cars. I feel lucky to be alive."
Mati is in the Rafina region which is popular with local tourists, particularly pensioners and children at holiday camps.
Government spokesman Dimitris Tzanakopoulos said in a televised statement early Tuesday that the death toll exceeded 20 while more than 88 adults and 16 children were injured.
One of the youngest victims was thought to be a six-month-old baby who died of smoke inhalation.
A Reuters witness earlier saw at least four dead on a narrow road clogged with cars heading to the safe haven of a nearby beach. Dozens of people scrambled into the ocean as the blaze raged close to the shore, and they were picked up by passing boats.
As darkness fell, the extent of the disaster was impossible to gauge. "We are dealing with something completely asymmetric," Greek Prime Minister Alexis Tsipras, looking pale, said after cutting short a visit to Bosnia.
Greece issued an urgent appeal for help to tackle fires which raged uncontrolled in several places across the country, destroying homes and disrupting major transport links. Greece said it needed air and land assets from its European Union partners. Cyprus and Spain offered assistance.
'JUST LEAVE'
Reuters witnesses reported seeing a hillside of homes gutted by flames east of Athens. A mayor said he saw at least 100 homes and 200 vehicles burning.
In another fire earlier Monday, Greek authorities urged residents of a coastal region west of Athens to abandon their homes as a wildfire burned ferociously, closing one of Greece's busiest motorways, halting train links and sending plumes of smoke over the capital.
Wildfires are not uncommon in Greece, but a relatively dry winter created tinder box conditions. It was not clear what ignited the fires.
The army was drafted in on Monday afternoon to help fight the blazes. A senior fire chief went on state TV to appeal to people to leave the area of Kineta west of Athens after some tried to stay on their properties.
"People should leave, close up their homes and just leave. People cannot tolerate so much smoke for so many hours," Achilleas Tzouvaras said. "This is an extreme situation."
The main Athens-Corinth motorway, one of two road routes to the Peloponnese peninsula, was shut and train services were cancelled.
Fire raged around the Saronicos Gulf, ravaging tracts of pine forest, and was visible for miles. An ominous cloud of black-orange smoke hung over the Acropolis hill and the Parthenon temple in Athens on Monday afternoon.
(Additional reporting by Renee Maltezou, writing by Michele Kambas; Editing by Andrew Bolton and Cynthia Osterman)
This story has not been edited by Firstpost staff and is generated by auto-feed.
Find latest and upcoming tech gadgets online on Tech2 Gadgets. Get technology news, gadgets reviews & ratings. Popular gadgets including laptop, tablet and mobile specifications, features, prices, comparison.
World
By Guy Faulconbridge and Kate Holton LONDON (Reuters) - Rich countries could be back to close to normal by late 2021 if a COVID-19 vaccine works, is ready soon and distributed properly at scale, Microsoft founder Bill Gates said on Tuesday. "By late next year you can have things going back pretty close to normal - that's the best case," Gates, 64, told The Wall Street Journal CEO Council. "We still don't know whether these vaccines will succeed," Gates said.
World
By Rupam Jain (Reuters) - Taliban and Afghan government-backed negotiators have agreed on a broad code of conduct to advance the intra-Afghan peace talks in Qatar, even as key differences between the two warring sides remain, three official sources told Reuters on Tuesday.
World
MOSCOW (Reuters) - Russian rights groups on Tuesday called on the authorities to stop using home searches as a tactic to intimidate opponents after a journalist set herself on fire following a police raid of her apartment last week. Irina Slavina, editor-in-chief at a small news outlet in the city of Nizhny Novgorod, self-immolated in front of the local branch of the interior ministry in Nizhny Novgorod last Friday after blaming Russian authorities for her death in a Facebook post