Greek PM says 2020 budget will respect fiscal targets
ATHENS (Reuters) - Greece will submit a 2020 budget later this year that will fully respect the fiscal targets agreed with its lenders, newly elected Prime Minister Kyriakos Mitsotakis said on Saturday. Outlining his main policies, Mitsotakis told Greek lawmakers that the budget would not put fiscal targets for 2019 and 2020 at risk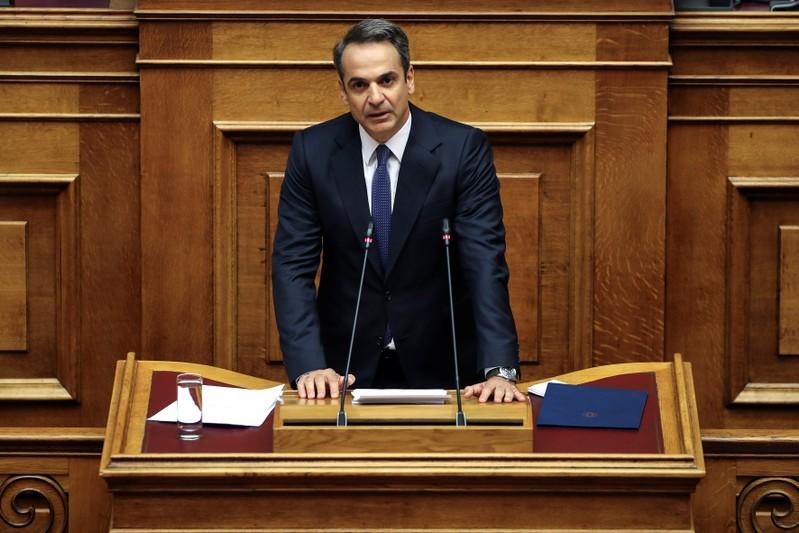 ATHENS (Reuters) - Greece will submit a 2020 budget later this year that will fully respect the fiscal targets agreed with its lenders, newly elected Prime Minister Kyriakos Mitsotakis said on Saturday.
Outlining his main policies, Mitsotakis told Greek lawmakers that the budget would not put fiscal targets for 2019 and 2020 at risk.
Greece emerged from economic adjustment programmes overseen by its lenders last August but still needs to meet fiscal targets, including a primary budget surplus -- which excludes interest payments on its debt -- of 3.5 percent of annual economic output up to 2022.
"In the draft budget for 2020, the given fiscal balance is not disrupted and the primary surplus targets for the years 2019 and 2020, agreed by the previous government, are not disputed," Mitsotakis said.
He added that his government aimed to implement bold reforms and secure credibility in the eyes of the country's partners and international investors.
Mitsotakis won the July 7 election by a large margin over former leftist prime minister Alexis Tsipras on a pledge to cut taxes and speed up investments to spur growth in a country which lost a quarter of its output during the Greek debt crisis.
He plans to reduce corporate tax to 24% on 2019 profit from 28% currently and halve taxation on dividends to 5 percent.
He also said that a highly unpopular property tax that was introduced in 2012 at the height of the crisis will be cut by an average 22% this year.
(Reporting by Angeliki Koutantou and Michele Kambas; Editing by Kirsten Donovan)
This story has not been edited by Firstpost staff and is generated by auto-feed.
Find latest and upcoming tech gadgets online on Tech2 Gadgets. Get technology news, gadgets reviews & ratings. Popular gadgets including laptop, tablet and mobile specifications, features, prices, comparison.
Business
By Gustavo Palencia and Ismael Lopez TEGUCIGALPA (Reuters) - Hurricane Iota began whipping a remote coastal area of Nicaragua with catastrophic winds, storm surges and rain on Monday evening, as the region's leaders blamed climate change for destruction that is pushing millions closer to hunger. Iota was due to crash through northeastern Nicaragua's Miskito region overnight, packing maximum sustained winds of 160 miles (260 km) per hour, having reached Category 5 on the Saffir-Simpson scale, the U.S
World
SAQQARA, Egypt (Reuters) - Egypt on Saturday showcased more than 100 coffins dating back 2,500 years, the latest and largest find this year in the vast burial ground of the Saqqara Necropolis.     The 26th Dynasty coffins - sealed, finely painted and well-preserved - were of a higher quality than previous finds there, said the secretary-general of the supreme council of antiquities, Mostafa Waziri, suggesting they belonged to higher ranking families.
World
KYIV (Reuters) - Ukrainian Health Minister Maksym Stepanov said on Saturday he had tested positive for COVID-19, shortly after announcing the country had posted a record number of new cases in a single day. "This is a war, every day the virus takes the lives of Ukrainians," Stepanov told a televised briefing at which he said 12,524 new cases had been registered in the previous 24 hours, up from the record of 11,787 a day earlier