Greek PM meets survivors in fire-stricken town as families mourn dead
By Costas Pitas and Renee Maltezou ATHENS (Reuters) - Greek Prime Minister Alexis Tsipras met survivors of a wildfire that killed at least 91 people during his first visit to the town of Mati on Monday, as rescue teams kept recovering bodies and families mourned their dead. The country's deadliest fire began a week ago in the coastal resort, which is 30 km (17 miles) east of Athens, and Tsipras has been attacked by opposition parties for the government's handling of the disaster, which also left dozens injured. Several hundred Greeks holding candles gathered silently outside parliament on Monday evening to commemorate the dead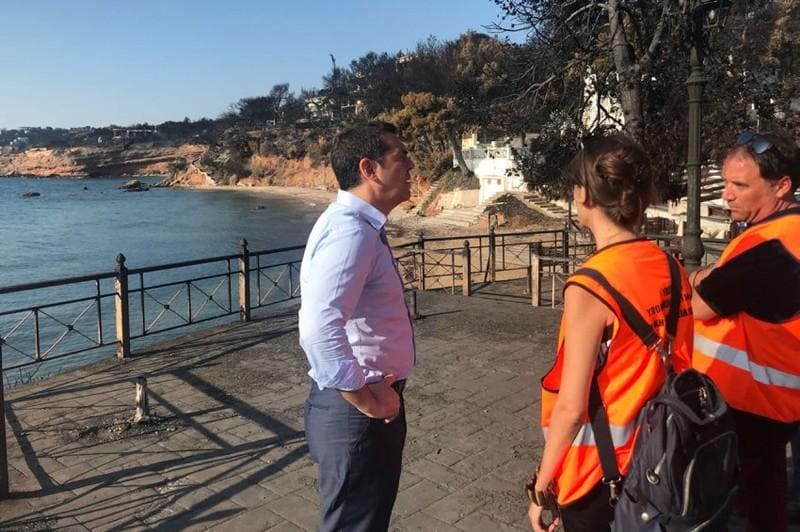 By Costas Pitas and Renee Maltezou
ATHENS (Reuters) - Greek Prime Minister Alexis Tsipras met survivors of a wildfire that killed at least 91 people during his first visit to the town of Mati on Monday, as rescue teams kept recovering bodies and families mourned their dead.
The country's deadliest fire began a week ago in the coastal resort, which is 30 km (17 miles) east of Athens, and Tsipras has been attacked by opposition parties for the government's handling of the disaster, which also left dozens injured.
Several hundred Greeks holding candles gathered silently outside parliament on Monday evening to commemorate the dead.
Tsipras said he accepted full political responsibility for the disaster last week and pledged a series of changes, including a crackdown on illegal and haphazard construction, failings that are thought to have worsened the fire.
(https://tmsnrt.rs/2K6N3Qc)
A week after the killer blaze ripped through Mati, the leftist premier, who is also a civil engineer, spent around an hour in the area and met locals, firefighters and police officers, his office said in a statement.
"Today I visited the place of tragedy," Tsipras tweeted.
"(I have) untold grief but also immense respect for those who fought an uneven battle with the flames," he said.
In the evening, the coast guard found another body in the sea. A total of 25 people are still missing and 28 bodies have yet to be identified, the government said on Sunday.
Tsipras' visit comes a week after the disaster and aides said that he had been busy coordinating the response from Athens. His coalition partner went to Mati on Thursday and was shouted at by survivors.
"We are mourning those lost souls, those people who left (us) clasped in embrace," said a woman called Vasso, weeping as she lit a candle in Athens's Syntagma Square.
"This candle shows our respect to the dead. May God forgive the living," said George Karakostas, 65.
The deaths of those trapped in a burning maze, with access to beaches walled off, has shocked the country.
Of the nearly 3,670 buildings inspected in fire-stricken areas so far, at least 1,046 need to be demolished, the government said on Monday.
Environmental organisations, including the World Wildlife Fund (WWF) and Greenpeace, said the Mati fire was the deadliest in Greece's history.
Last week's blazes scorched 17,000 acres (6,880 hectares) of forest land and residential areas, they said in a statement, warning of an extension of the high risk season due to climate change.
"This tragic event shows the full inadequacy and ineffectiveness of the current forest protection system," they said in a statement.
(Additional reporting by Angeliki Koutantou and Reuters Television, Writing by Costas Pitas, Editing by Matthew Mpoke Bigg, Editing by William Maclean and Hugh Lawson)
This story has not been edited by Firstpost staff and is generated by auto-feed.
Find latest and upcoming tech gadgets online on Tech2 Gadgets. Get technology news, gadgets reviews & ratings. Popular gadgets including laptop, tablet and mobile specifications, features, prices, comparison.
World
By Guy Faulconbridge and Kate Holton LONDON (Reuters) - Rich countries could be back to close to normal by late 2021 if a COVID-19 vaccine works, is ready soon and distributed properly at scale, Microsoft founder Bill Gates said on Tuesday. "By late next year you can have things going back pretty close to normal - that's the best case," Gates, 64, told The Wall Street Journal CEO Council. "We still don't know whether these vaccines will succeed," Gates said.
World
By Rupam Jain (Reuters) - Taliban and Afghan government-backed negotiators have agreed on a broad code of conduct to advance the intra-Afghan peace talks in Qatar, even as key differences between the two warring sides remain, three official sources told Reuters on Tuesday.
World
MOSCOW (Reuters) - Russian rights groups on Tuesday called on the authorities to stop using home searches as a tactic to intimidate opponents after a journalist set herself on fire following a police raid of her apartment last week. Irina Slavina, editor-in-chief at a small news outlet in the city of Nizhny Novgorod, self-immolated in front of the local branch of the interior ministry in Nizhny Novgorod last Friday after blaming Russian authorities for her death in a Facebook post