Greece battles raging forest fires, homeowners flee
By Vassilis Triandafyllou and Alkis Konstantinidis KINETA, Greece (Reuters) - Forest fires raged uncontrolled in several places across Greece on Monday, destroying homes, disrupting major transport links and sending people fleeing for their lives. Greek authorities urged residents of a coastal region near Athens to abandon their homes as a wildfire burned ferociously, closing one of Greece's busiest motorways, halting train links and sending plumes of smoke over the capital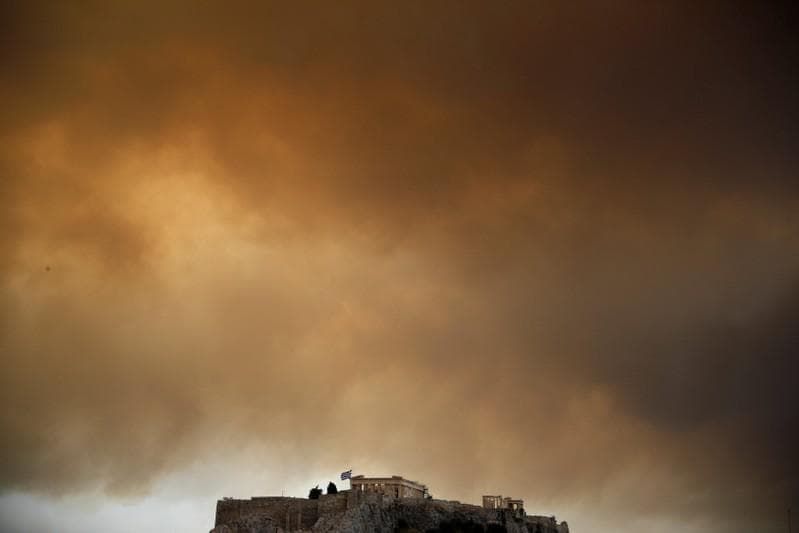 By Vassilis Triandafyllou and Alkis Konstantinidis
KINETA, Greece (Reuters) - Forest fires raged uncontrolled in several places across Greece on Monday, destroying homes, disrupting major transport links and sending people fleeing for their lives.
Greek authorities urged residents of a coastal region near Athens to abandon their homes as a wildfire burned ferociously, closing one of Greece's busiest motorways, halting train links and sending plumes of smoke over the capital.
Reuters witnesses saw a hill of burnt homes at an area east of Athens.
In the late afternoon, a large fire had also broken out north and east of Athens. A local mayor said he saw at least 100 homes and 200 cars engulfed in flames.
Wildfires are not uncommon in Greece, but a relatively dry winter has created tinderbox conditions. Dozens of people died when forest fires ravaged southern Greece in 2007.
"We will do whatever is humanly possible to control it," said Greek Prime Minister Alexis Tsipras during an official visit in Bosnia. But he hinted that so many fires at once needed further scrutiny.
"I'm concerned at the simultaneous outbreaks both east and west of Attica," he said.
The army was drafted in on Monday afternoon to help fight the blazes.
"JUST LEAVE"
Authorities deployed more than 200 firefighters and 60 engines from across Greece to deal with the massive blaze at Kineta, a small resort town about 54 km (35 miles) west of Athens on a route tens of thousands of drivers use daily to reach the Peloponnese.
A senior fire chief went on state TV to appeal to people to leave the area after some tried to stay put in their properties.
"People should leave, close up their homes and just leave. People cannot tolerate so much smoke for so many hours," Achilleas Tzouvaras said. "This is an extreme situation."
Dozens of homes were thought to have been damaged or destroyed by the blaze. Some householders took up hosepipes to douse the fires while police assisted with the evacuation of some areas.
The main Athens-Corinth motorway, one of two road routes to the Peloponnese peninsula, was shut and train services were cancelled.
Raging across land around the Saronicos Gulf, the blaze ravaged tracts of pine forest and was visible for miles. An ominous cloud of black-orange smoke hung over the Acropolis hill and the Parthenon temple in Athens on Monday afternoon.
Live footage showed thick plumes of smoke hanging low over Rafina, an area east of Athens which has a population of at least 20,000. The town itself has dense vegetation.
"I personally saw at least 100 homes in flames," said Evangelos Bournous, mayor of the Rafina-Pikermi area. "I saw it with my eyes, it is a real total catastrophe."
(Additional reporting by Renee Maltezou, writing by Michele Kambas; Editing by Ros Russell, William Maclean)
This story has not been edited by Firstpost staff and is generated by auto-feed.
Find latest and upcoming tech gadgets online on Tech2 Gadgets. Get technology news, gadgets reviews & ratings. Popular gadgets including laptop, tablet and mobile specifications, features, prices, comparison.
Business
By Jessica Resnick-Ault NEW YORK (Reuters) - Oil prices strengthened on Wednesday, as OPEC and its allies were seen complying with a pact to cut oil supply in September, even as concerns loomed that recovery in fuel demand will be stalled by soaring global coronavirus cases. Early in the day crude was boosted by a bullish stock market. Even as equities whipsawed on pandemic worries, oil stayed higher, buoyed by expectations that OPEC could staunch a supply glut
Business
By Tina Bellon and C Nivedita (Reuters) - Tesla Inc will further cut the price of its Model S "Long Range" sedan in the United States to $69,420, the electric carmaker's chief executive, Elon Musk, announced in a tweet https://bit.ly/2H0JCP0 on Wednesday. The anticipated drop marks the second time this week Tesla has cut the price for the high-end sedan, following a 4% cut of the Model S's price in the United States on Tuesday to $71,990.
World
By Jeff Mason DES MOINES, Iowa (Reuters) - Under siege over his handling of the novel coronavirus pandemic, President Donald Trump on Wednesday cited what he said was his son's mild bout of the virus as a reason why American schools should reopen as soon as possible. Trump made the comment about his son, Barron, as the president swept into Iowa on a mission to shore up support in battleground states that he won in 2016 but is in danger of losing to Democrat Joe Biden barely three weeks before the election. First lady Melania Trump announced in a statement earlier in the day that the virus that struck both her and her husband had also infected their 14-year-old son