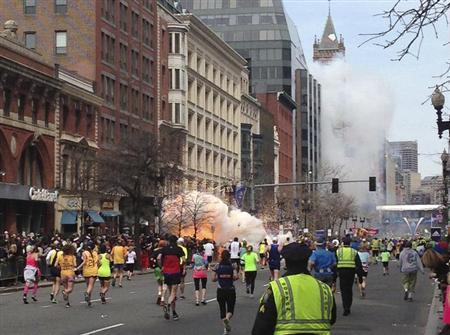 BOSTON (Reuters) - A grand jury on Thursday indicted two students from Kazakhstan on obstruction of justice charges, alleging they helped hide evidence related to the April Boston marathon bombing that killed three and injured 264, the U.S. Attorney's office for Massachusetts said.
Dias Kadyrbayev and Azamat Tazhayakov, both 19, were college friends of surviving bombing suspect Dzhokhar Tsarnaev.
They are charged with removing a backpack containing fireworks and a laptop from Tsarnaev's dorm room after the FBI released pictures of Dzhokhar and his older brother Tamerlan in an effort to learn the names of the bombers.
The pair were first charged on May 1 with conspiracy and remain in federal custody. They could face up to 20 years in prison on obstruction of justice charges, in addition to five years if convicted on conspiracy charges.
Both also face the possibility of deportation.
Tamerlan Tsarnaev died in a gun battle with police following the release of the images while Dzhokhar, 20, is in federal custody awaiting trial on charges that could bring the death penalty.
An attorney for Tazhayakov, Arkady Bukh, said he had been trying for the past three months to persuade federal prosecutors to drop charges against his client.
"There was no motive and no order from Tsarnaev to destroy evidence," Bukh said in a phone interview. "Unfortunately, we couldn't convince them. At this time there is little left but to go to trial."
Kadyrbayev's attorneys could not be reached for immediate comment. (Reporting by Scott Malone; Editing by Dina Kyriakidou and David Gregorio)
Updated Date: Aug 09, 2013 00:00 AM