#GoHomeIndianMedia: Here's why the Nepalis are mad as hell at Indian press
The complaints are many and they may not all be fully justified. But here are the main reasons that the Nepalese cite for being so furious with the Indian media:
Has the Indian media collectively jumped the shark?
If Twitter on Sunday was any indication, then the answer is a resounding 'YES'.
Angry Nepalese flocked to Twitter in their numbers, protesting what they have been calling the insensitive, triumphant and jingoistic coverage of the earthquake that devastated the country. End result? #GoHomeIndianMedia was the top trend on Twitter - ironically on press freedom day.
The trend has come as a slap in the face of the journalists who have flocked to the country in a bid to bring 24x7 coverage of the disaster to their respective outlets.
Some including Congress leader Shashi Tharoor have seen it as a wake up call for the industry as a whole.
Our media continues to embarrass&dismay India: http://t.co/mr6BETvLtM Thx2Nepal coverage, #GoHomeIndianMedia trends on WorldPressFreedomDay!

— Shashi Tharoor (@ShashiTharoor) May 3, 2015
Many other Indians, who have no love lost for the Indian media have also jumped on the hashtag and have been tweeting in agreement with the Nepalis.
The complaints are many and they may not all be fully justified. But here are the main reasons that the Nepalis cite for being so furious with the Indian media:
1. Relief work has been used as a PR opportunity for the Indian government
This has been one of the foremost reasons cited by Nepalis tweeting using the hashtag - that while the efforts of the Indian government have been plentiful and widely appreciated, the constant crowing about it by the Indian media has been downright irritating.
It's one of the most basic lessons we learn while growing up. Charity is fine, but constantly reminding the recipient of our charity that we gave it to them, and expecting them to be constantly thankful is really no charity at all.
This tweet probably summed up the sentiment by the Nepalese people best:
This cartoon somewhat explains that why #GoHomeIndianMedia became trending!! 😉 pic.twitter.com/zIK3frtF9d

— सूचना घिमिरे ツ (@artless77) May 3, 2015
It's not just Nepal though. The chest thumping and self congratulatory attitude by the Indian media had also caused some discomfort at home.
An article in by Outlook magazine that appeared before the hashtag began trending said, "Four days after the earthquake, Union minister of state for home Kiren Rijiju told Parliament that India had emerged as "a leading nation in disaster response". While such sentiment is evidently widespread in the Himalayan nation and is obviously gratifying to Indians, the uneasy question being asked is whether India should have been crowing about its relief efforts."
This was also reflected by the fact that #ThankyouPM was trending the day of the earthquake, with all the tweets praising PM Narendra Modi for rushing to the aid of Nepal. At the time, many decried the hashtag as unnecessary and insensitive.
The Prime Minister himself modestly deflected the hashtag:
To all those saying #ThankYouPM- appreciate the sentiment…real thanks should be to our great culture, which teaches us 'Seva Parmo Dharma'.

— Narendra Modi (@narendramodi) April 27, 2015
If we want to thank anyone, it should be the 125 crore people of India who have made Nepal's pain their own & extended all help.

— Narendra Modi (@narendramodi) April 27, 2015
Modi also thanked the Indian media for 'bravely covering the disaster' but in Nepal, the sentiment has not been reciprocated. See some of the tweets below:
Backlash against media not surprising. Some paraded hyper-nationalism and cheerleadership of @PMOIndia as journalism. #GoHomeIndianMedia

— smruti (@urjourno) May 3, 2015
Here's a classic cartoon by Jug Suraiya & Ajit Ninan that explains #GoHomeIndianMedia pic.twitter.com/CKjVJYXrdx

— Dan Husain (@DanHusain) May 3, 2015
2. The coverage itself has been insensitive and sensationalist
The second big criticism of the Indian media is the way in which they are covering the quake. In their rush to bring their tragedy to our television screens and outdo one another, it seems that they are seeking more and more dramatic shots and stories.
Nepali origin writer Sunita Shakya of Nepali origin complained about the phenomenon in a blog she wrote for CNN, titled 'Letter to Indian media'
"Your media and media personnel are acting like they are shooting some kind of family serials. If your media person can reach to the places where the relief supplies have not reached, at this time of crisis can't they take a first-aid kit or some food supplies with them as well?"
Shakya pointed out that media people were more obsessed with covering the disaster than actually helping saying, "There was of course a cameraman who does not want to miss a second so that a dramatic news could be presented. I think you are a human before you become a media person. As a responsible person, it was your duty to save someone."
This sentiment has also been widely prevalent on Twitter, with one widely retweeted tweet saying that one reporter had repeatedly asked a woman to repeat that she had lost her 10-year-old daughter in the quake. Others said that the reporters had been asking questions like 'how do you feel?' while talking to people who had lost everything in the disaster.
An indian news reporter to a mother who's learnt her only son has been buried under their house. Q. How do you feel? #GoHomeIndianMedia

— Prasanna KC (@KC_Prasanna) May 3, 2015
Wen did freedom of speech became equivalent 2 kicking ppl's emotions & insensitive reporting! #gobackindianmedia #DontComeBackIndianMedia

— Ritika Berry (@Ritikaberry25) May 4, 2015
#DontComeBackIndianMedia when missing dogs become breaking news! pic.twitter.com/B4uzMedDJ9

— Neha (@neha_jpn) May 3, 2015
3. Reporters are getting in the way of relief operations
So not only are the Indian media generally causing heartburn in the minds of watching Nepalis, they are also literally taking up space.
Nepali news site Telegraph Nepal begins one report with the stinging indictment "There is more myth to India's support than reality."
It complains that though the Indian relief consignment was one of the first and the biggest, that the Indian forces are more or less working as a transport provider to the media battalion that has accompanied them.
"The Indian Army helicopters are carrying their own media men thus they have few room for the earthquake victims. More than 150 Indian media men are in Nepal to cover the damage done by the massive earthquake. Whereas, the Nepal Army with its limited resources have airlifted more than 400 victims, the Indian Army helicopters have only rescued 118 people. On Tuesday, the Indian helicopters only rescued 32 victims, according to a communiqué issued by the public relations department of the Nepal Army."
This was also echoed by Shakya who said, "Thanks to tons of reporters who came to Nepal from those rescue planes of India, you took a seat where a victim could be transported to hospitals/ health camps. Thanks to you all reporters, you took a seat where a bag of food and supplies could be placed to send to those hardly hit places."
There is also criticism that Indian journalists are interfering in rescue operations, by getting in the way, asking questions and wasting precious time.
All the anger has even prompted the Indian ambassador to Nepal to write an article in the Nepali media, asking the people of the country "not to doubt the intentions of New Delhi".
But some say that the social media anger is not really reflective of the actual situation on the ground.
Kunda Dixit, a veteran journalist and editor of Nepali Times told the Hindustan Times not to read too much into the situation:
"Dixit noted that hordes of journalists who came to Nepal from across the world were highlighting the efforts of their own countries but not many Nepalese have an idea of their coverage since only Indian publications and TV channels are available in the country. "For every negative tweet, there are 10 positive reactions about India's efforts in Nepal. We shouldn't read much into it," he said."
However, one cannot completely ignore the outrage of the over 100,000 tweets that were made using the hashtag.
It reflects the problem of disaster journalism across the world where the victims lose their humanity in the search for eyeballs and headlines. It is a good opportunity for the Indian media, to introspect on how they choose to chase stories, and represent them. It is not the moment to get our hackles up over what can be perceived as ungrateful Nepalis. Instead it is a wake up call that perhaps, we all need to pull together and fix some very real problems with the industry as a whole.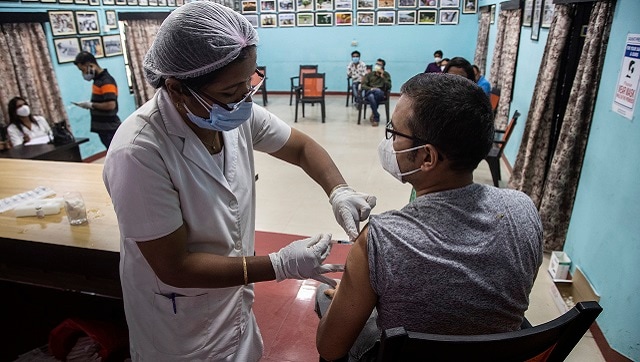 India
International media outlets are questioning why the Indian government did not do enough to secure COVID-19 vaccines for its citizens
India
At the city's Chamrajpet crematorium, authorities had to put up a 'housefull' sign and families were told to wait with bodies in ambulances to avoid overcrowding
Politics
In the recently-held West Bengal assembly polls, Byapari's remarkable story took another twist.