GIA poll: Modi ranks third after Merkel, Macron in global ratings of top world leaders; best ever rank for an Indian PM
A survey on global ratings of top 10 world leaders has revealed that the favourability of Narendra Modi and Vladimir Putin has increased significantly.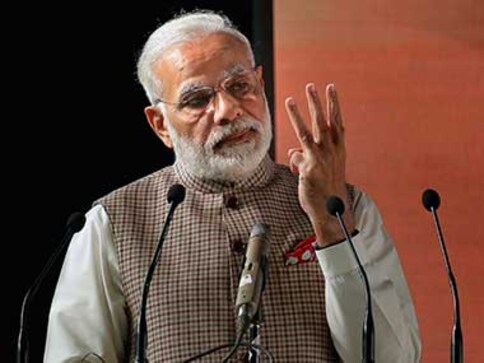 New research from Gallup International Association (GIA) and CVoter International collaborative survey has revealed that there has been a significant increase in favourability towards Indian prime minister Narendra Modi and Russian president Vladimir Putin.
German Chancellor Angela Merkel has topped the chart, followed by French president Emmanuel Macron in second place. Meanwhile, US president Donald Trump is now at the rock bottom of global public opinion. Two years back, his predecessor Barrack Obama was rated number one in this global poll.
Modi climbed up on the global rating and is now ranked third; the highest ever rank any Indian prime minister has got so far in the GIA Global polls. Meanwhile, Putin has gone from one in three (33 percent) viewing him favourably to 43 percent, a significant increase over two years.
Two years back, in the 2015 survey, Modi had ranked fifth with a Nett score (negative rating subtracted from positive rating) of four. This time around, he has doubled his score with eight.
Putin, meanwhile, polls favourably in most regions of the world except the US (14 percent) and EU-Europe (28 percent), but still higher than the 20 percent favourability for Trump.
This year, after having been in office for just over a year, Trump got drastically reduced numbers with just 31 percent holding a favourable view of him. Trump lands at the bottom rank globally.
What the world thinks of Modi
The top three Modi-loving countries are Vietnam, Fiji and Afghanistan respectively. Interestingly, Vietnam registered a massive shift in Modi's popularity with the Nett score seeing a jump of a staggering 62.
Meanwhile, Modi is hated most, predictably, in Pakistan; where the anger against him has gone considerably up in last two years, from -43 to -54.
Among the G8 countries comprising Russia, USA, Canada, UK, Japan, France, Germany and Italy, Modi's favourability decreased overall by a score of four, with Russia registering the sharpest decline (-31) despite visiting their four times. France and Germany also recorded a decline when compared to the last survey in 2015.
The US, UK, Italy and Japan saw improvement in Modi's favourability with scores of three, four, one and one respectively. Canada saw no change.
The SAARC countries' Nett favourability of the Indian prime minister saw a sharp decline owing to Bangladesh and Pakistan, with the former registering a huge shift from a score of 50 to 13 and the latter recording a decline of -11. Afghanistan saw an uptick of three.
Among the BRICS countries comprising Russia, South Africa, China and Brazil, Modi saw an overall score of -2 (offset by India's score of six). Brazil and South Africa saw an improvement of 12 and two respectively, while his favourability remained consistent in China when compared to the 2015 data.
Impact of Modi's foreign visits on his favourability (rest of the world)
Amongst the other countries that Modi has visited since assuming office, Mexico and Turkey registered positive changes of 32 and 14 respectively. Surprisingly, the Netherlands and Korea saw a decline in Modi's favourability despite the prime minister's visit.
How Indians rate the top 10 world leaders
Interestingly, despite the global trends, Trump ranked as the top-rated global leader in India, where his New Year tweet on Pakistan has perhaps helped him climb the popularity charts.
Putin is seen as the second most effective leader by Indians followed by Merkel. Chinese president Xi Jinping ranks ninth in the list with a score of -7.
Meanwhile, Modi's favourability among his countrymen is exceedingly positive, with an overall score of 71.
Compared to 2015, Modi's favourability (Nett score) among Indians has increased from 61 to 71. Obama had topped the list two years ago, maintaining the consistency of Indians voting for the US president as the top global leader.
The Gallup International End of Year Survey (EoY) is an annual poll. This year, it was carried out by the Gallup International Association in partnership with WIN in 55 countries around the world. A total of 53,769 persons were interviewed globally.
Here is the full survey:
Data sourced from Gallup International and CVoter Global Survey 2017: Global ratings of top 10 world leaders (cross-country opinion poll in 71 countries)
World
The leaders have a long agenda for their Thursday meeting at the White House, including Iran's nuclear program, China's increasing assertiveness in the Indo-Pacific and growing concerns about security and stability in Africa's Sahel region. But, Ukraine will remain the main issue at the meeting
Opinion
The kind of money Europe has been spending on the energy crisis is not what it can afford
Politics
a member of President Vladimir Putin's United Russia party said that Ukraine's infrastructure would be destroyed and the country would be pushed back to the 18th century