Ghazni attack shows Afghan Taliban's capabilities are intact and will grow until Pakistan stops fuelling insurgency
The Afghan Taliban's attack on Ghazni could not have been mounted without support from Pakistan's state and non-state actors since the operational planning and execution involved in the attack reflect sound military preparedness, counter-intelligence and popular support among Pashtun segments of Afghan population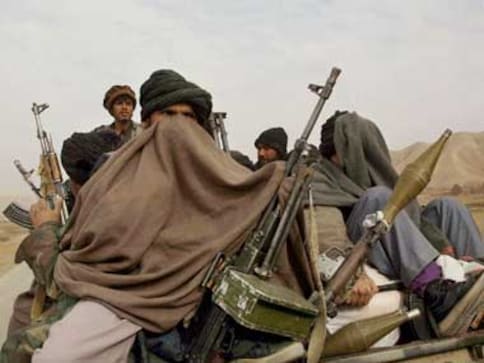 Counter-insurgency experts have always maintained that two factors — foreign support in terms of sanctuaries and local support in terms of sympathetic population — are the lifelines of any insurgency. Without systematically cutting these lifelines, the insurgency cannot be terminated effectively. The Afghan Taliban's multi-pronged terror assault on Ghazni was made possible primarily because of these two factors. No surprise, the Afghan Taliban talk about talks, but not to formally negotiate peace as they feel that time is in their favour; the longer the war rages, the better their bargaining position.
The attack on Ghazni could not have been mounted without support from Pakistan's state and non-state actors since the operational planning and execution involved in the attack reflect sound military preparedness, impressive firepower, striking counter-intelligence awareness and remarkable security consciousness, some of which is also a product of the Taliban's long experience in guerrilla fighting. And the manner in which the Afghan Taliban has demonstrated its ability to mass forces in multiple areas of Afghanistan at virtually the same time bear witness to another facilitating factor — popular support among Pashtun segments of Afghan population.
The twin factors have also ensured that the Afghan Taliban's intelligence and counter-intelligence capabilities are not only intact but have grown over the years.
Insurgent safe havens in Pakistan have always been crucial for sustaining the Afghan insurgency as well as the source of current tensions in Washington-Islamabad relations. Despite sustained American pressure on Pakistan to deny the Afghan Taliban safe havens inside its territory, very little has improved on the ground.
In the aftermath of the Ghazni attack, the Afghan officials are claiming that many Pakistani nationals were among the insurgents killed in battles in the last few days. Based on inputs from local sources and social media photos and videos, reports have emerged from Pakistan's border areas which indicate that terror groups have transported dead fighters from Ghazni back to Pakistan for burial.
Afrasiab Khattak, a former Pakistani senator and a member of the Awami National Party (ANP), has asked the Pakistani government to explain the issue of dead bodies coming into Pakistani territory. He is reported to have said: "The dead bodies from the southeastern Ghazni battle that were shifted to Pakistan — some Pakistani groups have posted photos of the dead bodies and have invited people to attend funeral ceremonies of their members on social media. These groups have proudly stated that those men were killed there."
The bodies of slain Pakistani nationals have been transported to Khyber Pakhtunkhwa, Punjab, and Baluchistan provinces. Many Pakistani terrorists killed in the battle are reported to belong to Mullah Nazir, a pro-Pakistan militant group.
As expected, Pakistan's Foreign Office has flatly rejected as 'baseless' the allegations of Pakistan's involvement in the Ghazni attack: "There is no evidence to back up these spurious accusations. Pakistan does not have any information about killing of any Pakistani in Ghazni attacks."
The United States, Afghanistan and India have long accused Pakistani military establishment of backing the Afghan Taliban through training, weapons and sanctuaries. The Ghazni attack must be seen as a wake-up call to the dangers inherent in Afghan Taliban's umbilical cord with Pakistan's state and non-state actors.
The media accounts of the Ghazni assault underline this fact that the Afghan Taliban's impressive ability to collect and exploit intelligence has helped them surprise their government adversaries. The Afghan Taliban continue to possess a massive intelligence apparatus, operating in both Afghanistan and Pakistan, which is responsible for gathering useful information on Afghan security forces and their American advisors. The Taliban's intelligence operatives maintain extensive ties with Pakistan's Inter-Services Intelligence (ISI) as well as with members of the Pakistan's religious parties. The NATO officials have uncovered several instances where ISI passed on valuable intelligence to insurgents in Afghanistan. In addition, various tribal groups along the border support the Afghan Taliban.
Counter-insurgency specialists will tell how sympathetic communities provide fertile ground to an insurgent organisation for gathering information about the operational environment. The pro-Taliban sympathies in the Pashtun-dominated regions coupled with lingering grievances against the US forces have been helping the Taliban run intelligence networks in several parts of the country.
Analysts who have been closely observing Afghan Taliban's modus operandi believe that the current intelligence gathering structure allows local Taliban units to collect intelligence and share it with nearby units as well as the Taliban's higher command on a real time basis.
The Afghan Taliban continue to use a wide range of both human and open source methods of collecting intelligence. The village and district level intelligence units provide the Taliban with a huge quantity of information regarding American troops' movements and potential Afghan government collaborators. The Afghan Taliban utilise an elaborate network of local informants for identifying and eliminating spies suspected to be working for various Afghan government agencies. Fear of the Taliban's spies is one of the major reasons why many Afghan people follow the Taliban's diktats to avoid helping government forces. The Taliban receive actionable intelligence on personnel and plans from informants within the Afghan security forces, the US military bases and prisons; these have been used to provide sensitive information on military movements of interest to the Taliban as well to intimidate Afghan government personnel.
The Afghan Taliban have also attempted to exploit open source intelligence for sustaining their insurgency campaign. In fact, the Afghan Taliban is a pioneer in exploiting various social media tools for gathering vital information. The Taliban cultivate its connections to select media groups and journalists and take great care to manage these entities.
Local media is primarily monitored to engage in reprisal against journalists deemed unsympathetic to the Taliban's cause. The NGO publications are also closely monitored. The Afghan Taliban have frequently forced mobile phone operators to shut down their networks in southern Afghanistan. The Taliban's communication security tactics include the use of radio codes and shorter range radio communications.
There is no doubt that Pakistan has conducted military operations in the FATA against foreign fighters, especially Central Asians and Arabs, and against Pakistani Taliban. But this counter-insurgency campaign has been highly selective as no action has been taken against the Afghan Taliban, who remain sheltered in safe havens. Pakistan's intelligence agencies may have been given strict instructions to keep a low profile and to avoid being seen in the company of the Afghan Taliban commanders, but it would be wrong to assume that all operational ties between them have been snapped.
In fact, there have been credible reports of the Taliban's fighters and dedicated intelligence personnel continuing to receive training in safe havens in Pakistan which offer them key counter-intelligence and security advantages. Besides having access to military trainers and training materials, they continue to receive valuable guidance on counter-intelligence and counter-surveillance procedures from the ISI.
Unless the Afghan citizens begin to feel that the Taliban are in retreat and their ability to 'punish' has substantially decreased, the latter's intelligence capabilities are likely to remain intact. Even air strikes and drone attacks have not been able to degrade these capabilities. The issue of the eventual US withdrawal is an additional source of uncertainty among Afghans. Those who doubt the Kabul regime's ability to provide effective security without foreign assistance are hedging their allegiances accordingly.
At a time when the US officials are hoping for the commencement of meaningful peace talks, the Afghan Taliban are brutally asserting themselves on the battlefield, raising serious doubts about the viability of the American game plan. Fighting across Afghanistan has intensified in recent weeks despite a fleeting outbreak of peace in June when the Afghan Taliban and the Kabul government called separate yet overlapping ceasefires.
Undoubtedly, the Ghazni attack is a huge setback for the Ashraf Ghani-led government in Afghanistan, plummeting the Afghan security forces' morale even further. Heavy casualties, low motivation, capture, desertions, and low enlistment make waging war unsustainable without continued international support.
Explainers
Serbia, which has refused to recognise Kosovo, cherishes the region as the heart of its statehood and religion. Kosovo's majority ethnic Albanians, who are mostly Muslims, view Kosovo as their country and accuse Serbia of occupation and repression
Explainers
Prosecutors have accused Shakira of defrauding the Spanish tax office out of 14.5 million euros on income earned between 2012 and 2014. However, the superstar has stated that she is 'absolutely certain of her innocence' and rejected a plea deal
Explainers
The rivalry between two student groups has resulted in crude bomb attacks in Prayagraj. The minors, mostly between 15 and 17 and from well-off families, have been engaging in criminal activities over the past year, a senior police officer said