Germany's Merkel suffers blow as ally Kauder loses senior party job
BERLIN (Reuters) - German Chancellor Angela Merkel suffered an unexpected blow to her authority on Tuesday when her conservatives cast out long-standing ally Volker Kauder as head of the parliamentary party, reflecting rising discontent with her 13-year-old leadership. The upset, described variously as a 'political thunderbolt' and 'the beginning of the end of the Merkel era' by opposition leaders, was widely taken as a sign that lawmakers want more say in shaping the policies of her fourth and final government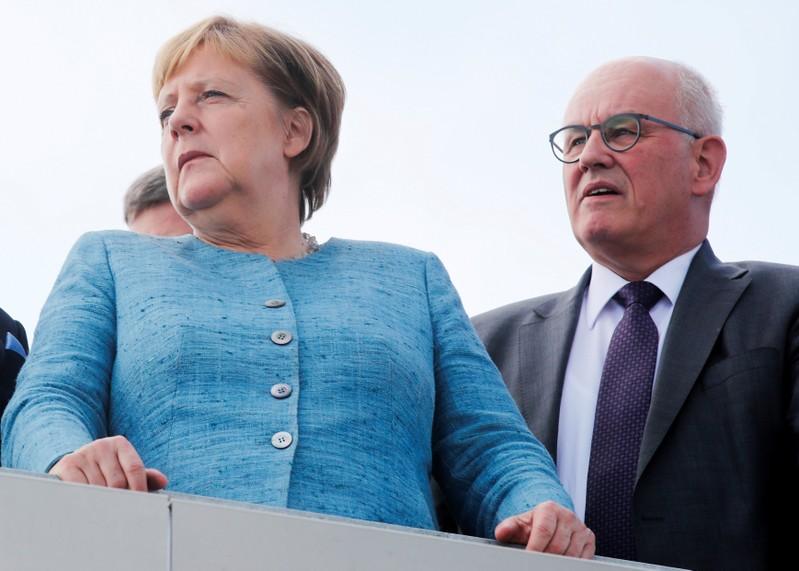 BERLIN (Reuters) - German Chancellor Angela Merkel suffered an unexpected blow to her authority on Tuesday when her conservatives cast out long-standing ally Volker Kauder as head of the parliamentary party, reflecting rising discontent with her 13-year-old leadership.
The upset, described variously as a "political thunderbolt" and "the beginning of the end of the Merkel era" by opposition leaders, was widely taken as a sign that lawmakers want more say in shaping the policies of her fourth and final government.
The victory of Ralph Brinkhaus, a deputy leader of the conservative group in the Bundestag (lower house), marks a turning point since Kauder had accompanied Merkel, serving in effect as her parliamentary right hand, throughout her 13 years in office.
"You could call it Merkel-Daemmerung (Twilight)," said Alexander Gauland, leader of the far-right Alternative for Germany (AfD), which entered the Bundestag for the first time after last year's election and now ranks second in polls. "It's a further step towards the end of the Merkel government, which I believe will end far sooner than we can imagine today."
Merkel, whose stewardship of Europe's largest economy shaped the 2008 euro zone crisis, the 2015 refugee crisis and the continent's reaction to the United States' unilateral turn under Donald Trump, congratulated Brinkhaus in a terse statement.
"I hoped Kauder could remain group leader because I worked well with him. But Brinkhaus got the most votes. I congratulated him and offered him good cooperation," she told reporters.
Though Brinkhaus, 50, scored a relatively narrow 125-112 victory over Kauder, 69, in the conservative group - comprising Merkel's Christian Democrats (CDU) and Bavaria's Christian Social Union (CSU), the upset was a clear sign of lawmakers' growing disenchantment with Merkel's ruling style.
"The conservative group wants more of a say and more government work," said senior CDU lawmaker Hans Michelbach. "Brinkhaus said we don't need to be calm, but to act."
"MUCH WORK TO DO"
An instinctive centrist, Merkel has often seemed most comfortable working with parties well to her left, including the Social Democrats (SPD), with whom she currently governs, or the Greens.
That has often run against the instincts of her own Bundestag deputies, and it was Kauder's job, as a link between party leadership and increasingly restive lawmakers, to soothe and cajole them into backing the chancellor.
"I am very pleased by the result of the vote, we have a lot of work to do," said Brinkhaus, adding he had great respect for Kauder's achievements.
Kauder's toppling comes after a turbulent few weeks during which coalition partners rowed over the fate of the head of Germany's security service, who had questioned reports of far-right attacks on migrants.
Merkel's decision to let over a million refugees into Germany at the height of the 2015 migrant crisis was applauded by many to her left, but many of her fellow conservatives were uneasy, fearing a backlash that would boost the far right.
Brinkhaus announced his candidacy a few weeks ago, surprising many commentators who viewed the move as something of a challenge to one of Merkel's closest allies, but he was widely expected to lose.
"It's a political thunderbolt for Berlin," said Christian Lindner, leader of the pro-business Free Democrats, who interpreted the vote as a sign that lawmakers were no longer content with Merkel policies that were "interchangeable with those of the Greens'.
"We greet this emancipation," he added.
(Reporting by Thorsten Severin, Tassilo Hummel, Matthias Sobolewski; Writing by Madeline Chambers and Thomas Escritt; Editing by Maria Sheahan)
This story has not been edited by Firstpost staff and is generated by auto-feed.
India
The Pulitzer prize winner, who was in Kandahar covering operations against Taliban, was killed when he was riding along with the Afghan Special Forces
India
Siddiqui had also covered the 2020 Delhi riots, COVID-19 pandemic, Nepal earthquake in 2015 and the protests in Hong Kong
India
Danish's photographs were not just documentation, but the work of someone who went down to eye-level, as they say in photographic parlance.