Germany loves rockstar Barack Obama, while Donald Trump's faux pas diplomacy continues at NATO
Looking at the sea of humanity, the huge stage, the on-ground crew, the imposing backdrop of the Brandenburg Gate — one of the most famous landmarks in Germany and a symbol of German unification — made one think that a rock star was about to turn up. While that would happen eventually, there was something else that was scheduled on 25 May in Berlin: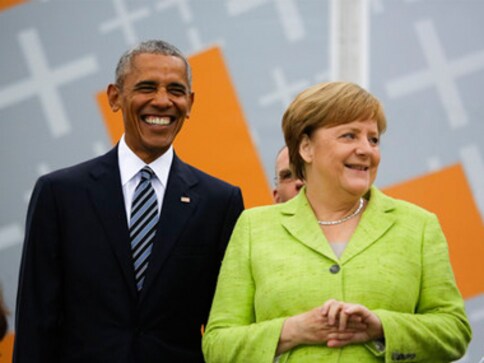 Looking at the sea of humanity, the huge stage, the on-ground crew, the imposing backdrop of the Brandenburg Gate — one of the most famous landmarks in Germany and a symbol of German unification — made one think that a rock star was about to turn up.
While that would happen eventually, there was something else that was scheduled on 25 May in Berlin: A 90-minute panel discussion that included a popular former head of state and a current head of state: Barack Obama and Angela Merkel.
While the agenda for discussion was as academic: 'Actively shaping democracy – taking responsibility at home and abroad', the speakers, Merkel and Obama, were received as if they were rockstars. Obama may not be US president, but he can still pull in the crowds.
The road leading up to the Brandenburg Gate from the Tiergarten was packed with almost 70,000 people, most of them wearing orange scarves. The occasion was the 500th anniversary celebrations of the German Protestant Church (Reformation) along the sidelines of Kirchentag, a forum that takes place over five days, biannually. Obama was invited by the bishop of Bavaria.
First there was Obama...
This was Obama's first public appearance since he left office in January 2017, but the warm reception was quite reminiscent of the kind he would command as president. Germany loves Obama. It was hard to spot a single placard critical of him. Also, Merkel and Obama share a personal relationship which Donald Trump can only dream of.
"Guten Tag! Not only do I love this city, but one of my favourite partners throughout my presidency is sitting next to me, chancellor Merkel," Obama began, to loud cheers from the crowd.
What followed was a question and answer session where both Obama and Merkel touched upon themes such as the future of democracy, solidarity, inclusion, religion, among many others.
Merkel defended her stance on the refugee situation in Germany. Thanking those who have been supportive of the cause, Merkel also appealed for patience in these trying times. At the same time, she accepted that some were critical of her decisions and her actions were not always popular.
"We must not think in terms of months, but years. There will be setbacks, but you have to keep looking ahead," Merkel said.
Obama, also speaking about accepting refugees, spoke of challenges that the head of state faces while considering the fate of his countrymen.
Expounding on religion, Obama said his public life began as a church worker in Chicago and it instilled in him a sense of purpose and belief, to work towards making the world a better place. "Personally, in my own faith, I believe that it is always good to have a little bit of doubt," said Obama.  An awkward pause followed. Then the crowd broke out into applause.
Understandable. After all, a former word leader was expressing doubting one's faith on a platform to celebrate the Reformation. Merkel stayed away from any such sentiment, sticking to the simple answer that belief was an important part of her life.
Not once in the 90-minute event did Obama directly mention Trump, although he did throw a jab at his successor.
"We make investments to try to deal with climate change and the displacement of farmers. And people whose way of life is being changed because the weather patterns are changing. Those things we do, are not just for charity. But also because if there are disruptions in these countries, if there is conflict, if there is bad governance, if there is war, and so on, then in this new world that we live in, we can't isolate ourselves. We can't hide behind a wall," Obama said.
The dig was clear. Obama clearly did not approve of Trump's plans to build a 'big, beautiful wall' along the US-Mexico border.
When asked by a student panelist about the use of drones by the United States Army, Obama accepted that there had been "collateral damage". "Sometimes, my decisions have led to the death of civilians because mistakes were made. Drones themselves are not the problem. The problem is war."
There were also moments of levity. When asked how he'd been spending his free time, Obama said he'd been catching up on his sleep and trying to spend more time with his beautiful wife Michelle and their daughters.
"But my daughters are older. I'm not really interesting to them. They'd rather spend time with their friends. Sometimes they feel sorry for me and we end up spending time together," Obama said, grinning.
Obama also spoke of his foundation, which is working to identify young thought leaders and provide them with the right platform to realise their ideas.
...And then there was Trump
Was the Obama visit scheduled to coincide with Trump's trip to Brussels? Much as one would like to see that as intentional, the fact is that Obama was invited by the German Evangelical Protestant Church  a year ago.
But since the German elections are scheduled to take place in September, the Merkel-Obama meet was also seen as a 'publicity stunt' by a lot of opponents of Merkel's Christian Democratic Union (CDU). After all, this discussion was happening at the same place where, in 2008, Merkel had reservations about Obama's Brandenburg address.
A few hours after meeting Obama, Merkel flew to Brussels to meet Trump. One can charitably say that she shares a frosty relationship with Trump, but one can hardly blame her after the cold shoulder she received during their March meeting in the United States.
Trump has, as usual, been in the news for all the wrong reasons. During the NATO summit, he quite literally put 'America first' by shoving the Prime Minister of Montenegro during a photo op, asked 23 NATO members to pay up while they sniggered behind his back. He also said, "Germans are bad, very bad."
Adding to the confusion, his advisers defended his comment, saying that Trump only meant that Germany's trade practices were bad and not the country itself. Whew!
But for anyone even cursorily following Trump, this is par for the course.
When it comes to several issues, it is clear that Merkel and Trump are not on the same page. Rather, they're not even in the same book. But keeping in mind the rise of the Right in Germany, will Trump receive the same rockstar reception as Obama?
That question will be answered when Trump makes an official visit to Hamburg for the G20 summit in July. Going by past precedent, it seems unlikely that Germany will embrace Trump.
But one can't say for sure.
Opinion
Prime Minister Narendra Modi's recent visit to three European countries — Germany, Denmark and France — and participation in the Indo-Nordic Summit at Copenhagen have prompted much celebration and speculation
Opinion
The solution to the international Khalistani problem, now witnessing a rapid resurgence within Indian borders, is to stem the flow of foreign funds and propaganda with the assistance of fellow democracies
Opinion
The Economist's tone reflects the colonial attitude of its country of origin, Britain, towards an erstwhile subject.