Germany inks 18 pacts with India, announces € 1 bn solar power fund after Modi-Merkel talks
A deal to fast track approvals for German companies in India and Euro 1 billion solar power fund by Germany were among major takeaways.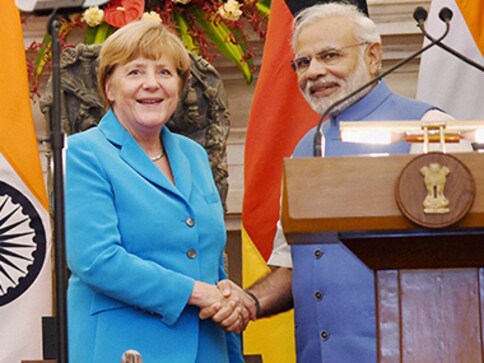 New Delhi: A deal to fast track approvals for German companies in India and Euro 1 billion solar power fund by Germany were among major takeaways from the talks between Prime Minister Narendra Modi and Chancellor Angela Merkel as both sides inked 18 MoUs to scale up ties in strategic areas.
Co-chairing the third summit-level Inter-Governmental Consultations, Modi and Merkel agreed to enhance ties in key areas of defence, security, intelligence, railways, trade and investment, clean energy, besides deciding to work closely to combat threat of terrorism.
"We see Germany as a natural partner in achieving our vision of India's economic transformation. German strengths and India's priorities are aligned.
"Our focus tends to be on economic ties. But, I believe that in a world of seamless challenges and opportunities, India and Germany can also be strong partners in advancing a more human, peaceful, just and sustainable future for the world," Modi said at a joint media event with Merkel after over three-hour-long talks, both at delegation-level and one-on-one format.
The deal on fast-track approvals process for German firms envisages single point clearance for various projects which is aimed at encouraging more and more German companies to complement Modi's "Make in India" initiative and invest significantly.
The Prime Minister noted that the partnership will grow in in areas like "defence manufacturing, trade in advanced technology, intelligence, and countering terrorism and radicalism. These are important security dimensions of our expanding relationship."
In the talks, Germany announced to provide assistance of over one billion euros for India's solar projects.
The 18 pacts signed included a Joint Declaration of Intent between HRD ministry and the Federal Foreign Office of Germany on promotion of German as a foreign language in India and the promotion of Modern Indian Languages in Germany. The pact is seen as resolution of the sticky German language row.
Both the leaders also discussed ways to move forward the stalled negotiations on the India-EU free trade agreement.
Modi and Merkel shared their concerns about growing threat and global reach of terrorism and extremism and agreed to build closer collaboration to counter these challenges and decided to have meetings of the Joint Working Group on Counter Terrorism between the two sides.
A joint statement said Germany welcomed India's intensified engagement with various export control regimes like the Nuclear Suppliers Group (NSG), the Missile Technology Control Regime (MTCR), Australia Group and the Wassenaar Arrangement.
Both sides agreed to continue to work together for India's accession to the regimes as a full member and "thereby strengthen global non-proliferation efforts".
The Prime Minister also thanked Merkel and the people of Germany for returning a 10th century Durga statue in her Mahishasurmardini avatar from Jammu and Kashmir. The idol was handed over to Modi by Merkel after the joint press statement.
The two leaders deliberated on a host of regional and international issues and underlined the importance of freedom of navigation in international waters and the right of passage and other maritime rights in accordance with accepted principles of international law, in an apparent reference to growing Chinese assertiveness in South China Sea.
They also emphasised their commitment to the reconstruction of a stable and peaceful Afghanistan.
The German side welcomed Modi's commitment to improve the ease of doing business in India and the Indian decision to set up a Fast Track System for German companies in the Department of Industrial Policy and Promotion (DIPP) which would be fully operationalised by March, 2016.
The two sides renewed their determination to expand bilateral trade and investment significantly as they emphasised the need for opening markets for attracting investments.
Expressing happiness over the broad range of outcomes, Modi said, "We can look forward with confidence to increased investment, trade and technology partnerships in manufacturing, infrastructure and skill development."
He said German engineering and Indian IT skills can create the next generation industry that will be more efficient, economical and environment friendly.
"1600 German companies in India, and growing in number, will be strong partners in creating a global work force in India," he said, adding German cooperation and assistance in areas like smart cities, clean Ganga and waste management projects have taken a concrete shape.
In her comments, Merkel expressed satisfaction over outcome of the talks and complimented Modi for the "speed" in which he is pushing various initiatives. She also listed various initiatives by the two countries including in the fields of defence, security, trade and investment and solar energy.
The two leaders condemned terrorist violence in all its forms and manifestations. They also called for a political solution in Syria to successfully fight terrorism and end the violence there while emphasing the importance of national reconciliation and unity in Iraq.
The pacts signed between the two sides will provide for cooperation in the fields of food safety, new and renewable energy, science and technology, skill development and vocational education, manufacturing, civil aviation, disaster management and agriculture.
A Joint Statement of Intent was signed between the Food Safety and Standards Authority of India (FSSAI) and the Federal Office of Consumer Protection and Food Safety (BVL) on cooperation in food safety.
Another pact was signed on cooperation in food safety between the Federal Institute for Risk Assessment (BfR) and the Food Safety and Standards Authority of India (FSSAI).
A separate MoU between India's Ministry of Civil Aviation and the Federal Ministry of the Interior of the Federal Republic of Germany will provide for cooperation in the field of aviation security.
To enhance ties in railways sector, a joint declaration of intent was signed on the cooperation between Germany's Federal Ministry of Transport and Digital Infrastructure and Ministry of Railways.
The joint statement said both the countries agreed to strengthen their cooperation on migration issues, bilaterally and internationally.
In order to intensify the exchange of views on issues of common concern, both sides agreed to establish a new Policy Planning Dialogue between their Foreign Ministries.
As strategic partners, India and Germany commit themselves to closer coordination, bilaterally and with partners, in the G20, the United Nations and other multilateral fora, to address existing and emerging challenges to international security, global economic stability and growth, the joint statement said.
Both leaders underlined their strong support to upholding the sovereign equality of all States as well as respect for their territorial integrity. They reiterated their full support for ongoing efforts to find a diplomatic solution to the conflict in eastern Ukraine.
Modi and Merkel expressed their full support to France for reaching an ambitious, comprehensive and equitable climate agreement at Climate conference in Paris later this year.
Recognising the importance of facilitating exchanges between people of the two countries, both sides agreed to initiate discussions on simplifying respective visa procedures and making them as easy and transparent as possible, especially for business persons, entrepreneurs and investors, professionals and students and journalists.
PTI
Football
Ironically, both the Japan goal scorers, Ritsu Doan and Takuma Asano, play for Bundesliga clubs in Germany.
Football
2022 FIFA World Cup: Everything you need to know about the Group E clash between Germany and Japan.
Football
Seven nations, including England and Germany, had abandoned plans to wear the armbands because of the threat of disciplinary action from the world governing body FIFA.