Germans rally in Jewish skullcaps to protest anti-Semitic attack
BERLIN (Reuters) - Hundreds of Germans wearing skullcaps rallied in the western city of Bonn on Thursday in support of a Jewish professor who was first the victim of an anti-Semitic attack and then was hit again by police who mistook him for the assailant. Yitzhak Melamed, a philosophy professor at Johns Hopkins University in Baltimore, was visiting to give a guest lecture at Bonn University when he was attacked by a 20-year-old Palestinian-German man who shouted: 'No Jews in Germany'. The protest rally was backed by Bonn's local government and other civic groups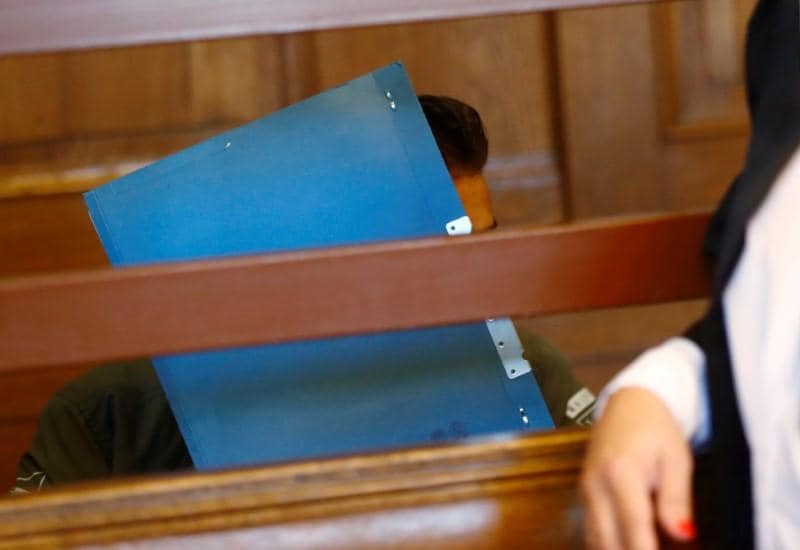 BERLIN (Reuters) - Hundreds of Germans wearing skullcaps rallied in the western city of Bonn on Thursday in support of a Jewish professor who was first the victim of an anti-Semitic attack and then was hit again by police who mistook him for the assailant.
Yitzhak Melamed, a philosophy professor at Johns Hopkins University in Baltimore, was visiting to give a guest lecture at Bonn University when he was attacked by a 20-year-old Palestinian-German man who shouted: "No Jews in Germany".
The protest rally was backed by Bonn's local government and other civic groups. They called for people to wear the kippah, or Jewish skullcap, in solidarity with Melamed who had been wearing the symbol of Jewish identity when attacked.
Far from coming to the 50-year-old's aid when they arrived, police wrestled him to the ground and punched him repeatedly.
Police said Melamed had resisted arrest but he told the Funke Mediengruppe newspapers he had been entirely peaceful.
On his Facebook page, Melamed said: "My glasses were broken. My watch torn, and then after another five or 10 minutes they realized they made an error." An officer had later told him "not to get in trouble with the German police", he said.
"I told the policeman sardonically, 'I am no longer afraid of the German police. The German police murdered my grandfather. They murdered my grandmother. They murdered my uncle, and they murdered my aunt. All in one day in September 1942," he added, making a reference to the Holocaust.
The attacker was arrested and admitted to a psychiatric clinic after a blood test showed possible drug exposure, the police said.
Anti-Semitism remains especially sensitive in Germany, where the Nazis murdered more than six million Jews. A series of anti-Semitic attacks in recent months have raised fears that younger generations and immigrants have not learned the lessons of the past.
"(I am here) to set a signal, because if people wearing the kippah in public are being beaten up here, then it concerns all of us," said Andre Zoebisch, a participant in the Bonn demonstration.
(Reporting by Riham Alkousaa; editing by David Stamp)
This story has not been edited by Firstpost staff and is generated by auto-feed.
Find latest and upcoming tech gadgets online on Tech2 Gadgets. Get technology news, gadgets reviews & ratings. Popular gadgets including laptop, tablet and mobile specifications, features, prices, comparison.
World
By Guy Faulconbridge and Kate Holton LONDON (Reuters) - Rich countries could be back to close to normal by late 2021 if a COVID-19 vaccine works, is ready soon and distributed properly at scale, Microsoft founder Bill Gates said on Tuesday. "By late next year you can have things going back pretty close to normal - that's the best case," Gates, 64, told The Wall Street Journal CEO Council. "We still don't know whether these vaccines will succeed," Gates said.
World
By Rupam Jain (Reuters) - Taliban and Afghan government-backed negotiators have agreed on a broad code of conduct to advance the intra-Afghan peace talks in Qatar, even as key differences between the two warring sides remain, three official sources told Reuters on Tuesday.
World
MOSCOW (Reuters) - Russian rights groups on Tuesday called on the authorities to stop using home searches as a tactic to intimidate opponents after a journalist set herself on fire following a police raid of her apartment last week. Irina Slavina, editor-in-chief at a small news outlet in the city of Nizhny Novgorod, self-immolated in front of the local branch of the interior ministry in Nizhny Novgorod last Friday after blaming Russian authorities for her death in a Facebook post