German authorities under fire over bomb plot suspect's suicide in custody
German authorities were under pressure Thursday to explain how a Syrian suspect detained over a bomb plot could have committed suicide in jail, seriously hampering investigations into the alleged planned attack.
Dresden: German authorities were under pressure Thursday to explain how a Syrian suspect detained over a bomb plot could have committed suicide in jail, seriously hampering investigations into the alleged planned attack.
The death in custody marks a second official "fiasco" after police commandos earlier botched the arrest of Jaber al-Bakr, sparking a nationwide weekend-long manhunt that only ended when the suspect's compatriots captured and handed him in to officers.
The suspect was discovered last night hanged in his cell in the eastern city of Leipzig, reported Germany's Bild daily and national news agency DPA.
"Jaber al-Bakr took his own life in the Leipzig prison hospital," the government of the eastern, ex-communist state of Saxony said in a statement, without elaborating.
"I am incredibly shocked and in disbelief that this could have happened," Bakr's lawyer Alexander Huebner told Bild daily, which reported that the suspect hanged himself with his T-shirt.
Huebner said his client had been on hunger strike since his arrest on Monday, and had already "smashed lamps and manipulated power points."
"But he was not under watch day and night, even though the suicide risk was known," he said.
The death in custody showed a "complete loss of control by authorities" in Saxony, the conservative wing of the Social Democratic Party said in a statement.
Green lawmaker Konstantin von Notz told Deutschlandfunk radio that a close look must be taken to identify who was responsible for what he branded a "fiasco".
Round the clock monitoring?
Debate has been raging over how jihadists — particularly those who suspected of plotting or having carried out attacks — should be monitored in custody.
In neighbouring France, Salah Abdeslam, the suspect believed to be the last surviving member of the terror squad that killed 130 people in Paris in November, is held in isolation and continuously monitored by special guards.
Authorities are anxious to prevent any attempts at jail break, but also suicide, as such suspects are believed to be sitting on a gold mine of information on jihadists' modus operandi.
In Bakr's case, guards were monitoring the suspect at hourly intervals and not round the clock, said Bild.
Deploring the incident, the Christian Democratic Union party's legal expert Jan-Marco Luczak said: "The suspect could have given lots of valuable information about the activities or structure of the Islamic State group.
"In such a sensitive situation, the monitoring should have been air-tight," he said, noting that given that Bakr was already on hunger strike, "a suicide attempt is not so far-fetched."
Botched arrest bid
The death in custody was also a second embarrassment for authorities after a botched attempt at arresting Bakr.
Germany's domestic security service had first alerted police last Friday that Bakr may be plotting a bomb attack, and police investigators have since said he was thought to have had links with the Islamic State group.
Early last Saturday, police closed in on his communist-era flat in the eastern city of Chemnitz, but he managed to slip away after they fired a warning shot, sparking a weekend-long nationwide manhunt.
He was finally turned in by three Syrian refugees who had overpowered and tied him up after realising that he was sought by police.
Police officers monitoring Bakr were reportedly so conspicuous when watching him in his apartment in Chemnitz that the suspect's neighbour noticed them too, Bild daily reported, adding that a police vehicle was also openly parked in front of the apartment block.
The explanation that officers were unable to outrun Bakr as they were wearing 35 kilos worth of protective gear, was also widely mocked.
Investigators subsequently discovered 1.5 kilos (over three pounds) of TATP, the homemade explosive that was used by IS jihadists in the Paris and Brussels attacks, in Bakr's flat.
They said the explosives were "almost ready or even ready for use," and that he was apparently preparing a "bomb, possibly in the form of a suicide vest".
Germany's domestic intelligence chief Hans-Georg Maassen said his service had received information that Bakr "initially wanted to target trains in Germany before finally deciding on one of Berlin's airports".
The service reportedly believes the attack may have been only days away.
News & Analysis
NGO Environmental Action Germany (DUH) says Daimler and BMW need to set more ambitious climate goals, including ending the sale of fossil-fuel cars by 2030.
Sports
Gareth Southgate's men are still four points clear of second-placed Albania, who thumped San Marino 5-0 in Tirana.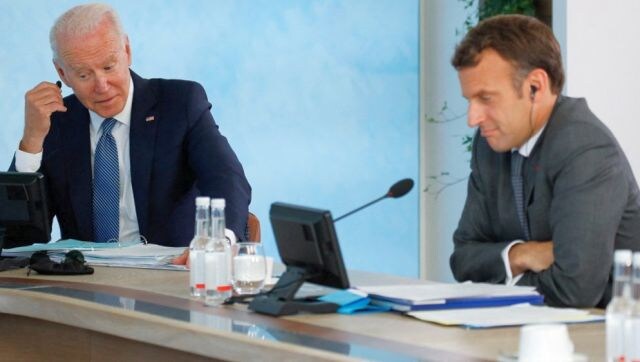 World
Paris is livid with its foreign minister saying the decision by Australia to get nuclear-submarines from America instead felt like a stab in the back