Georgia to conduct a full recount of election ballots
By Jason Lange and Julia Harte WASHINGTON (Reuters) - Georgia will re-count all paper ballots cast in the Nov. 3 presidential election by hand, the state's top election official said on Wednesday, a mammoth task that must be completed by Nov. 20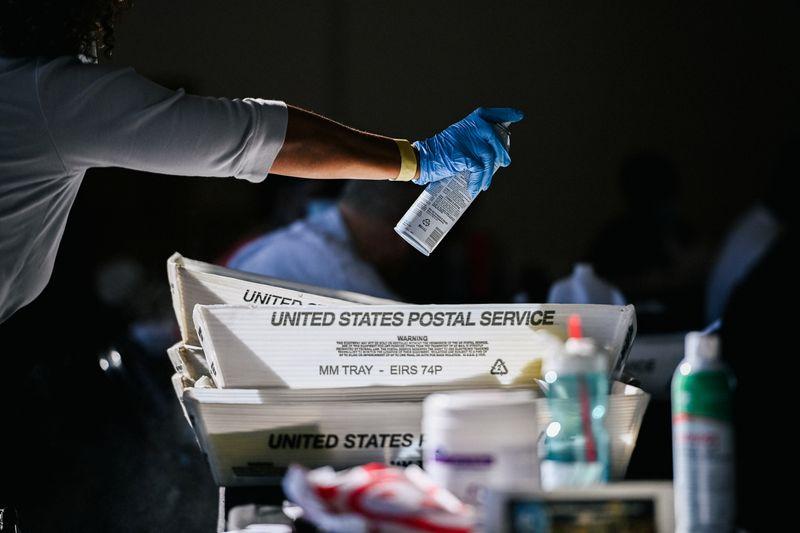 By Jason Lange and Julia Harte
WASHINGTON (Reuters) - Georgia will re-count all paper ballots cast in the Nov. 3 presidential election by hand, the state's top election official said on Wednesday, a mammoth task that must be completed by Nov. 20.
Democratic President-elect Joe Biden secured more than the 270 Electoral College votes needed by winning Pennsylvania on Saturday after four tense days of counting, delayed by a surge in mail-in ballots due to the coronavirus
pandemic. Winning Georgia would only add to Biden's margin of victory.
Republican President Donald Trump has refused to concede defeat and has said - without citing evidence - that the voting was marred by fraud.
The vote count in Georgia showed Biden ahead of Trump by just 14,101 votes out of some 5 million across the state, and with the margin so small, a recount is needed, Georgia Secretary of State Brad Raffensperger said at a news conference.
"You actually have to do a full hand-by-hand recount of all because the margin is so close," Raffensperger said. "We want to start this before the week is up."
"People will be working lots of overtime over the next coming weeks," he said.
A study by the non-partisan group Fair Vote found that out of 31 statewide recounts between 2000 and 2019, the outcome changed in only three of them. More often, the winner won by a tiny bit more. On average, they shifted the outcome by 0.024%, Fair Vote found - a much smaller margin than Trump would need. Biden is currently leading Trump in Georgia by 49.5% to 49.2%.
Georgia's two U.S. senators, David Perdue and Kelly Loeffler, both Republicans, on Monday called on Raffensperger, who is also a Republican, to resign over his management of the election in Georgia. Their statement presented no evidence of fraud, however.
(Reporting by Jason Lange and Tim Ahmann in Washington; Editing by Chizu Nomiyama and Sonya Hepinstall)
This story has not been edited by Firstpost staff and is generated by auto-feed.
Find latest and upcoming tech gadgets online on Tech2 Gadgets. Get technology news, gadgets reviews & ratings. Popular gadgets including laptop, tablet and mobile specifications, features, prices, comparison.
World
MUNICH/FRANKFURT (Reuters) - German police fired water cannon during an anti-lockdown rally in Frankfurt on Saturday and eventually broke up the gathering as rules like wearing masks and socially distancing were not observed. About 600 people from the loosely organized Querdenker movement that opposes the government's measures to halt the rise in coronavirus infections took to the streets in Frankfurt.
World
By Christian Hartmann PARIS (Reuters) - A silk shoe that belonged to Marie Antoinette, the last queen of France who was executed during the French Revolution, will go up for auction on Sunday - with a starting price of 10,000 euros ($11,800).
World
By Juarawee Kittisilpa and Matthew Tostevin BANGKOK (Reuters) - Thailand's King Maha Vajiralongkorn told well-wishers of the importance of unity as he marked the opening of a new railway line on Saturday, after thousands of protesters had turned their backs on his motorcade as it passed through central Bangkok. Around 2,500 demonstrators had gathered at the capital's Democracy Monument in the latest of months of protests against Prime Minister Prayuth Chan-ocha, demanding changes to the constitution as well as reforms of the monarchy. The protesters draped the centrepiece of the monument, which has become a rallying point for the protests, in a cloth covered in grievances and insults