Gbabgo could return to Ivory Coast after ICC upholds acquittal
By Stephanie van den Berg THE HAGUE (Reuters) - The International Criminal Court on Wednesday upheld its 2019 acquittal of former Ivory Coast President Laurent Gbagbo on charges of crimes against humanity during post-election violence and ordered all conditions of his release be removed. The decision may open the way for Gbagbo, 75, who has been living in Belgium, to return to Ivory Coast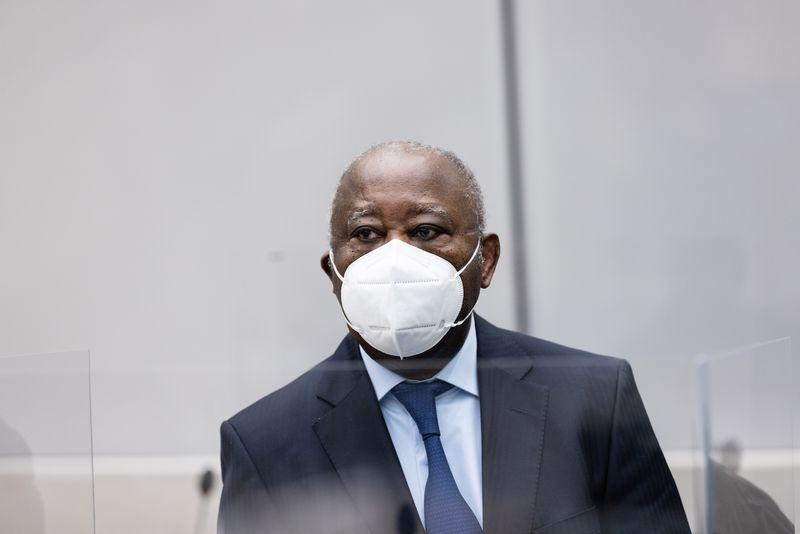 By Stephanie van den Berg
THE HAGUE (Reuters) - The International Criminal Court on Wednesday upheld its 2019 acquittal of former Ivory Coast President Laurent Gbagbo on charges of crimes against humanity during post-election violence and ordered all conditions of his release be removed.
The decision may open the way for Gbagbo, 75, who has been living in Belgium, to return to Ivory Coast. A group of around 20 supporters were awaiting his departure from the courtroom in The Hague. Others danced and sang in Abidjan.
Gbagbo served as president from 2000 until his arrest in 2011 after his refusal to concede electoral defeat to current President Alassane Ouattara. The civil war that followed killed 3,000 people.
Prosecutors had argued that grave errors were made by trial judges at the international court, who ruled in 2019 that prosecutors had failed to present enough evidence to prove their case against Gbagbo and co-accused Charles Ble Goude, a former youth leader.
That trial acquitted both men on charges of crimes against humanity for their alleged role in the bloodshed in 2010-2011.
"The appeals chamber, by majority, has found no error that could have materially affected the decision of the trial chamber," said Presiding Judge Chile Eboe-Osuji, reading the panel's ruling.
Issiaka Diaby, the president of an association for victims of the civil war, said: "We are against this decision of the ICC because the victims were forgotten."
Supporters in the strongly pro-Gbagbo Yopougon district of Abidjan danced and sang Gbagbo's name and passing taxis tooted their horns.
Supporter Nadege Kobenan, a merchant at a market, said she was happy the court had "recognised that they are innocent".
"What I ask of Gbagbo and ... Ble Goude is to forgive, forgive and forgive again. The country needs to live in peace and put vengeance behind it."
(Reporting by Stephanie van den Berg; Additional reporting by Toby Sterling in Amsterdam and Ange Aboa in Abidjan; Editing by Peter Graff, Alex Richardson and Alison Williams)
This story has not been edited by Firstpost staff and is generated by auto-feed.
World
By Oliver Griffin and Jake Spring BOGOTA (Reuters) - Worldwide losses of old-growth tropical forests increased 12% in 2020, with climate impacts such as fires, storms and droughts playing a significant role, causing an area roughly the size of Denmark to disappear, according to new data reported on Wednesday.     The world lost 4.2 million hectares (10.4 million acres) of these humid primary forests in 2020, compared with 3.75 million hectares lost in 2019, according to the data from the University of Maryland, published by the World Resource Institute (WRI). Environmentalists seek to preserve old-growth forests, which attain a great age without significant disturbance, for the ecosystem benefits they provide.
World
CARACAS (Reuters) - Human rights groups from Venezuela and Colombia on Wednesday called on the United Nations to appoint a special envoy to address the humanitarian crisis caused by clashes between Venezuelan troops and Colombian armed groups near the countries' border. Colombian officials estimate that some 4,000 people have fled Venezuela for Colombia since March 21 following a military offensive in Venezuela's Apure state.
World
By Anton Zverev and Andrew Osborn MOSCOW (Reuters) - Jailed Kremlin critic Alexei Navalny went on hunger strike on Wednesday in an attempt to force the prison holding him outside Moscow to provide him with proper medical care for what he said was acute pain in his back and legs. The fate of Navalny, one of President Vladimir Putin's most prominent critics, is in focus after he said last week that being woken up by a guard every hour during the night amounted to torture and that his appeals for medical treatment had been ignored. In a handwritten letter addressed to the governor of his prison which was posted to social media by his team on Wednesday, Navalny said daily requests for a doctor of his choice to examine him and for proper medicine had been ignored