Gaza war: How bias affects coverage of Israel-Palestine conflict
The recent flare up in Gaza which went from a searching for three kidnapped Israeli teens to a full fledged invasion, has seen no halt in the bloodshed as the death toll hit 583.
Ayman Mohyeldin, NBC's correspondent on Gaza was kicking around a football on a beach in Gaza with a bunch of children who had chosen the sunny afternoon to get away from the refugee camps where they had been housed. Also on the beach was a hotel where foreign correspondents and journalists covering the Gaza conflict were staying. Mohyeldin finished playing with the children and walked away, only to have to tweet this:
4 Palestinian kids killed in a single Israeli airstrike. Minutes before they were killed by our hotel, I was kicking a ball with them #gaza

— Ayman Mohyeldin (@AymanM) July 16, 2014
Days later NBC had pulled Mohyeldin from Gaza, in a widely-protested move seen as the network's way of ensuring that the coverage isn't seen as too sympathetic towards the Palestinians. But, social media was already on the case, as the hashtag #LetAymanReport trended on Twitter and outraged gripped all those who had seen Israel's atrocities in Gaza. With no explanation about the entire incident, NBC reinstated Mohyeldin, the award-winning former Al Jazeera journalist who returned to Gaza. Mohyeldin's arbitrary removal from air and subsequent reinstatement has brought the spotlight back on conflict journalists and how war zones are covered amid political slants and resulting censorship. Recently, the BBC defended it's coverage of Gaza after protesters gathered outside it's London office along with an online petition signed by 45,000 people and called the broadcaster's reportage devoid of context. The Guardian reported:
"The petition, signed by Noam Chomsky, John Pilger, Ken Loach, Brian Eno and Jeremy Hardy, accused the corporation of pro-Israeli bias and said it would "like to remind the BBC that Gaza is under Israeli occupation and siege [and] that Israel is bombing a refugee population".
The problem, as the Guardian report says, something BBC journalists themselves admitted -- they are unable to convey the Palestinian perspective. "Many times senior journalists at the BBC have told me they simply cannot get the Palestinian viewpoint across, the perspective they can't say – which is the Palestinian view – is that Israel is a brutal apartheid state," the report in Guardian says quoting Greg Philo, professor at Glasgow University and co-author of Bad News from Israel. But as the conflict plays out in the media in form of a public relations war, Israel, as a New York Magazine reports says, has already lost the plot -- something Prime Minister Benjamin Netanyahu knows well. Netanyahu recently complained to journalists that Hamas had been using "telegenically dead Palestinians for their cause".  
"But his [Netanyahu] complaint is in itself a concession. The story of the conflict between Israel and Palestine looks a little bit different this time around. Social media have helped allow us to see more deeply inside war zones — in this case, inside Gaza — and allowed viewers much fuller access to the terror that grips a population under military attack," writes Benjamin Wallace-Wells for the New York Magazine. Even Mohyeldin, NBC's only Egyptian-American correspondent, made no attempt to hide that there existed a tug-of-war between him and the network over how the crisis should be covered. Putting NBC on the spot, he tweeted after being reinstated that he was grateful that the network was committed to covering the "Palestinian side of the story".  
Thanks for all the support. Im returning to #Gaza to report. Proud of NBC's continued commitment to cover the #Palestinian side of the story — Ayman Mohyeldin (@AymanM) July 18, 2014
The discussion of bias becomes especially important in light of the recent comments by US secretary of state John Kerry who was caught on tape criticising Israel.
Kerry was heard talking about Israeli soldiers killed in Gaza to a State Department official identified as Jonathan Finer just before appearing on the "Fox News Sunday" political talk show.
"I hope they don't think that's an invitation to go do more," Kerry is heard saying. "That better be the warning to them."
This is followed by a frustrated Kerry saying, "It's a hell of a pinpoint operation, it's a hell of a pinpoint operation," in apparent frustration over the civilian toll in the Israeli operation. "We've got to get over there," Kerry is heard saying on the Sunday recording. "I think, Jon, we ought to go tonight. I think it's crazy to be sitting around. Let's go."
And yet, on air, particularly on a conservative website like Fox, Kerry sang a different tune. When confronted over the remarks by Fox host Chris Wallace, Kerry only reiterated Israel's right to self-defense.
"You have people who've come out of tunnels. You have a right to go in and take out those tunnels. We completely support that. And we support Israel's right to defend itself against rockets that are continuing to come in," he said.
In the recent flare up which went from searching for three kidnapped Israeli teens to a full fledged invasion, has seen no halt in the bloodshed as the death toll hit 583 on Tuesday, 15 days since Israel launched its operation. Another 3,640 people have been wounded as the violence spirals into the bloodiest one in recent years.
To many however, it isn't a PR war. Recently, an Al Jazeera journalist broke down on air while reporting from Gaza, and had to walk off camera as his voice broke mid-sentence, highlighting the devastation felt by all those who witnessed the heartbreaking violence.
With inputs from AFP
Subscribe to Moneycontrol Pro at ₹499 for the first year. Use code PRO499. Limited period offer. *T&C apply
World
Citing unnamed "military experts," Iran's leading ultraconservative daily 'Kayhan' wrote in a front-page report that "the targeted ship in the Gulf of Oman is a military ship belonging to the Israeli Army"
science
Coral populations around the world are under threat from bleaching caused by climate change, these reefs are stable due to their unique heat resistance.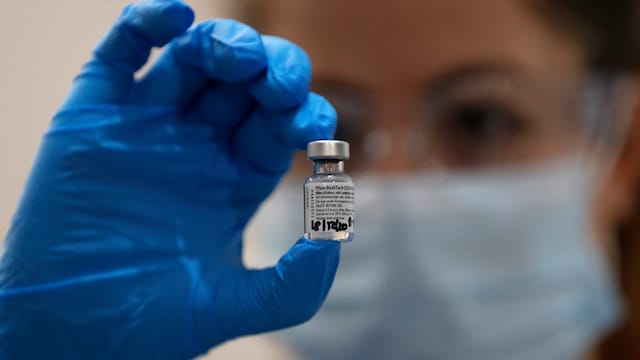 World
The vaccine was found 92 percent effective at preventing severe disease after two shots and 62 percent after one.