Gatwick drone disruption: Airport resumes limited flights; chaos following shutdown had left thousands stranded
Britain's Gatwick Airport cancelled all flights on Thursday after drones flying near the airport grounded flights.
Flights resumed at London's Gatwick Airport on Friday after drones caused the shutdown of the airfield for more than 24 hours, leaving tens of thousands of passengers stranded or delayed during the busy holiday season.
The airport said in a statement at 6.14 am that "Gatwick's runway is currently available and a limited number of aircraft are scheduled for departure and arrival." But the statement urged passengers to check flight status before going to the airport "as departures and arrivals will be subject to delays and cancellations."
What exactly happened
Britain's Gatwick Airport cancelled all flights on Thursday after drones flying near the airport grounded flights. The prospect of a deadly collision between what police described as industrial-grade drones and an airliner led authorities to stop all flights in and out. The drones were first spotted on Wednesday evening.
Police said they had no doubt the intrusion was a deliberate attempt to disrupt operations at the airport during a peak period, but there were "absolutely no indications to suggest this is terror-related."
The armed forces were also deployed to help resolve the situation. "We are there to assist and do everything we can," Defence Minister Gavin Williamson told reporters.
The crisis at Gatwick had a ripple effect on air travel in Britain, continental Europe and beyond as incoming flights were sent to other locations and outgoing ones were grounded. British authorities said they would lift some night-flight noise restrictions at other airports to ease the congestion.
Travellers described freezing conditions overnight at Gatwick as hundreds slept on benches and floors, and passengers and their families complained they weren't being kept informed about re-routed flights.
Police said the drones were of an "industrial specification," an indication they weren't the small, inexpensive machines sold to hobbyists. The larger drones are more dangerous to jets in flight and can stay in the air longer.
Earlier sightings
Britain had 120 reports of close encounters in 2018, up from 93 last year. In 2014, there were six, according to the UK Airprox Board, which catalogs air safety incidents.
In the United States, there were nearly 2,300 drone sightings at airports in the year ending 30 June, according to Federal Aviation Administration records. Runways have been temporarily closed, but an FAA spokesman said he could not recall drones ever leading to the shutdown of a US airport.
A drone hit a small charter plane in Canada in 2017; and the plane landed safely. In another incident that same year, a drone struck a US Army helicopter in New York but caused only minor damage.
Drone regulations currently
It is illegal to fly drones within 1 kilometre of a British airport boundary, punishable by five years in prison.
Jon Parker, founder of Flyby Technology and a former Royal Air Force fighter pilot told CNN that Drones up to 7 kilos are allowed to fly in airspace controlled by air traffic controllers, but they are not allowed to be flown higher than 120 meters.
British authorities are planning to tighten regulations by requiring drone users to register, which could make it easier to identify the pilot, reported The Associated Press. US law already requires users to register their drones and get certified as pilots.
Britain and the US prohibit drones from being flown too high or too close to airports and other aircraft. In Britain, it is a crime punishable by up to five years in prison. Still, there is little to stop a drone operator bent on disrupting air traffic, which British officials say was the case with the Gatwick incident.
Difficulty in stopping drones
The number of close calls between drones and aircraft has increased dramatically in recent years as the popularity of drones has soared. Basic models for amateurs sell for under $100; larger, more sophisticated ones can cost hundreds more.
Authorities could capture drones with anti-drone "net guns" that fire lightweight netting, but such equipment can be pricey and have limited range, and it is not widely used.
As for taking one down with a rifle, hitting a small, fast-moving object like a drone would be difficult even for a marksman, and the bullet could hit someone, experts say. There's also the risk of damage or injury from a falling drone.
Jamming systems could disrupt the signals between drone and operator, but that could interfere with the many vital communication systems in use at an airport, Marc Wagner, CEO of Switzerland-based Drone Detection Sys told The Associated Press.
Local laws might also prevent the use of such electronic countermeasures. Wagner said in Switzerland jamming systems are allowed, while Britain and the US prohibit them. "The only method is to find the pilot and to send someone to the pilot to stop him," Wagner said. Drones that collide with planes could cause more damage than birds of the same size because of their solid motors, batteries and other parts, according to a study released by the FAA.
With inputs from agencies
also read
World
This month, Russia has increased missile and drone strikes on Ukraine, mostly targeting logistical and infrastructure installations ahead of an expected Ukrainian counteroffensive
World
The whistleblower testimony, published on Thursday, disclosed the accounts of rape and sexual assault of eight women. The report, collected by medical teams and sent to a Commons defence committee, highlights the continuing sexual abuse in the military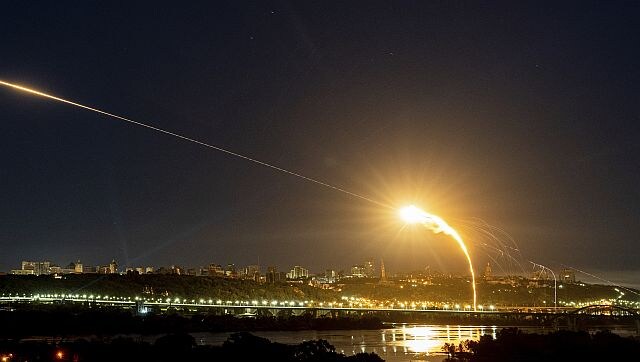 Explainers
The drone war has now become a numbers game. In recent months, invading Russian troops have sent waves of Iranian-made Shahed explosive drones at Kyiv and other major cities, while Ukraine has launched unmanned attacks of its own in Crimea and Russian border region Belgorod