When world leaders were to gather at the United Nations on 12 September, one thing was clear — talks on the escalating threat from North Korea would be among the main topics to be discussed at the session.
With the 72nd United Nations General Assembly all set to wrap up on 25 September, here are the most prominent remarks— from the provocative to the unexpected — said this year.
"No Taliban safe havens in Pakistan"
In his maiden address to the UN General Assembly on Thursday, Prime Minister Shahid Khaqan Abbasi responded to US' claim that Pakistan was harbouring terrorists on its soil.
"We are not prepared to be anyone's scapegoat. Taliban 'safe havens' are located not in Pakistan but in the large tracts of territory controlled by the Taliban in Afghanistan," he said.
Abbasi also accused India of indulging in terror activities against his country.
"To divert the world's attention from its brutalities; India frequently violates the ceasefire along the Line of Control in Kashmir. Despite over 600 violations since January this year Pakistan has acted with restraint. But if India does venture across the LoC, or acts upon its doctrine of "limited" war against Pakistan, it will evoke a strong and matching response," he said.
Swaraj to Abbasi: 'Look who's talking'
External affairs minister Sushma Swaraj asked the leaders at UN to introspect why India is recognised as a global IT superpower while Pakistan is infamous as the "pre-eminent export factory for terror".
Addressing the world leaders in Hindi, she said, "The country which has crossed all limits of decency, murdered several innocents is teaching us lessons on humanity."
"He (Abbasi) accused India of state-sponsored terrorism, and of violating human rights. Those listening had only one observation: "Look who's talking!" A country that has been the world's greatest exporter of havoc, death and inhumanity became a champion of hypocrisy by preaching about humanity from this podium," she added.
"Pakistan is now Terroristan"
In a strongly-worded counter to Abbasi's statement in the UN General Assembly, India said that Pakistan had become 'synonymous with terror'.
"In its short history, Pakistan has become a geography synonymous with terror. The quest for a land of the pure has actually produced 'the land of pure terror'. Pakistan is now Terroristan," said the Indian statement made in its right of reply to the United Nations on Thursday. The statement was made by Eenam Gambir, India's First Secretary to the United Nations.
Abbasi had alleged that 'struggle for self-determination' of the people of Jammu and Kashmir' is being 'brutally suppressed by India's occupation forces.'
India called out Pakistan's hypocrisy, saying, "Even as terrorists thrive in Pakistan and roam its streets with impunity, we have heard it lecture about the protection of human rights in India. The world does not need lessons in democracy and human rights from a country whose own situation is charitably described as a failed state."
"Rocket Man is on a suicide mission"
In a combative debut speech to the General Assembly, US president Donald Trump threatened the "total destruction" of North Korea if it does not abandon its drive toward nuclear weapons.
"The United States has great strength and patience, but if it is forced to defend itself or its allies, we will have no choice but to totally destroy North Korea. Rocket Man is on a suicide mission for himself and for his regime. The United States is ready, willing and able, but hopefully this will not be necessary. That's what the United Nations is all about; that's what the United Nations is for. Let's see how they do."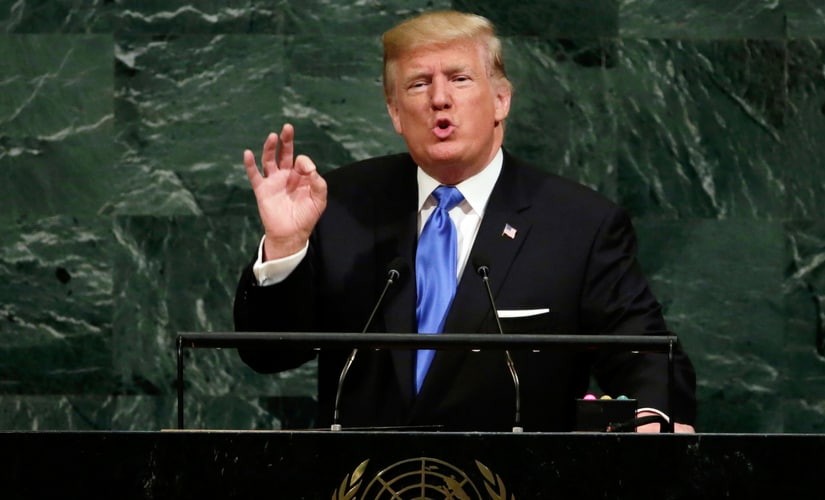 "Iran nuclear deal cannot be negotiated"
"The option that we say we have at our disposal... will never be going towards nuclear weapons.. An option may be to start enrichment, not building an atom bomb," Hassan Rouhani, the president of Iran said.
Rouhani told a news conference that the Trump administration is seeking "an excuse" to pull out of the nuclear agreement that caps Iran's nuclear activities which is supported by his government and the five other parties - Russia, China, Britain, France and Germany.
Trump called the nuclear deal an "embarrassment" during his first speech at the United Nations.
"It will be a great pity if this agreement were to be destroyed by rogue newcomers to the world of politics: the world will have lost a great opportunity. But such unfortunate behavior will never impede Iran's course of progress and advancement. By violating its international commitments, the new US administration only destroys its own credibility and undermines international confidence in negotiating with it, or accepting its word or promise."
"Pakistan military started 'genocide' of 1971"
Sheikh Hasina lashed out at Pakistan, saying its army launched a "heinous" military operation in 1971 which triggered a "genocide" during the liberation war, killing three million innocent people.
"In the 1971 war of liberation, we endured an extreme form of genocide. In the nine-month-long war of liberation against Pakistan, three million innocent people were killed and more than 2,00,000 women were violated,"
"The Pakistan military launched the heinous 'Operation Searchlight' on 25 March, which was the beginning of the 1971 genocide. The 1971 genocide included targeted elimination of individuals on the grounds of religion, race and political belief. The intellectuals were killed brutally," Hasina said.
Trump is a 'giant golden Goliath' 
Robert Mugabe, one of Africa's longest-serving leaders, said: "Some of us were embarrassed, if not frightened, by what appeared to be the return of the biblical giant gold Goliath. Are we having a return of Goliath to our midst, who threatens the extinction of other countries?
"May I say to the United States President, Trump, please blow your trumpet. Blow your trumpet in a musical way towards the values of unity, peace, cooperation, togetherness, dialogue, which we have always stood for," The Independent quoted the 93-year-old as saying.
Mugabe had appeared to have fallen asleep during Trump's maiden address in the General Assembly.
"There is still hope for peace"
Warning its neighbours not to pursue their own nuclear weapons, Chinese foreign minister Wang Yi said that negotiation remained the only solution on North Korea.
"There is still hope for peace and we must not give up. Negotiation is the only way out and deserves every effort," Wang told the General Assembly.
"There should be no new nuclear weapons states, whether it is in the north or the south of the (Korean) peninsula, whether it is in Northeast Asia or elsewhere in the world," Wang said.
China is the only Asian nation whose nuclear arsenal is recognised under the Non-Proliferation Treaty. It warned against proliferation amid growing, but still far-off, called for South Korea and Japan to develop their own weapons to defend themselves.
Your guide to the latest election news, analysis, commentary, live updates and schedule for Lok Sabha Elections 2019 on firstpost.com/elections. Follow us on Twitter and Instagram or like our Facebook page for updates from all 543 constituencies for the upcoming general elections.
Updated Date: Sep 25, 2017 13:33:27 IST