From teacher to a terrorist mastermind: The astonishing story of JeM chief Masood Azhar
Maulana Masood Azhar, head of terror group Jaish-e-Mohammad (JeM), a teacher and clergyman turned into a terrorist mastermind provides one of the most fascinating stories in the backdrop of India and Pakistan's troubled relationship.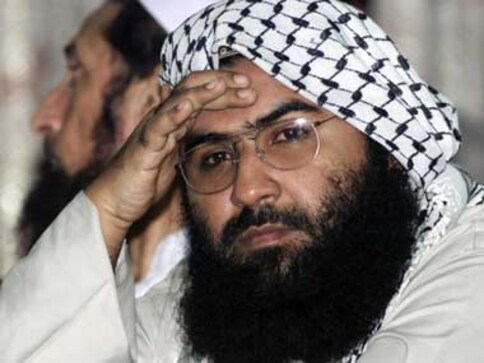 Pakistan's reported detention on Wednesday of Maulana Masood Azhar, head of terror group Jaish-e-Mohammad (JeM), has brought the limelight back on the man whose transformation from a teacher and clergyman into a terrorist mastermind provides one of the most fascinating stories in the backdrop of India and Pakistan's troubled relationship.
Azhar — whose arrest has still not been confirmed by either the Indian or Pakistan establishment — and his brother Abdul Rauf Asghar have been named as the chief designers of the stunning Pathankot airbase strike which resulted in the deaths of seven Indian military personnel and six terrorists.
As reports came in from Pakistan that the JeM chief and his brother have been arrested and taken to an undisclosed location, Azhar issued a thinly veiled threat against the Nawaz Sharif government, warning the country of 'consequences' in an article published on Thursday under his pen name 'Saadi' in alQalam, JeM's online mouthpiece.
According to a report in The Indian Express, Azhar said that JeM's thinking regarding Pakistan is based on wishing it well and for the interests of "Muslim Umma". "I am sorry that rulers in Pakistan have no respect for that. They continue to turn their own country into a heap of explosives and fire. There is a lot of noise coming from India regarding us — arrest, kill, arrest, kill — and here our rulers are in anguish because, perhaps, we have disturbed their intimacy and friendship because they want that on the day of judgment, they should stand as friends of Modi and Vajpayee..."
Early days
Azhar's meteoric rise and courting of international notoriety began almost at the same time when the Vajpayee government was forced to free him in 1999 in exchange for 155 kidnapped Air India passengers. Over the years, he has planned and presided over some of the most audacious attacks on Indian soil, including one on the Parliament which brought the two neighbouring nations to the brink of war.
Born in Bahawalpur, Punjab, on 10 July, 1968 as one of 10 siblings (some sources list his DoB as August 7, 1968, as the third of 11 children), Azhar, whose father Allah Bakhsh Shabbir was the headmaster at a government-run school, studied at the Jamia Uloom ul Islamia Banuri Town in Karachi.
His family ran a dairy and poultry farm. In his book, The Virtues of Jihad, Azhar reveals: "One of my father's friends, Mufti Sayeed, was a teacher at the Jamia Islamia at the Binori Mosque in Karachi. He prevailed upon my father to admit me in the Jamia." Even as he got his degree and an eventual teaching assignment, it was clear that Azhar's interest lay elsewhere.
Binori madarsa, like many of its ilk, was a veritable ground for recruits and leaders of the Harkat-ul-Ansar (aka Harkat-ul-mujahideen) frequented the campus, roping in impressionable minds.
"A leader of Harkat-ul-Ansar, Commander Akhtar, had come to invite the principal of the madarsa to visit Afghanistan. The principal, Mufti Ahmadur Rahman, suggested that I should also participate in the training course of jihad," Azhar recalled.
A great motivator but physically unfit, Azhar learned to use Kalashnikov and Zokai machine guns in Afghanistan but failed the arduous 40-day military training. That, and his subsequent injury in the Soviet-Afghan war led to his appointment as the head of Harkat's department of motivation. He also became the editor of Harkat's monthly magazine which was mostly distributed for free at mosques in Karachi and became an important tool for recruitment.
Azhar, who was also a great orator, later became the general secretary of Harkat and as part of a mission to spread pan-Islamism — which included ideological motivation, recruitment and fund-raising — Azhar visited Lusaka, Zambia, Abu Dhabi, Saudi Arabia, Mongolia and United Kingdom and even Albania.
By 1993, 25-year-old Azhar rose to the top of Harkat hierarchy with a power to even revamp the entire organizational structure.
Fortuitous arrest
It was around this time that Azhar received a central role in organising the Harkat's campaign in Kashmir. His Kashmir trip in 1994 was a brief assignment aimed at effecting a patch-up between rival factions Harkat-e-Jihadi Islami and Harkat-ul-Mujahideen.
In January 1994, he flew into Delhi from Dhaka as a Gujarat-born Portuguese national, Wali Adam Issa and eventually left for Deoband with two Harkat operatives from Kashmir. He flew to Srinagar and met the Harkat's top commanders in the Lalbazaar area of downtown Srinagar.
On 10 February, a meeting of 19 leaders of the Harkat, the HuJI, and the JuM was called at a village near the Anantnag forest. Azhar's ideological and operational address to the group began late that evening. It was while returning from that meeting that Azhar was arrested, which wouldn't happened had it not been for a faulty fuel gauge.
As Praveen Swami writes in Frontline:
On February 11, 1994, on his second day in Kashmir, Azhar was returning from a meeting with terrorists near Anantnag. Sajjad Khan, the Harkat's supreme commander in the Kashmir Valley had just turned their car on to the National Highway to Srinagar when the engine spluttered to a halt. It turned out that the car had run out of petrol. Azhar, Khan and their bodyguard Farooq Ahmed had no choice but to take an autorickshaw back to the nearest petrol pump, at Khanabal.

Five minutes down the road, the three ran into a BSF patrol. Ahmed had nowhere to hide his gun, and opened fire. He escaped, but both Azhar and Khan had no time to run. When the BSF personnel searched Azhar's briefcase, they found $1,200, a fake Portuguese passport and identity card and an Indian Airlines ticket to New Delhi, booked for 13 February.
Forced release
The Harkat made several unsuccessful attempts to get Azhar and Afghani out of jail before the audacious IC 814 Air India hijack in December 1999.
In one of the most dramatic hostage crisis, Masood Azhar was released by the Atal Bihari Vajpayee-led NDA government in return for kidnapped 155 passengers and crew members. The entire hijacking was reportedly led by Masood Azhar's brothers Ibrahim Athar and Abdul Rauf Asghar.
"There has been an agreement for the release of all the hostages in exchange of three militants namely Maulana Masood Azhar, Ahmed Omar Saeed Sheikh and Mushtaq Zargar," former national security advisor (NSA) Brajesh Mishra announced, bringing the drama to a close.
Shortly after his release, Azhar made a public address to an estimated 10,000 people in Karachi: "I have come here because this is my duty to tell you that Muslims should not rest in peace until we have destroyed India."
Formation of Jaish-e-Mohammad and first suicide attack
In the spring of 2000, Afaq Ahmad, a 17-year-old schoolboy from downtown Srinagar who studied in Class 12, blew up an explosives-laden car at the gate of the 15 Corps HQ in the city. The Valley's first human bomb marked a new phase in the militancy, and made the deafening announcement of the arrival of the Jaish-e-Mohammad, formed weeks earlier by Masood Azhar who had been freed by India.
JeM's formation was endorsed by three religious school chiefs, Mufti Nizamuddin Shamzai of the Majlis-e-Tawan-e-Islami (MT), Maulana Mufti Rashid Ahmed of the Dar-ul Ifta-e-wal-Irshad and Maulana Sher Ali of the Sheikh-ul-Hadith Dar-ul Haqqania, claims South Asia Terror Portal.
According to The Indian Express, the tactics of Azhar's group were different from the Lashkar-e-Toiba's, which, while carrying out fidayeen attacks, avoided suicide missions due to the strong sanctions in Islam against suicide.
2001 Parliament attack
In an unprecedented, brazen strike at the heart of Indian Parliamentary democracy, on 13 December 2001, five terrorists infiltrated the compound in a car while the Parliament was in session. Armed with AK47 rifles, grenade launchers, pistols and grenades they managed to breach the security deployed around the complex and opened fire.
The attack led to the deaths of five terrorists, six Delhi Police personnel, two Parliament Security Service personnel and a gardener and to increased tensions between India and Pakistan, resulting in the 2001–02 military standoff.
Following the attack, the US State Department added JeM to its foreign terrorist organization list. Under pressure from India which demanded that Azhar be handed over to Delhi, Pakistan arrested Azhar on 29 December, 2001 but he was released a year later after the Lahore High Court ruled his arrest unlawful.
He was, however, forced to curtail his activities and stay low-key. After a suicide attack targeted Musharraf on 14 December, 2003, a crackdown followed, and the JeM soon disappeared from the militancy scene in Kashmir.
Pathankot strike
Following the 2008 terror attacks in Mumbai , Azhar went into seclusion for six years. He resurfaced again in January 2014 at a rally in Muzaffarabad. His operative JeM is believed by India to be behind the Pathankot attack in which seven security personnel were killed. On Wednesday, Pakistan reportedly arrested Azhar, his brother and "several individuals" and sealed JeM's offices after India demanded action on the group linking it to the fate of Foreign Secretary-level talks.
Abdul Rauf Asghar 
Commander of JeM, Asghar, the younger brother of Masood Azhar, is based mainly in PoK and also in Afghanistan. He was involved in the hijacking of an Indian Airlines Flight 814 and is among the most-wanted in India. Abdul took command of the JeM on April 21, 2007, when Masood Azhar went underground. Rauf was one of the leaders summoned to Islamabad to help the Pakistani government negotiate with hostage-takers who had seized 42 civilians. On December 2, 2010, the US Treasury designated him as a terrorist.
Explainers
Officials say incidents of foreigners misbehaving, overstaying and illegally working on their tourist visas as hairdressers, tour guides and taxi drivers are on the rise. But some Ukrainians are objecting to being lumped in with Russians
World
Chinese president Xi Jinping is in Russia to meet his 'good old friend' Vladimir Putin. The two are expected to discuss a host of issues, including the war in Ukraine. Xi is likely to play peacemaker and reiterate Beijing's proposal to settle the conflict
Explainers
Democratic lawmaker Aisha Wahab introduced the bill just a month after Seattle voted to outlaw caste discrimination. This issue has come to the fore in California since 2020 when the employment regulator sued Cisco Systems on behalf of a low-caste engineer. But some claim it will further fuel instan