From James Comey to Anthony Scaramucci: In Donald Trump's govt, fantastic hirings end in low-key firings
Donald Trump (knowingly or unknowingly) has a policy of praising his appointments before eventually losing them to firings/resignations.
Well, that ended quickly.
Anthony "The Mooch" Scaramucci's tenure as White House Communications Director lasted all of ten days. The Wall Street investor took the job on 21 July and was fired on 31 July, supposedly in accordance with new chief of staff John Kelly's wishes.
Sadly, Scaramucci's initial anti-Trump stance meant that Trump couldn't exactly talk about him in the same adulatory way he had talked about his other appointments. But this quick hiring and firing is indicative of a very Trumpian trait — be very impressed with someone one moment and get completely disillusioned the very next. And we see this pattern all through his appointment history.
James Comey
Former FBI director James Comey still remains the most controversial exit of the Trump era. Comey was expected to complete his term as before him, there had only been one instance of the FBI director being fired. However, Trump found that the firing was necessary to restore "public trust and confidence" in the FBI.
Interestingly though, only a few months before firing Comey, Trump had publicly praised him.
At an election rally, Trump said, "You know that. It took a lot of guts. I really disagreed with him. I was not his fan. I tell you what, what he did, he brought back his reputation. He brought it back. He's got to hang tough. A lot of people want him to do the wrong thing. What he did was the right thing." In an interview with Leslie Stahl on 60 Minutes, he reiterated his views when he said of Comey, "I respect him a lot. I respect the FBI a lot."
This was of course at a time when Comey's actions were helping Trump as he had raised questions about Hillary Clinton's conduct during her time as the Secretary of State. But apparently the director's "guts" became too much for Trump to handle when the FBI started looking into the Russia's involvement in the hacking of the 2016 US Presidential Election.
Michael Flynn
If there is someone who could compete with Comey on a scale of how controversial their exits were, it would be former National Security Adviser Michael Flynn. The former armyman was fired from his post for his Russia connections but not before Trump defended him, in Comey's presence, as a good guy. Further, in an NBC interview, Trump said, "This man has served for many years, he's a general, he's a — in my opinion — a very good person."
In another interview with CNN, he said, "General Flynn is a wonderful man. I think he has been treated very, very unfairly by the media, as I call it, the fake media in many cases. And I think it is really a sad thing that he was treated so badly."
Trump even found time to recommend Flynn's book on how to defeat radical Islam.
Steve Bannon and Reince Priebus
Then there were the two men who were supposed to lead the Trump White House, Steve Bannon and Reince Priebus. The two were supposed to work as "equal partners" and had a peculiar relationship, to say the least.
Bannon was supposedly Trump's ideological grandfather and one of the most important factors in getting him to the White House. Trump had earlier called him "great" and a "real reporter".
After the uproar over Bannon getting a senior position in the campaign, then campaign manager Kellyanne Conway came out to defend him as she called him a "brilliant tactician". The tactics didn't really work on Jared Kushner as Bannon, who has now largely disappeared from the White House policy debates, as is in a self-imposed exile. He still serves as the White House Chief Strategist but was removed from the National Security Council and his influence in the White House continues to wane.
Priebus received a lot of appreciation from Trump when he called the Chief of Staff "tough and smart". He had also said that he was doing a fantastic job for the Republican Party.
After Scaramucci's extraordinary outburst though, it was fairly clear that Priebus was on his way out. And so it happened when he was removed from his post of White House Chief of Staff in favour of John Kelly.
Sean Spicer
The former White House Press Secretary might have served for only a small time but became a part of pop culture in that time. 'Spicey' was the first casualty from the Scaramucci appointment as he resigned saying "there were too many cooks in the kitchen". Spicer's resignation surprisingly did not result in Trump's estimation of him falling as he said, "I am grateful for Sean's work on behalf of my administration and the American people. I wish him continued success as he moves on to pursue new opportunities. Just look at his great television ratings."
Jeff Sessions?
The Attorney-General has earned a lot of praise from the President in the past. At one time, Sessions was even in the running for the vice-presidency as Trump had called him a "fantastic" person. Even at the time of Sessions' swearing in, Trump had praised Sessions as a man of integrity and principle, and as someone who had devoted his life to the cause of justice.
It all could be for nought though, as the 'beleagured' Sessions has been teetering on the edge for some time now as the President expressed his disappointment in him. Trump has truly turned on Sessions though and if when the firing/resignation happens, Sessions could at least find solace in the fact that he wasn't the first Trump appointee to be fired after being praised, and quite surely won't be the last.
Subscribe to Moneycontrol Pro at ₹499 for the first year. Use code PRO499. Limited period offer. *T&C apply
India
There will certainly be grumbling that it's a very basic joint statement, that there have been so many of the sort in the past and that Pakistan is not to be trusted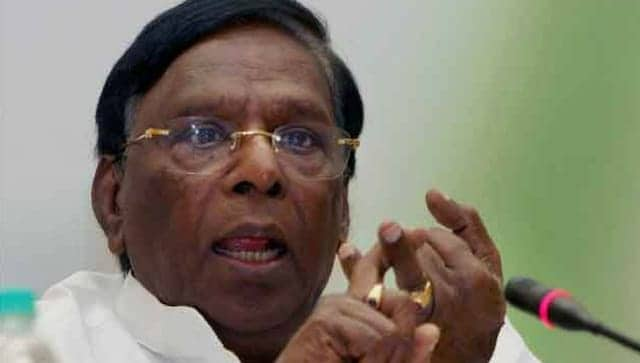 Politics
With the collapse of the Puducherry government, the Congress has lost its second government in a year after Madhya Pradesh
Politics
A floor test on Monday will decide the future of Narayanasamy's government, barely two months before the Assembly polls in the Union Territory are scheduled to be held