Award-winning Bangladeshi photographer Shahidul Alam was sent to jail on Monday, 13 August 2018, 10 days after being arrested following an interview with Al Jazeera about massive student demonstrations, AFP reports.
Alam was accused of making "false" and "provocative" statements on Al Jazeera and on Facebook Live as tens of thousands of students protested in Dhaka in late July and early August. He also published photos of the demonstrations.
He is being investigated for allegedly violating Bangladesh's internet laws, enacted in 2006 and sharpened in 2013, that critics say are used to snuff out dissent and harass journalists.
The AFP report states that Alam, whose work has appeared widely in Western media and who founded the renowned Pathshala South Asian Media Institute, faces a maximum of 14 years in jail.
New York-based Human Rights Watch and London's Amnesty International have demanded his release, as has an international community of photojournalists who have rallied in his defense.
In India, photojournalists spoke out about the need to release Shahidul Alam immediately, and to shine a light on the conditions in which they work, and the challenges they often face. From lack of safety gear and training in how to react in a hostile environment, to fear of reprisals and a crackdown from the police and the government, the photojournalists we interviewed detailed what for them is a nearly inevitable consequence of being on the frontlines of a crisis.
***
'A photojournalist is often a lone ranger'
Sudharak Olwe | Senior photojournalist
Sudharak Olwe is a respected photojournalist who was awarded the Padma Shri in 2016
For any photojournalist, how to cover an incident is always a cause of some anxiety. In any demonstration/event, photographers are always on the frontlines and they're targeted to spread fear or garner attention. In India, several journalists have faced brutality in the course of their work: some have been killed by the sand mafia, or by mine owners.
I have been covering atrocities in Gujarat and Uttar Pradesh, and I am always worried that something will happen to me or my team, or that the police will pick me up without any explanation, or that certain groups with political agendas will cause trouble. For a photojournalist, protecting the self is often his/her own responsibility: there's no support from the police or people, and very little from the photographers' fraternity itself. So a photojournalist is often a lone ranger.
Shahidul Alam significantly changed photojournalism in Bangladesh. His case got attention because of his status, his kindness, his circle. But others are not always that lucky. In India, only a few photographers like Raghu Rai and Pablo Bartholomew have been able to cross barriers to make big. Otherwise, there is a division between reporters and photographers in our country, with the latter considered 'lower'. Photographers are not as well protected as journalists by the system, by organisations, colleagues and the administration. It has been an individual's responsibility to create his/her own support system and network of help.
Photojournalists and journalists need to be protected not only by the system but also by the larger society. They are the critics and preservers of democracy and strive for social justice. It is a general social obligation that whistle-blowers are protected and supported. They need to be respected, and the hard work they put needs to be acknowledged.
It is very important that Shahidul Alam is released immediately. We do not need another Gauri Lankesh. Disagreements can always be solved in a civil, constitutional way.
[WARNING: GRAPHIC IMAGE BELOW. READER DISCRETION ADVISED.]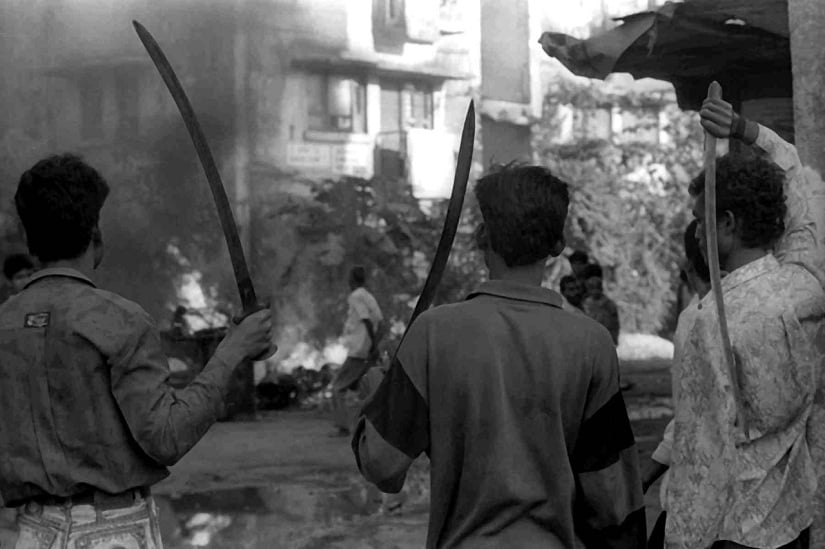 ***
'Most photojournalists in conflict zones work for a pittance, or for free'
Xuhaib Maqbool Humza | Kashmir-based photojournalist
Was injured while covering conflict in Srinagar
On 4 September 2016, a few photographers and I went to Lal Chowk to cover a protest. When we returned, I found out that there was a protest in my locality — Rehnawari, Srinagar — as well. Not major — some 40-50 boys sloganeering on the roads. Barbed/razor wire had been laid out, and the police gave chase to the protestors, arresting a few. The boys began pelting the cops with stones. I advised my fellow photojournalists to leave the spot.
Suddenly, a policeman came into the alley that we were making our way out of. He was about 10-15 metres away. We had our DSLRs with us, so it was pretty evident we were photographers. I didn't have any safety gear on. As he pointed his gun at us, I raised my camera and shouted out "press" — but he pulled the trigger. My body was pierced with pellets and I was partially blinded by the shots. I saw a colleague kneeling… he was bleeding from a head wound. I looked down at my own body and realised blood was pouring out of my chest, legs, knee, groin area. I felt there were fireballs in my body, everything burned. Someone from my locality rushed me to hospital on a motorcycle.
It's been two years now that I've been living with that injury. I took out 63 pellets from my body, with forceps and a pair of scissors, myself. I did that over a month. There are about 300 pellets in my body even now. When it's hot, my temperature is always five degrees higher than the norm. When it's cold, I'm freezing. I can walk; I see out of my one good eye. I can do everything but know I'm handicapped.
However, I haven't stopped shooting. Till the time I'm breathing — even if they take my other eye — I'll hang a camera round my neck and shout "I am a journalist". I can't let my job go — it's my identity, it's who I am.
If you expect that during a skirmish, a cop will embrace you and ask you to go back — that isn't going to happen. The government has to think about it. They have to tell the police where/how/when to shoot and not.
When you are a journalist in a conflict zone, you should be aware of what's happening around you. In Kashmir, you have to be aware of everything. I've heard stories about photojournalists who were put behind bars one day and were back to shooting photos the next. I've seen photojournalists have their legs ripped off by landmines and continue taking pictures even as they fell.
This is a profession that chooses you, rather than the other way round. Many quit when they see what the occupational hazards are. Many who work in conflict zones work for a pittance, or free; they're provided neither security nor financial assistance or safety gear. As for what has happened in Bangladesh — killing innocent people, targeting journalists in conflict zones — it's happening everywhere, isn't it?
***
'You could be molested or groped; such things are common when a mob is involved'
Anushree Fadnavis | Delhi-based photojournalist
Was attacked when covering the JNU protest in March 2018
In Shahidul Alam's case, or when photographers (here) have been held by the police, or what happened with me in JNU in March, these incidents occur probably because the authorities don't want records of what has taken place. We — not just photographers but also videographers — show the story of what's happening with the people.
When we cover protests, we don't stand in the midst of the mob. We know the mob can go into a frenzy. A mob isn't ruled by laws/regulations. But in terms of government officials or the police, even if something happens, they (are governed by) the law; you aren't supposed to hit anyone.
I was covering a protest in Delhi and things went haywire (as they tend to during demonstrations); some of the protestors were grabbed and beaten by the police. I was taking photos — but I wasn't depicting the cops as doing something wrong… I mean I also shot photos of the protestors throwing things at the police. I was documenting both sides, doing my job. Then the cops stopped me, some policewomen dragged me away with my camera trailing, and I was hit or grabbed from behind. I kept saying I work with the press, I'm with the newspaper. But they just wanted to break my camera.
I was not hurt. There was so much going on at the time, I just wanted my camera to be safe. I had all those photos, and my focus was entirely on the camera.
As a female photojournalist, there are places that are safe/unsafe. My chief decides where I should go or not. But once you are there, you have to do your job. I have to be careful. It's easy sometimes for male photojournalists to go in front of crowds and get pictures. I can do it too — but there are chances of being molested and groped. It happens with a lot of women reporters… these things are very common in a mob.
***
'You are threatened in direct and indirect ways'
Amirtharaj Stephen |Photographer with PEP (Photographers for Environment and Peace) Collective
Known for his in-depth photojournalistic coverage of the protests against the Kudankulam nuclear power plant
I work closely with activists who champion social and political issues. Whenever there is a protest, and the police pushes back, the first thing they do is note down the names of the photographers. The proactive photographers become the first targets, with their cameras often being broken (by the cops).
If they know you that you have been documenting issues for a long time, they threaten you in direct and indirect ways.
In 2011, I was unknown. Then, over 2012-14, as my photos on the Kudankulam issue were published, things changed.
I received threats that were conveyed via other journalists. Once, a very well-known photojournalist told me that the Superintendent of Police is angry with me; the journalist requested that I not go to the frontlines of the protest that day. I was upset at being unable to cover what was happening. This happened at the very beginning of my career, and I only realised after three days that (the message from the journalist) was just a psychological threat.
(After that), there have been times when policemen in plain-clothes have arrived at my parents' house to make inquiries about me. They're very polite, but once, when departing, they told my parents, "Oh we've found he has connections with Maoists and Naxals".
That upset my parents. Once, these men went to all our neighbours and the village panchayat heads, telling them an arrest warrant had been issued in my name; there was no warrant; they conducted these inquiries at 9.30 in the night. When my father — a retired Central Government employee — went for his walk the next morning, everyone he met asked him the same question: "What's happened to your son, and why has an arrest warrant been issued?" My parents were under tremendous pressure as a result of these tactics…
Ordinary people too do not trust photographers — perhaps due to our rising numbers, and also because many-a-time, photographers just start shooting with their cameras without getting to know the context or perspective, and locals don't like that.
Just like doctors, engineers, etc… photographers also have a pivotal role to play in society. They need to be allowed to do their job. Censoring and blocking them won't help. I think there should be a law that protects photojournalists.
***
'Photojournalists don't have insurance; safety is a concern'
Anonymous | Photojournalist with an international wire agency
Photojournalists are usually on the spot when something is happening, right in the middle of a crisis — it makes us easy targets for the authorities, protestors, anybody really. So the top concern for those in the profession is safety. In South Asia, photographers are not given adequate safety gear; editors take our concerns lightly and say, 'Nothing will happen'. In the process, we get hurt and also lose our gear/equipment. Photojournalists don't have insurance.
Newspapers do not train photographers in how to handle hostile environments. In wire agencies, this training is imparted, and there is safety gear provided when covering conflicts that can turn dangerous.
I have known Shahidul Alam for over a decade now. He has been a vocal critic of the curtailment of freedom of expression, especially in Bangladesh. Shahidul's isn't the only such case; other photographers too have been detained in the past. Since Shahidul is a big name, his case has received the attention of people all over the world. That's (the only reason) it has come to light.
***
'A free press is the foundation of any democracy'
Chirag Wakaskar | Photojournalist | Curator of @everydaymumbai on Instagram
Journalists are regularly targeted across the world and even physical attacks are not uncommon. Time magazine photographer Christopher Morris was assaulted by secret service agents a couple of years ago during a Trump rally at Radford, Virginia. Thankfully due to Shahidul Alam, who is a renowned photographer, this bigger issue has come to light.
Several Indian photojournalists have been also targeted recently such as Pravin Indrekar in Gujarat, Tanmoy Bhaduri in Kolkata, Anushree Fadnavis in Delhi. Hopefully, such incidents will be taken seriously. A free press is the foundation of any democracy, particularly in India — which prides itself on being the largest democracy in the world.
Firstpost is now on WhatsApp. For the latest analysis, commentary and news updates, sign up for our WhatsApp services. Just go to Firstpost.com/Whatsapp and hit the Subscribe button.
Updated Date: Aug 18, 2018 17:30:03 IST