From 1908 to 2013: Stories of unlikely desi activists in US
If Independence Day makes us rue we don't have real heroes anymore think again. A walk in Berkeley uncovers some unexpected desi heroes showing that South Asians have never stopped speaking out.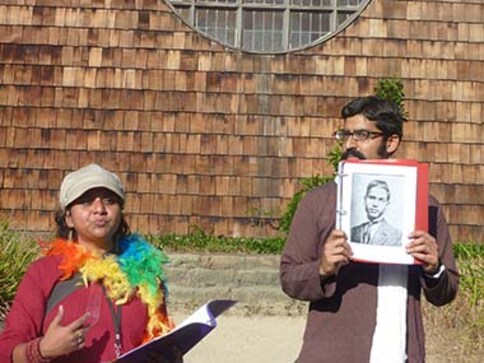 Every Independence Day it feels like we are one year further away from the age of heroes. Gandhi. Subhas Bose. Khudiram. Bhagat Singh. Mythologised and halo-ed, the Davids who helped oust the British Goliath might inspire generations to come, but they also make us feel puny, lacking the basic toolkit for heroism – salt marches, Vande Mataram at the gallows, a bonfire of British-made clothes.
But sometimes all we really need is a paper bag and a hand-lettered sign. Anirvan Chatterjee remembers coming across a photograph of women in saris with paper bags over their heads in Vijay Prashad's book The Karma of Brown Folk.
Intrigued, Chatterjee tried to find out more about them. He discovered that they were protesters who took to the streets outside the Indian consulate in San Francisco in 1975 during the Emergency in India. They would not have considered themselves as activists. Most were just ordinary students at institutions like the University of California, Berkeley. They got the paper bag idea from Iranian students protesting the Shah.
"There's a lot of uncle and aunty bashing that happens in our community," says Barnali Ghosh. "But these people are our uncles and aunties, people our parents' age. They were out there raising their voices against injustice. They could have made a choice to sit in a foreign country away from it all." The Indian consulate tried to pressure the university into giving out the names of the students. The university refused.
Ghosh and Chatterjee, who live in Berkeley, went rummaging in the university archives. They found 13 boxes of South Asian American history.
Now the couple lead the South Asian Radical History Walking Tour of Berkeley.
It seems an odd choice of words. The woman with the hand-lettered sign saying Long Live Revolution in English and Bengali, waiting patiently for the car pool to carry her to the big protest hardly seems the poster girl of radical activism.
"We don't really have stories of bomb throwing anarchists," admits Chatterjee with a smile. "But we do have stories about the Ghadar-ites who used to hang out with anarchists 100 years ago." Bu the Ghadar party isn't the only thing radical about the stories that dot the 2-mile walk.
Chatterjee says "radical" sounds like a "big and scary" word. But feminists organising against domestic violence within the South Asian community – that can be pretty radical. Now same-sex marriage is all over the news, but, says Chatterjee, "we tell the story of a gay culturally (Bangladeshi) Muslim mixed wedding in Berkeley in 1992 and that was pretty radical at that time." Or the story of community activists taking on one of their own – Berkeley's biggest landlord Lakireddy Bali Reddy when he was arrested for trafficking in poor people from his village in Andhra under the guise of computer engineers to work as underpaid labour in his businesses. Some were sexually exploited as well. "Friends of my parents would say he gives employment to all these poor people from India," remembers Chatterjee. "The Reddys threw their money around, gave to the local temple. People were not ready to call them out."
The walk upends not just conventional notions of what's radical, but also what is considered worthy of the status of history. It pauses in front of the Pacific Center, the Bay Area's oldest LGBT centre to tell the story of Trikone, the world's oldest LGBT South Asian group and one of its first members, Tinku Ishtiaq, the MIT-trained engineer whose wedding to his boyfriend was splashed all over newspapers in Bangladesh, outing him against his will. And then the group meanders down the streets of downtown Berkeley into the university campus to remember Kartar Singh Sarabha who came to California in 1912, studied chemistry at Berkeley and tried to overthrow the British Empire through the Ghadar party. Hours before being taken to the gallows, Sarabha wrote his last poem. Chatterjee reads it out – "Indian I am. 100 percent Indian. Indian is my blood and my caste. This is my only religion and my only tribe."
Putting stories like gays and Ghadar side by side is often eye-opening for those who come on the tour. "I remember someone who does really important food justice work. When she discovered that the Ghadar party was bringing together students and farmers to organize against colonialism, there was just this click, a lightbulb went off over her head," recalls Chatterjee.
Not everyone is comfortable with all the stories. But Ghosh says they "ground difficult stories in lived experiences of individuals" because it's "hard to argue with biography." The stories, different as they are,reveal a living and continuing tradition of often unheralded activism – high school students post 9/11, desi engineers struggling with their sexuality, university students confronting an English missionary giving a lecture in Berkeley in 1908 where he talked about the immorality of Hindu priests. Those students, described in news accounts as "dark-skinned auditors" occupied the front row of the lecture hall and responded so vigorously, the headline in the San Francisco Call next day read "Hindu students flay missionary."
"From 1908 to 2013 we have never remained silent," smiles Chatterjee.
Berkeley has a reputation as a hotbed of activism from the days of the Vietnam war protests and the Free Speech movement. But we don't think about South Asians as part of that. Vijay Prashad writes that South Asian immigrants post-1965 are "double state selected." They were the cream of the crop in India. And they were the kind of people the United States also wanted. "The people who immigrated were skilled at not pissing off any government at all," says Chatterjee.
Despite that don't-rock-the-boat reality, just the fact that these stories exist, serves as a reminder to the community not to stereotype itself too much. They also serve,says Chatterjee as "an inspiration to those who are kind of political but don't see examples of that in the rest of the community."
Ghosh who came to the US as a student remembers itching to join the huge street protests in the days after 9/11 during the wars on Iraq and Afghanistan. But she had just graduated and found a job. She felt nervous about taking that risk on an H1B visa. So she would stay on the sidelines taking photographs.
"I wish I knew about the stories about the protesters from the 1970s," says Ghosh.
We don't have to walk in the footsteps of giants who led the Dandi March. Sometimes it can be enough to walk in the footsteps of uncles and aunties with paper bags over their heads.
World
Students with enormous debt after college in the United States are adopting there own form of Occupy Wall Street in universities across the country
Politics
Rahul Gandhi's speech at the University of California, Berkeley, won the hearts of the student community, leading to the victory of NSUI candidates in DUSU, said Delhi Congress chief Ajay Maken
Politics
Rahul Gandhi has absorbed the art of being wily; he has survived three years of hostile intent and ridicule. From bumbling along and making bloomers, he has started hitting back