French senators demand probe of Macron aides in Benalla affair
By Michel Rose PARIS (Reuters) - French senators urged an investigation into three top aides to President Emmanuel Macron on Wednesday, saying there was reason to believe they had withheld information from an official inquiry into a scandal involving Macron's former bodyguard.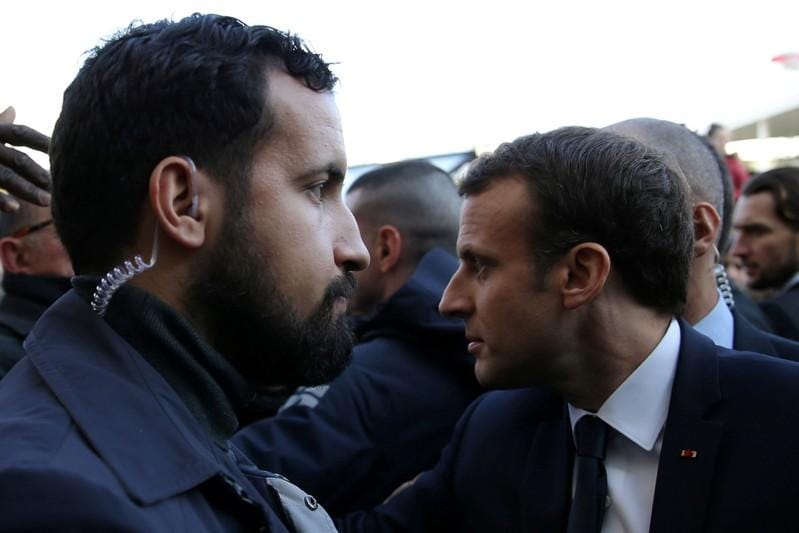 By Michel Rose
PARIS (Reuters) - French senators urged an investigation into three top aides to President Emmanuel Macron on Wednesday, saying there was reason to believe they had withheld information from an official inquiry into a scandal involving Macron's former bodyguard.
Delivering a scathing report after the seven-month inquiry into the so-called Benalla Affair, named for former security aide Alexandre Benalla who was caught on film beating a protester on May 1 last year, the senators said they had uncovered a number of questionable practices.
As well as doubts about the testimony of senior aides, the senate's investigative committee said it had reason to believe Benalla may have lied to them under oath, and it called for prosecutors to investigate both charges.
"What happened on May Day now appears to be the tip of the iceberg," Philippe Bas, a senator from the opposition centre-right Les Republicains party and head of the investigative committee, told reporters.
In response, French government spokesman Benjamin Griveaux said Macron's office would in due course reply to the "many untrue elements" in the Senate's findings.
Later a presidential palace official said that the Elysee would not react to the content of the report out of "respect for the separation of powers".
MACRON ON DEFENSIVE
Over recent months the Senate investigation has revealed how Benalla, who was fired from his job, was able to continue travelling on a diplomatic passport.
The committee's findings bring the mishandling of the Benalla affair closer to Macron, who took office in 2017 promising to raise ethical standards in public life.
Macron's defiant reaction to the scandal prompted a slump in his popularity ratings in the summer, from which he is only now showing signs of recovering as he seeks to quell a popular rebellion over inequality and his policies.
The committee concluded that Alexis Kohler, Macron's most senior aide, and his chief of staff, Patrick Strzoda, had both withheld details in their testimonies, notably about the remit of Benalla's role as security adviser.
The committee said Benalla also appeared to have misled senators over his alleged link to a contract between Russian billionaire Iskander Makhmudov and a French security firm, which was revealed by investigative website Mediapart.
A lawyer for Benalla did not immediately reply to a request for comment.
There was evidence, the senators said, that Macron's security and France's national interests had been put at risk.
"There is no doubt that the indirect relationship between a Russian oligarch and a close aide of the president, who is directly involved in the presidency's security ... would compromise the head of state's security and, further still, the nation's interests," the report read.
The committee recommended that Benalla, who was found to have eight passports, four of them personal and four of them either issued for work or on diplomatic grounds, be prosecuted for perjury during the investigation.
It also recommended that the upper house notify prosecutors of the evasive answers it received from Macron's aides.
Senate president Gerard Larcher has already indicated he will follow through on the recommendations and file the necessary complaints with the prosecutor's office.
Lying to parliament under oath is punishable by up to five years in prison and a 75,000 euro ($85,000) fine in France.
($1 = 0.8821 euros)
(Reporting by Michel Rose, Additional reporting by Jean-Baptiste Vey; Editing by Richard Lough and Gareth Jones)
This story has not been edited by Firstpost staff and is generated by auto-feed.
Find latest and upcoming tech gadgets online on Tech2 Gadgets. Get technology news, gadgets reviews & ratings. Popular gadgets including laptop, tablet and mobile specifications, features, prices, comparison.
World
OTTAWA (Reuters) - Canadian Prime Minister Justin Trudeau on Friday said he will continue to stand up against China's "coercive diplomacy" and its human rights abuses in Hong Kong and Xinjiang after being rebuked by Beijing for similar comments earlier this week. "We will stand up loudly and clearly for human rights all around the world, whether it is talking about the situation faced by the Uighurs, whether it is talking about the very concerning situation in Hong Kong, whether it's calling out China for its coercive diplomacy," Trudeau said in a news conference. (Reporting by Steve Scherer and Julie Gordon, Editing by Franklin Paul)
World
By Caroline Pailliez PARIS (Reuters) - Solene Tissot, a 19-year-old student in Paris, will obey the curfew imposed to fight COVID-19, but she has one request for her country's leaders: don't blame young people for the second wave of the virus. "There's been this kind of assigning guilt to young people," she said on Friday, hours before the new curfew was to come into force in Paris and major French cities. "I reject that." After a lull over the summer, the rates of transmission of coronavirus are going up in many parts of Europe and officials have identified social interactions between young people as a source of the resurgence.
World
By Adrian Portugal and Eloisa Lopez MANILA (Reuters) - Jailed Philippine activist Reina Mae Nasino wanted to hold her three-month-old daughter for the last time before she was laid to rest on Friday but she could not. Heavily armed prison officials guarding her refused to uncuff her despite pleas from her family and human rights supporters, who have decried what they described as inhumane treatment of Nasino and other mothers in Philippine jails.