French parliament adopts bill to ratify Paris climate agreement | Reuters
PARIS French parliamentarians in a near unanimous vote on Tuesday adopted a bill authorising the government to ratify the landmark climate agreement reached by 195 nations in Paris in December. France, which is chairing the COP21 climate talks until the end of the year, is the first European Union member state to move ahead with the ratification of the agreement which aims to curb global warming
PARIS French parliamentarians in a near unanimous vote on Tuesday adopted a bill authorising the government to ratify the landmark climate agreement reached by 195 nations in Paris in December.
France, which is chairing the COP21 climate talks until the end of the year, is the first European Union member state to move ahead with the ratification of the agreement which aims to curb global warming.
Environment Minister Segolene Royal, who presented the bill in parliament on Tuesday, told journalists earlier that she expected other EU member states to at least adopt the bill at ministerial level by end-June.
The bill, which was adopted by all parliamentarians except a member of the far-right National Front party who abstained, is expected to be taken up by the Senate for another vote before it is ratified by the government.
Lead by France in December, some 195 countries reached the agreement, which was then signed by 175 nations in New York in April.
China and the United States, the world's top producers of greenhouse gas emissions, have pledged to formally adopt the agreement by the end of the year, raising the prospect of its being enforced much faster than anticipated.
However, U.S. Republican presidential candidate Donald Trump has said that he will call for a renegotiation of the accord if he is elected, saying the United State is treated unfairly in the accord.
On Monday governments began work in Bonn, Germany, on a rule book to implement the agreement with the United Nations, urging stronger action after a string of record-smashing monthly temperatures.
(Reporting by Bate Felix; Editing by Leslie Adler)
This story has not been edited by Firstpost staff and is generated by auto-feed.
World
Their official meeting or reunion took place on Monday (13 September) in Texas, but the two had earlier met at the border last week. They met each other after communicating on social media.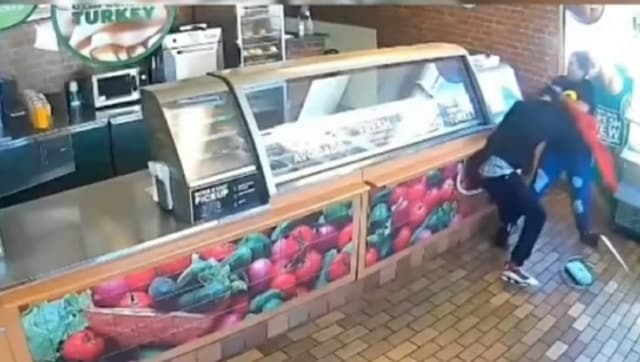 World
The video, captured on 5 September, shows Sotelo fighting off an armed robber, hitting him repeatedly with his own gun.
News & Analysis
In its partnership with Ray-Ban's parent company, EssilorLuxottica, Facebook has called its glasses, a stepping stone toward 'full augmented reality glasses'.