French pair invent plastic-to-fuel recycler fit for African bush
By Matthias Galante PUGET-THENIERS, France (Reuters) - A French actor and a self-taught inventor have designed a low-tech machine that converts plastic waste into diesel and petrol, which they say could help fight pollution and provide fuel for remote communities in developing countries. Proponents of plastics-to-fuel technology say the sector could be worth hundreds of millions of dollars in the next five years, and that by melting plastics into fuel they are providing a solution to the planet's plastic waste crisis. Opponents worry that the process creates harmful fumes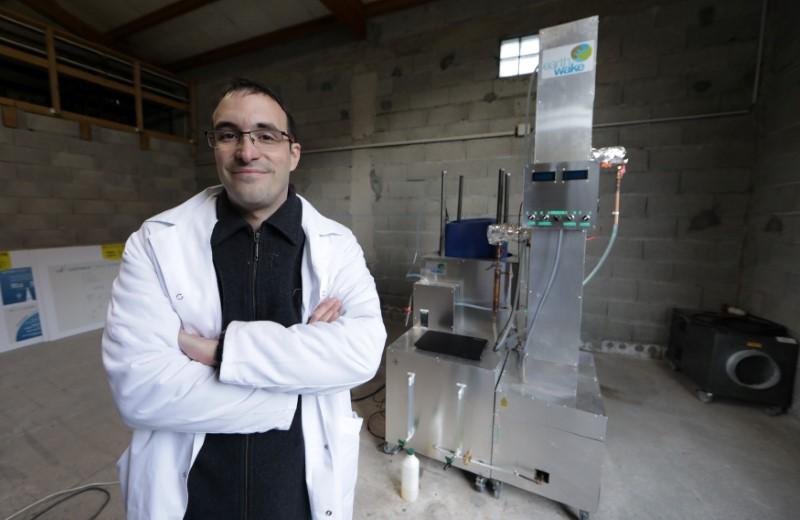 By Matthias Galante
PUGET-THENIERS, France (Reuters) - A French actor and a self-taught inventor have designed a low-tech machine that converts plastic waste into diesel and petrol, which they say could help fight pollution and provide fuel for remote communities in developing countries.
Proponents of plastics-to-fuel technology say the sector could be worth hundreds of millions of dollars in the next five years, and that by melting plastics into fuel they are providing a solution to the planet's plastic waste crisis.
Opponents worry that the process creates harmful fumes.
"The idea is to encourage the collection of waste before it ends up in the oceans with a machine that fits in a shipping container and can create an income," said Samuel Le Bihan, who has starred in French movies such as "Disco" and "Mesrine".
For three-and-a-half years Le Bihan has bankrolled the development of the crude machine -- dubbed Chrysalis -- in a hangar in Puget-Theniers in the hills behind the Riviera city of Nice. Its designer is a 35-year-old self-taught scientist.
Plastic pellets are fed into a closed reactor where they are broken down at 450 degrees centigrade to produce diesel, gasoline and a carbon residue that can be used in crayons.
"A kilo of plastic gives a litre of liquid. It's separated between diesel and petrol," said creator Cristofer Costes.
With 50,000 euro additional financing from the local authority, the two men plan to create a larger prototype capable of converting 50 kilograms of plastic into fuel every 80 minutes.
Simple in design, it will be reparable even in the depths of the African bush, said Costes.
Every year about 260 million tonnes of plastic is produced. U.N. data shows eight million tonnes of plastic - bottles, packaging and other waste - enters the ocean each year, killing marine life and entering the human food chain.
Conservationists have warned that plastic pollution in the oceans could outweigh fish by 2050.
Similar technologies to the Chrysalis have already been developed by companies looking to help solve one of the greatest environmental problems facing humanity.
British firm Recycling Technologies says their machine - the RT7000 - can transform hard-to-recycle waste plastic into a novel raw material, called Plaxx, which can then be re-used by the plastics industry.
"If people see that plastic waste has a value they won't chuck it away," said Le Bihan. "I can't imagine how many tonnes of plastic waste there is lying around that we could treat."
(Editing by Richard Lough and Alexandra Hudson)
This story has not been edited by Firstpost staff and is generated by auto-feed.
Find latest and upcoming tech gadgets online on Tech2 Gadgets. Get technology news, gadgets reviews & ratings. Popular gadgets including laptop, tablet and mobile specifications, features, prices, comparison.
Business
By Jessica Resnick-Ault NEW YORK (Reuters) - Oil prices strengthened on Wednesday, as OPEC and its allies were seen complying with a pact to cut oil supply in September, even as concerns loomed that recovery in fuel demand will be stalled by soaring global coronavirus cases. Early in the day crude was boosted by a bullish stock market. Even as equities whipsawed on pandemic worries, oil stayed higher, buoyed by expectations that OPEC could staunch a supply glut
Business
By Tina Bellon and C Nivedita (Reuters) - Tesla Inc will further cut the price of its Model S "Long Range" sedan in the United States to $69,420, the electric carmaker's chief executive, Elon Musk, announced in a tweet https://bit.ly/2H0JCP0 on Wednesday. The anticipated drop marks the second time this week Tesla has cut the price for the high-end sedan, following a 4% cut of the Model S's price in the United States on Tuesday to $71,990.
World
By Jeff Mason DES MOINES, Iowa (Reuters) - Under siege over his handling of the novel coronavirus pandemic, President Donald Trump on Wednesday cited what he said was his son's mild bout of the virus as a reason why American schools should reopen as soon as possible. Trump made the comment about his son, Barron, as the president swept into Iowa on a mission to shore up support in battleground states that he won in 2016 but is in danger of losing to Democrat Joe Biden barely three weeks before the election. First lady Melania Trump announced in a statement earlier in the day that the virus that struck both her and her husband had also infected their 14-year-old son