French minister warns of 'toxic' Nigel Farage poll win, urges speedy Brexit
PARIS (Reuters) - Victory for veteran British anti-EU campaigner Nigel Farage in this week's European Parliament election will create a big headache for the European Union and the UK should exit the bloc as soon as possible, France's finance minister said on Tuesday. Opinion polls put Farage's newly created Brexit Party well ahead of its rivals, including Prime Minister Theresa May's governing Conservatives and the main opposition Labour Party, in the countdown to the vote, which in Britain is held on May 23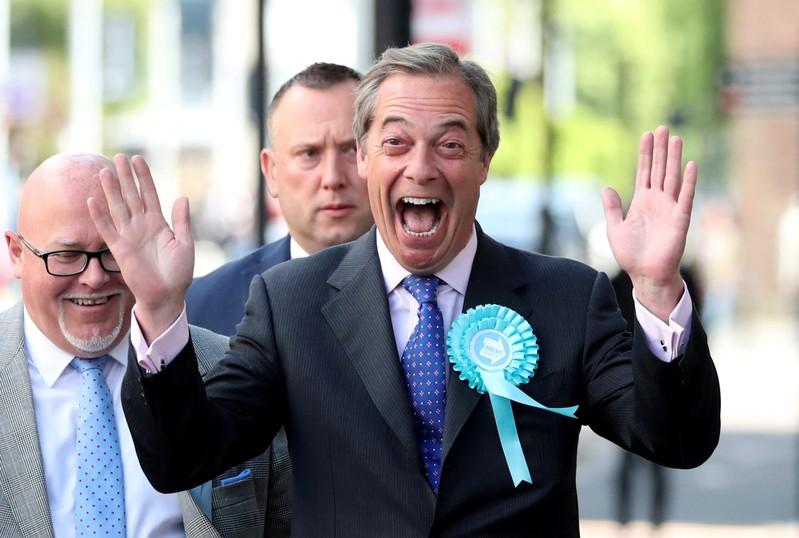 PARIS (Reuters) - Victory for veteran British anti-EU campaigner Nigel Farage in this week's European Parliament election will create a big headache for the European Union and the UK should exit the bloc as soon as possible, France's finance minister said on Tuesday.
Opinion polls put Farage's newly created Brexit Party well ahead of its rivals, including Prime Minister Theresa May's governing Conservatives and the main opposition Labour Party, in the countdown to the vote, which in Britain is held on May 23.
"When you have Nigel Farage at more than 35 percent of the vote that won't be easy for the European Union to manage," Bruno Le Maire said. "How long do we continue like that?"
France has previously warned that it would not tolerate repeated extensions of the Brexit deadline and has said it hopes the European Parliament vote in Britain will jolt its political parties into reaching a deal on leaving the EU.
"I consider that the British people decided to leave the European Union and the faster Britain leaves the better," Le Maire told reporters.
Almost three years after Britain voted to leave the EU, the Brexit process is so bogged down that its scheduled departure date has been pushed back to Oct. 31, meaning it is obliged to take part in the European Parliament elections this week.
"The longer this process lasts ... is neither good for Britain nor the European Union. When you push back endlessly it's toxic and that's what's going to happen," he said, echoing comments by French President Emmanuel Macron.
Last month, France pushed for a short extension of the Brexit negotiations, arguing that pressure should be kept on London, but Germany favoured a longer period. In the end EU leaders agreed a six-month delay till Oct. 31.
"When a separation lasts too long it stops each member of the couple from calmly rebuilding their life. It's exactly the same for nations," Le Maire said.
(Reporting by John Irish; editing by Gareth Jones)
This story has not been edited by Firstpost staff and is generated by auto-feed.
World
ATHENS (Reuters) - Greek police used teargas and water cannon to disperse people who had gathered in central Athens on Saturday to protest against mandatory COVID-19 vaccinations. More than 4,000 people rallied outside the Greek parliament for a third time this month to oppose mandatory inoculations for some workers, such as healthcare and nursing staff.
World
ISTANBUL (Reuters) - Two Turkish soldiers were killed and two were wounded in an attack on their armoured vehicle in northern Syria, and Turkish forces immediately launched retaliatory fire, Turkey's defence ministry said on Saturday. "Our punitive fire against terrorist positions is continuing," the statement on Twitter on said. It did not specify where the attack occurred, but media reports said it was in the al-Bab area.
World
By Marcelo Rochabrun SAO PAULO (Reuters) - Protesters took to the streets in several Brazilian cities on Saturday to demand the impeachment of far-right President Jair Bolsonaro, whose popularity has fallen in recent weeks amid corruption scandals against the backdrop of the pandemic. This week, news broke that Brazil's defense ministry told congressional leadership that next year's elections would not take place without amending the country's electronic voting system to include a paper trail of each vote. Bolsonaro has suggested several times without evidence that the current system is prone to fraud, allegations that Brazil's government has denied