France favours financial sanctions for EU states refusing asylum migrants
PARIS (Reuters) - France favours financial sanctions for European Union countries that refuse migrants with proven asylum status, President Emmanuel Macron said on Saturday, deepening the divide between union members over the migrant crisis. EU leaders will hold an emergency meeting on Sunday in Brussels to discuss disputes over migration with the aim to prepare the ground for a formal EU summit at the end of next week. 'I am for myself in favour of mechanisms that indeed take this into account,' Macron said when asked about his views on possible financial sanctions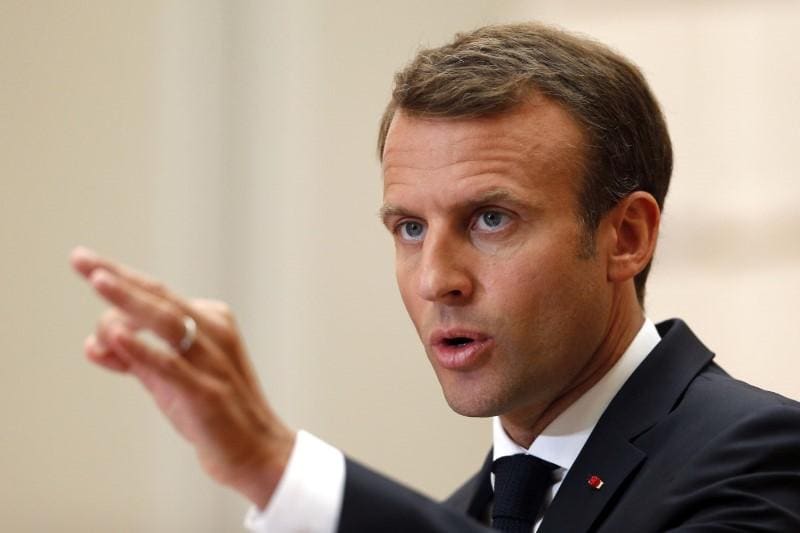 PARIS (Reuters) - France favours financial sanctions for European Union countries that refuse migrants with proven asylum status, President Emmanuel Macron said on Saturday, deepening the divide between union members over the migrant crisis.
EU leaders will hold an emergency meeting on Sunday in Brussels to discuss disputes over migration with the aim to prepare the ground for a formal EU summit at the end of next week.
"I am for myself in favour of mechanisms that indeed take this into account," Macron said when asked about his views on possible financial sanctions.
"You can't have countries that massively benefit from the solidarity of the European Union and that massively voice their national selfishness when it comes to migrant issues," he added, in a clear hint to Hungary, Poland and the Czech Republic, which oppose the EU relocation scheme for asylum seekers.
The fate of the Aquarius rescue ship and its more than 600 migrants sparked a heated debate this month over EU states' responsibilities towards asylum seekers.
Italy and Malta refused to take in the ship which was stranded at sea for days before being offered safe haven in Spain. On Saturday, another migrant rescue ship, the MV Lifeline, was waiting in the Mediterranean having been refused harbour by Italy and Malta.
SHARE OF ASYLUM SEEKERS
The French president suggested that additional conditions should be attached to the granting of the EU's structural funds to guarantee the recipients take their share of asylum migrants.
He made the comments after his first meeting with the new Spanish prime minister, Pedro Sanchez, at the Elysee palace. Both leaders agreed that additional detention centres should be opened in Europe to review asylum seekers' applications.
This would come on top of so-called "disembarkation platforms" outside the EU where asylum requests could be assessed before claimants reach Europe.
"What we're proposing is to have Europe-funded detention centres in the closest and safest country (from the source of the refugee flows)," Macron said.
"And from these European detention centres... teams should take the people who did not win asylum status back to the country they came from," he added.
Madrid, Berlin and other European capitals support this initiative, a diplomatic source told Reuters.
Migrants seeking to reach Europe were picked up in their hundreds in the Mediterranean on Friday and Saturday.
Spanish authorities said they had rescued nearly 600 migrants trying to make the perilous crossing from Africa, while off the coast of Libya coastguards recovered bodies of five migrants and picked up 210 survivors, the coastguard said.
The container ship Alexander Maersk picked up 113 migrants from a boat off southern Italy on Friday, the ship owner said. The ship was waiting south of Sicily awaiting further instructions from the authorities.
(Reporting by Marine Pennetier and Mathieu Rosemain; Editing by Edmund Blair and Ros Russell)
This story has not been edited by Firstpost staff and is generated by auto-feed.
Find latest and upcoming tech gadgets online on Tech2 Gadgets. Get technology news, gadgets reviews & ratings. Popular gadgets including laptop, tablet and mobile specifications, features, prices, comparison.
World
By Paul Carrel BERLIN (Reuters) - European Union sanctions against 40 officials in Belarus are "a small victory" but should be widened, opposition leader Sviatlana Tsikhanouskaya said on Monday, adding she would press Germany's Angela Merkel to do more at a meeting on Tuesday. Tsikhanouskaya fled her homeland for Lithuania amid a police crackdown in Belarus following an Aug. 9 presidential election, which official results said incumbent Alexander Lukashenko won, but which Tsikhanouskaya's supporters say was rigged
World
WASHINGTON (Reuters) - White House Press Secretary Kayleigh McEnany said on Monday she tested positive for COVID-19, while several U.S. media outlets reported that a number of other White House staff members also were confirmed to have been infected with the novel coronavirus
World
WASHINGTON (Reuters) - U.S.