Four dead, dozens injured as protests break about in Palestine, Beirut over Donald Trump's Jerusalem decision
Palestinians staged three 'days of rage' after US president Donald Trump's dramatic announcement recognising Jerusalem as Israel's capital
The Palestinians staged three "days of rage" after US president Donald Trump's dramatic announcement recognising Jerusalem as Israel's capital, with clashes breaking out in flashpoints across the West Bank, east Jerusalem and the Gaza Strip, and Gaza militants firing rockets into Israel. Four people in Gaza were killed. In the West Bank, there were dozens of injuries, but no deaths.
In Jerusalem, a Palestinian stabbed an Israeli security guard, seriously wounding him in the first attack in the volatile city since Trump's pronouncement on Wednesday. There were indications that Sunday's stabbing at the Jerusalem bus station was motivated by Trump's move, although police did not officially confirm it.
They said the attacker was a 24-year-old Palestinian from the West Bank city of Nablus. Israeli media identified him as Yassin Abu al-Qarah, who posted on his Facebook page in recent days about Jerusalem, saying "our blood is devoted" to the holy city. Comments on his profile called him a hero for the alleged attack.
Police spokesman Micky Rosenfeld said the guard sustained a serious wound to his upper body and the attacker was apprehended.
Protests in Bethlehem, Beirut
Palestinian youths also clashed in the West Bank city of Bethlehem, hurling stones at Israeli soldiers, who fired back with rubber bullets and tear gas.
In Beirut, Lebanese security forces broke up the protest outside the US Embassy after demonstrators pelted them with stones. After a rowdy start, the protest drew several hundred people and became more peaceful, with demonstrators chanting and singing.
Clashes resumed in the afternoon, with security forces chasing and arresting a handful of protesters and lobbing tear gas. Lebanon is home to 450,000 Palestinian refugees, nearly 10 percent of the population.
Demonstrators flood Jakarta's streets
About 10,000 people also rallied on Sunday outside the US Embassy in the Indonesian capital of Jakarta to denounce Trump's decision.
Similar protests, mostly organized by the Islamist Prosperous Justice Party, or PKS, also were held in many other cities in Indonesia, the world's most populous Muslim country.
The protests were the third and biggest in Indonesia since Trump's decision on Thursday.
In the capital, protesters carried banners reading "US Embassy, Get Out from Al Quds," ''Free Jerusalem and Palestinians" and "We are with the Palestinians." Al-Quds is the Arabic name for Jerusalem.
Wearing traditional Islamic white robes, the protesters also unfurled Indonesian and Palestinian flags.
A written statement from PKS described Trump's decision as "a form of humiliation and provocation against Muslims all over the world."
It said similar and simultaneous protests also were held Sunday in at least 10 provincial capitals and cities across Indonesia.
Earlier in the day, another group, calling itself Indonesia's Volunteers Society, held a similar rally in Jakarta, hundreds of meters (yards) from the embassy.
Indonesian president Joko "Jokowi" Widodo has strongly condemned Trump's move, which he described as a violation of UN resolutions.
Indonesia has long been a strong supporter of Palestinians and has no diplomatic ties with Israel.
With inputs from AP
Find latest and upcoming tech gadgets online on Tech2 Gadgets. Get technology news, gadgets reviews & ratings. Popular gadgets including laptop, tablet and mobile specifications, features, prices, comparison.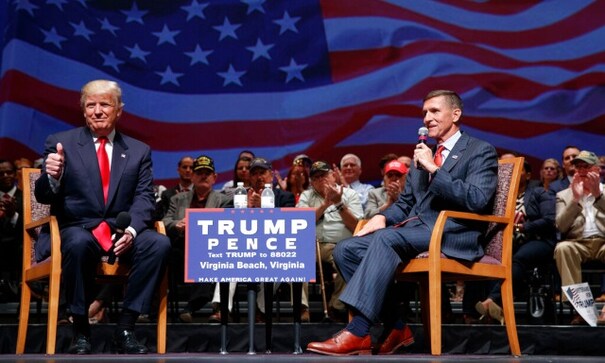 World
The pardon is part of a broader effort by Trump to undo the results of a Russia investigation that shadowed his administration and yielded criminal charges against a half-dozen associates
World
Despite Trump's unprecedented attack on the validity of the US election system, his legal team has yet to provide any evidence that stands up in court
World
'By 15 January, 2021, our forces, their size in Afghanistan will be 2,500 troops. Our force size in Iraq will also be 2,500 by that same date,' said the US Acting Defence Secretary