Former or not? Polish judge enters Supreme Court at heart of dispute
By Gabriela Baczynska and Pawel Sobczak WARSAW (Reuters) - Malgorzata Gersdorf, who the Polish government says is now retired but who insists her term as the Supreme Court head runs until 2020, walked into the court on Wednesday saying the situation was 'very tense and dramatic'.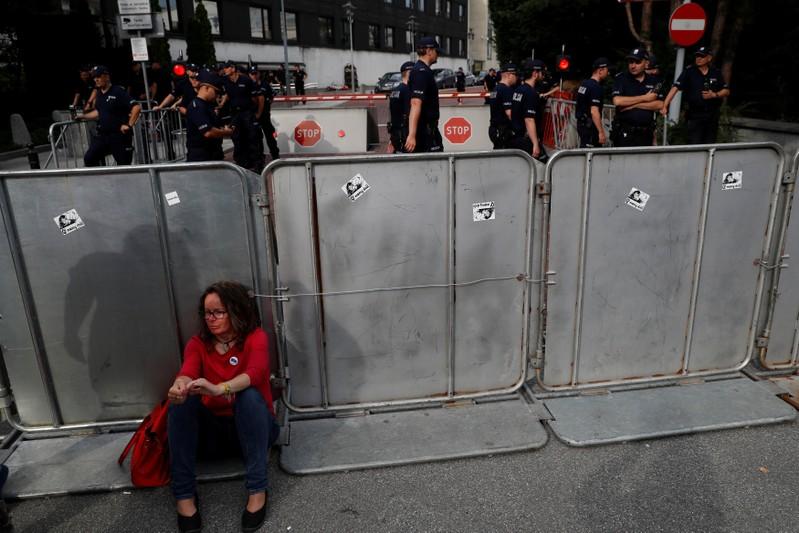 By Gabriela Baczynska and Pawel Sobczak
WARSAW (Reuters) - Malgorzata Gersdorf, who the Polish government says is now retired but who insists her term as the Supreme Court head runs until 2020, walked into the court on Wednesday saying the situation was "very tense and dramatic".
Gersdorf is now at the heart of a rule of law dispute in Poland, the largest ex-communist member of the European Union. On Wednesday, about a hundred protesters gathered outside the Polish parliament, some waving banners reading "Free courts".
Gersdorf defied new government laws that the ruling nationalists say mean she no longer has power to make decisions at the court, which validates elections.
Opposition parties, most constitutional experts and the EU's executive European Commission say Warsaw's efforts to push her out amount to unacceptable political meddling that undermines the independence of the judiciary.
Since winning elections in late 2015, the ruling Law and Justice (PiS) party has tightened rules around media, courts and non-government groups and stands accused of undercutting key institutions of a democratic state.
Gersdorf told journalists on entering the building that she was coming to work to keep an eye on the Polish parliament, which will debate on Thursday the latest, fifth government amendment to the Supreme Court laws.
It is aimed at appointing the new head of the Supreme Court swiftly. Currently, Poland's constitution - the highest law in the country - says verbatim that the term of the Supreme Court head lasts six years. Gersdorf, who was appointed in 2014, said she had a negative view of the new legal amendments.
"I am not fighting for my own interest, my position or to be left in peace," said the judge. "I am fighting for the country, for the rule of law, for preserving the constitution."
Through a raft of hastily-approved new laws, PiS has dismissed many judges in the country's Constitutional Tribunal, the National Judiciary Council, as well as heads of regular courts. New ones have been appointed by the president, a PiS ally, under revamped procedures that give the parliamentary majority more say.
Despite street protests and EU pressure, the overhaul has also given the justice minister more powers to name and dismiss judges. Critics decry the changes as rolling back democratic standards 30 years after Poland overthrew communism.
CHAOS
The EU has launched several legal cases, as well as an unprecedented rule of law probe against Warsaw, which risks losing billions of euros in funding from the bloc.
A survey by pollster Kantar Public presented by the Polityka weekly on Wednesday showed some 43 percent of Poles saw the opposition parties' pursuit of EU engagement in the situation as a justified attempt to defend the rule of law. Some 31 percent saw that as treason.
Forty-three percent believed that the EU should curb cash transfers to countries flouting the rule of law versus 40 percent who thought the opposite.
The Polish government has offered only cosmetic concessions and says the judicial overhaul is needed to improve the efficiency of the courts and to rid the country of a lingering communist residue.
"According to the law, Madame Gersdorf is a retired Supreme Court judge. According to law, all decisions she could make are invalid," a senior PiS lawmaker, Marek Ast, told Reuters.
The stand-off around the courts splits Poland's 38 million people and damages the country's reputation abroad. Constitution expert Marek Chmaj said it risks undermining legal order, as the chaos creates grounds for challenges to court rulings.
"This will be a big problem. Someone can challenge regular cases of people considered by the courts, including the Supreme Court. They can be rerun in the future," he said.
(Additional reporting by Anna Wlodarczak and Karol Witenberg, Writing by Gabriela Baczynska, Editing by William Maclean)
This story has not been edited by Firstpost staff and is generated by auto-feed.
Find latest and upcoming tech gadgets online on Tech2 Gadgets. Get technology news, gadgets reviews & ratings. Popular gadgets including laptop, tablet and mobile specifications, features, prices, comparison.
World
MOSCOW (Reuters) - Russian President Vladimir Putin said on Wednesday he had noted what he called "sharp anti-Russian rhetoric" from U.S. Democratic presidential candidate Joe Biden, but that he had been encouraged by Biden's comments on arms control. Putin, in comments on state television ahead of the U.S.
World
By John Irish and Robin Emmott PARIS/BRUSSELS (Reuters) - France and Germany said on Wednesday they would propose European Union sanctions against Russian individuals after receiving no credible answers from Moscow over the poisoning of Kremlin critic Alexei Navalny with a nerve agent. Several Western governments have said Russia, which has denied accusations by Navalny that it was involved in the poisoning, must help in investigations or face consequences. The decision and speed with which Europe's two main powers agreed to push ahead with sanctions suggests a hardening of the bloc's diplomacy towards Moscow.
World
By Steve Holland WASHINGTON (Reuters) - U.S. President Donald Trump, under coronavirus quarantine in the White House and restricted from traveling, is seeking ways to put a spark back in his struggling re-election bid and get behind his desk in the Oval Office with four weeks left until Election Day.