Former Obama officials Morell, Haines likely candidates for Biden spy jobs: sources
(This Nov 8 story corrects para 5 to remove reference to Avril Haines serving in CIA while it was using harsh interrogation techniques; adds para 6 explaining that she joined later and helped in CIA) By Mark Hosenball and Jonathan Landay WASHINGTON (Reuters) - Two former senior U.S. intelligence officials - Michael Morell and Avril Haines - have emerged as leading contenders to serve as Director of National Intelligence or run the CIA in President-elect Joe Biden's administration, several current and former intelligence officials said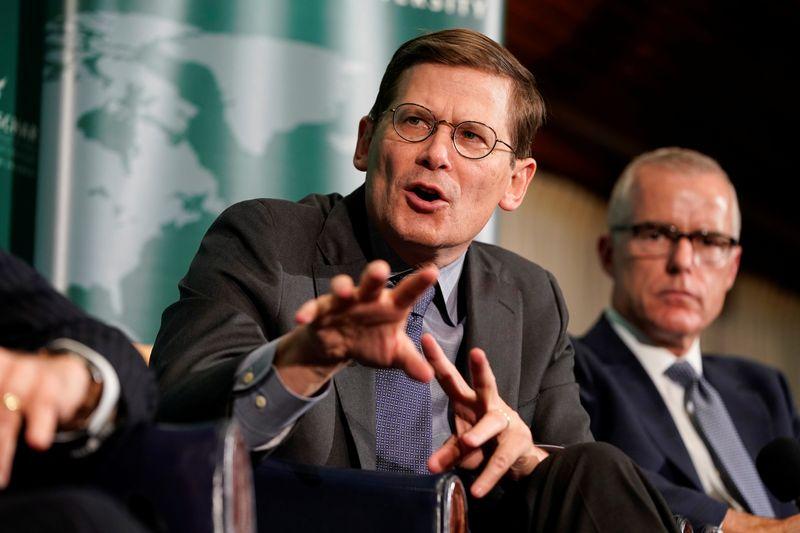 (This Nov 8 story corrects para 5 to remove reference to Avril Haines serving in CIA while it was using harsh interrogation techniques; adds para 6 explaining that she joined later and helped in CIA)
By Mark Hosenball and Jonathan Landay
WASHINGTON (Reuters) - Two former senior U.S. intelligence officials - Michael Morell and Avril Haines - have emerged as leading contenders to serve as Director of National Intelligence or run the CIA in President-elect Joe Biden's administration, several current and former intelligence officials said.
Morell served as the Central Intelligence Agency's deputy director in the Obama Administration between 2010 and 2013, and during that time also served two stints as acting agency director.
Haines, served as CIA deputy director and as President Barack Obama's deputy national security advisor, said the sources.
Haines declined to comment and Morell could not be reached for comment. A spokesman for Biden's transition team declined to comment.
Some former Democratic aides have raised concerns about Morell because he served at the CIA when the agency used so-called "enhanced interrogation techniques" on suspected Islamist militants, practices that a Senate Intelligence Committee investigation has labeled as torture.
Haines did not join the agency until after President Barack Obama banned the interrogation techniques in 2009. She was involved in preparing the CIA's response to the Senate investigation.
Other names being discussed by both Democratic Party and intelligence officials as possible candidates for Director of National Intelligence include Michael Leiter, a former DNI official and former director of the National Counterterrorism Center, a branch of the DNI's office, and Mike Rogers, a former Republican Congressman who chaired the House Intelligence Committee, the sources said.
(Reporting by Mark Hosenball and Jonathan Landay; Editing by Scott Malone, Sandra Maler and Kevin Liffey)
This story has not been edited by Firstpost staff and is generated by auto-feed.
Find latest and upcoming tech gadgets online on Tech2 Gadgets. Get technology news, gadgets reviews & ratings. Popular gadgets including laptop, tablet and mobile specifications, features, prices, comparison.
World
By Shaina Ahluwalia and Geert De Clercq PARIS (Reuters) - France reported 35,879 new coronavirus cases on Wednesday, taking the total to 1.86 million, overtaking Russia and making France the worst affected country in the European region. With a total of 1,865,538 confirmed cases, France is the fourth-worst affected country in the world for novel coronavirus infections, according to a Reuters tally.
World
By Jessie Pang and Sharon Tam HONG KONG (Reuters) - Hong Kong's pro-democracy opposition lawmakers said on Wednesday they would resign in protest against the dismissal of four of their colleagues from the city assembly after Beijing gave local authorities new powers to further curb dissent. The Chinese parliament earlier adopted a resolution allowing the city's executive to expel lawmakers deemed to be advocating Hong Kong independence, colluding with foreign forces or threatening national security, without having to go through the courts
World
SANTIAGO (Reuters) - Chilean authorities have accused a Colombian man of murdering at least seven people, including several who were homeless on the streets of the capital Santiago. Police arrested Diego Ruiz Restrepo, 30, on Monday after using surveillance camera images to identify him, the regional prosecutor's office said on Twitter.