Former Nepal prime minister Prachanda's only son dies of heart failure
Nepal's former prime minister and Maoist chief Prachanda's only son Prakash Dahal died on Sunday due to sudden cardiac arrest
Kathmandu: Nepal's former prime minister and Maoist chief Prachanda's only son Prakash Dahal died on Sunday  due to sudden cardiac arrest. He was 36. Prakash was rushed to the Thapathali-based Norvic
Hospital early Sunday morning, where he was pronounced dead.
Addressing a press conference, Dr JP Jaiswal of Norvic Hospital said Prakash was dead around three hours before he was admitted to the hospital at 5:50 am on Sunday  morning. "His eyes were unresponsive and there was no pulse when he was brought to the hospital," said Jaiswal.
"In 90 percent of such cases, patient suffers a severe cardiac arrest," he added.
Prakash was secretary to his father Prachanda and also central member of CPN (Maoist-Centre). Prachanda arrived at the hospital in Kathmandu from Jhapa, where he was attending election campaign for the upcoming elections.
President Vidya Devi Bhandari reached Prachanda's house in Baluwatar to express condolences on the demise of his son.
Prime Minister Sher Bahadur Deuba, CPN-UML chairman KP Oli and other senior leaders have also expressed condolences.
The news of Prakash's death comes two weeks before the first phase of provincial and parliamentary elections. Prakash's wife Bina Dahal is contesting election for the Parliament from Kanchanpur district.
Prachanda had one son and three daughters. One of his daughters died four years ago. She was suffering from breast cancer.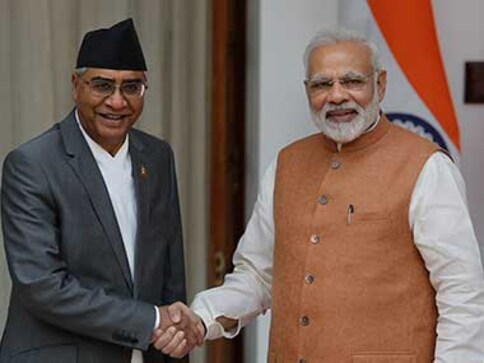 India
Prime Minister Narendra Modi on Thursday received Nepal Prime Minister Sher Bahadur Deuba ahead of delegation-level talks in New Delhi.
India
Sending Sushma Swaraj to receive Sher Bahadur Deuba reflects the importance of his visit, especially when India-China ties are strained over Doka La.
World
Nepal plunged into a political turmoil after Prime Minister KP Oli resigned just before a no-confidence vote.