Forget border deal: CCTV's India map reveals China's growing appetite for land
We can't stop China (or Pakistan) from publishing their own maps of India with Kashmir and Arunachal lopped off, but we should understand what they mean: China has now changed its stance on what it wants from a border settlement
True to form, even as President Xi Jinping laid out the red carpet for Prime Minister Narendra Modi yesterday (14 May), China's state-controlled TV showed an India map with Jammu & Kashmir and Arunachal Pradesh lopped off. This was only to be expected as China believes in unsettling guests from whom it wants major territorial concessions.
The Chinese leadership has a way of showing two sets of teeth; the smiling one for official occasions, and the snarling one that resides barely below the surface. When Nehru visited China in 1954, he failed to see the second one. He was overwhelmed by flag-waving crowds all along the route from airport to city, but the Chinese were all the time preparing to annex Tibet fully, and the military campaign in 1962. During Vajpayee's visit to China as foreign minister of the Janata Party government in 1979, China invaded Vietnam, a friendly country. Smiles and bared fangs went together.
Deceit and duplicity are the hallmarks of Chinese diplomacy and the art of war without actual fighting, as Firstpost explained in this earlier post. Map-making is a key tool in this area. When it suits them, the Chinese will say they will re-examine their maps for accuracy; when it doesn't, they will publish the maps as they want them to look.
As Arun Shourie explains in this interview to The Indian Express, this attitude foxed Jawaharlal Nehru, who proved very gullible when the Chinese played their games with maps in the 1950s. Apparently, when Nehru brought up the issue of Chinese maps showing parts of India as Chinese territory, Premier Zhou Enlai dismissed them as old maps put out by the Kuomintang. Years later, when these maps still remained unchanged, and Nehru enquired again, Zhou told him they were the correct maps. Zhou was ready for battle.
So when China publishes Jammu & Kashmir and parts of Arunachal Pradesh as regions outside India, we should take the message seriously. These maps tell us how Chinese geopolitical ambitions have changed and how they want the sub-continent's final maps to look. This is their strategic goal, and they will seek to achieve it through sweet-talk, intimidation, and the use of Pakistan as proxy warrior against India.
The Chinese are unlikely to engage in direct warfare with nuclear India, as this could jeopardise their global gameplan. Too many nations are now unhappy with Chinese sabre-rattling ad bullying. The Chinese may not want a global gang-up against them by militarily engaging a rising India. So they are periodically showing their teeth to keep us in a state of uncertainty. They want to remain friendly enough to prevent us from scaling up militarily too quickly; but they also want to keep us off balance strategically by engaging in verbal belligerence and regular border incursions.
China, like Pakistan, is a greedy nation, and fundamentally wants to change the status quo along our borders. Its ambitions have changed since the time of Nehru, and today, as part of its global power vision, it wants to take more than it is ever willing to give as part of any border settlement. This is why we should be in no hurry to bring up the border issue or seek a settlement.
What has changed about China's ambitions in the 1950s and now is this: China has effectively withdrawn its old offer of allowing us to keep Arunachal Pradesh in return for keeping the parts it annexed in Ladakh – Aksai Chin. (Read this Business Standard story to understand why)
Its earlier strategic thinking was that Aksai Chin and parts of Ladakh were crucial to its control of Tibet. Hence the need to grab that piece of land from India. Having connected Tibet from that route, its ambitions have grown, especially after its economic rise after the 1990s. It now wants to protect not only its roads and links to Tibet, but also build a corridor to the Indian Ocean through the Baloch port of Gwadar. This needs it to control a part of Pakistan-occupied Kashmir (PoK) – which only a partnership with Pakistan can guarantee, since PoK is in its control. Access to West Asia runs through PoK.
In short, China's economic rise has expanded its ambitions in Kashmir/Ladakh beyond just access to Tibet. PoK is now crucial to its future economic success and trade with West Asia.
On the east, China has abandoned its old assessment that India can keep Arunachal Pradesh. It now believes it made a mistake in 1962 by withdrawing from Tawang in Arunachal Pradesh. Tawang is psychologically crucial to its hold on Tibet as it was the birthplace of the 6th Dalai Lama and hosts an important 17th century Tibetan Buddhist monastery. The current Dalai Lama (the 14th) spent some time in Tawang when he fled Tibet in 1959 after the Chinese takeover. China also believes any Tibetan unrest may have its origins in Tawang.
China considers Tawang and large parts of Arunachal Pradesh as southern Tibet, and till 2003, even the Dalai Lama seemed to agree. However, the Dalai Lama changed his position in 2008 and said it was a part of India. Reason: he realised that if China were to ever reclaim Tawang, it would mean the end of Tibetan hopes of even limited autonomy within China. China wants to appoint the next Dalai Lama after the current one passes, and as long as some part of Buddhist Tibet stays outside China, there is always the possibility that another Dalai Lama could merge from there, threatening Chinese hold on the region.
China's India policy thus has three goals – one is to use sidekick Pakistan to bog India down in the sub-continent; the second is to use PoK as its route to Gwadar and West Asia; and the third is to reclaim Tawang so that it can control the future of Tibet and its malcontents.
Shaky control over Tibet is why China plays a Jekyll-and-Hyde game with India. It wants to play Jekyll to see if India will barter Tawang for some pieces of silver or minor pieces of non-strategic territory. It plays Hyde whenever India seeks to strengthen itself. It also unleashes its lapdog Pakistan on us.
Let's be clear: China will not settle the border issue with India without Tawang and parts of PoK, some of which have already been ceded by Pakistan to China as part of its own border settlement.
This is precisely why we must alter strategy on China and the border.
First, we have to realise that the Dalai Lama and Tawang are our only elements of leverage. Both morally and strategically, these are the top cards we must hold at any cost. On his return, Modi must host the Dalai Lama, and start issuing stapled visas for Tibetans from China seeking to visit India. But China won't allow too many Tibetans to travel to India, unless they are pet political poodles it can trust. We should expect no Chinese concessions on Arunachal Pradesh and Aksai Chin.

Second, we should forget about solving the border issue anytime soon. Instead, we should keep strengthening our military and economic presence in Arunachal Pradesh consistently to deter China. China's economic might will peak over the next 10-15 years; ours will start rising after 2020, when our demographic advantage continues, while China's dwindles. We have to prepare to hold our ground indefinitely. A 50- to 100-year strategic vision on China is what we need, not a quick border solution. That won't happen in our lifetimes, unless we cave in inexplicably. If we seek any quick-fix on the border, it will come only at our cost.
Third, we should seek solutions to the lopsided trade balance. China must be asked to buy more goods and services from India to rectify the balance, or spend its surpluses in erecting good quality infrastructure here with long-term payback periods.
Fourth, India should enforce strict cyber security and physical checks on Chinese telecom and electronic products. The fact is we simply import too much hardware from our neighbour. This increases the probability that the Chinese will intentionally embed malware that will compromise our security at some future date. We keep hearing of Chinese hackers breaking into this government system or that every now and then; the fact is this is made easier by our over-dependence on Chinese hardware for everything from laptops to mobile phones to dongles. We should erect non-tariff barriers to Chinese electronic hardware and link it to more Chinese imports from us.
The Chinese are playing both hardball and softball with us because they are scared of our leverage on the Tibetan question. Our strategy should be to ensure that we never lose this leverage ever.
Wrong maps will not change the situation on the ground. Our priority should be to strengthen ourselves on the ground. Just as Pakistan publishes its own maps of India, so does China. We should keep protesting, and raise a ruckus every time - just as they do whenever we shake hands with the Dalai Lama or our PM visits Arunachal Pradesh.
Sticks and stones may break our bones, but words and wrong maps won't do much damage. We should do unto China what China does to us.
World
Narendra Modi is the first Indian prime minister to see the diaspora as allies, benefactors, and unofficial ambassadors
World
Video footage posted by CCTV showed flames and billowing black smoke from the fuselage of the Tibet Airlines plane on the tarmac at Chongqing Jiangbei international airport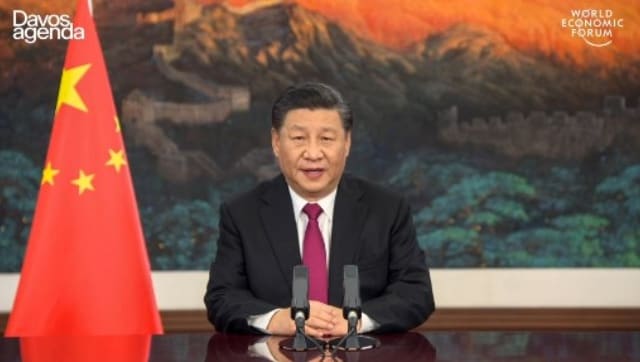 World
Though Xi's policies have started being questioned within China, it does not mean that he will not be given a third term. A collective leadership, however, may take the place of the present imperial rule