Following attack on Parliament, Iran warns Islamic State in Syria; future attacks on Tehran will evoke powerful response
After firing missiles targeting the Islamic State in Syria, Iran issued a warning to Islamic State militants, saying that any future attack will result in more powerful launches.
Tehran: After firing missiles targeting the Islamic State group in eastern Syria, Iran's Revolutionary Guard on Monday issued a stark warning to Islamic State militants, saying that any future attack against Iran will result in more powerful launches.
The Guard said it launched the strikes on Sunday in retaliation for attacks in Tehran earlier this month that were claimed by the Islamic State group. Iran has been involved in Syria's long-running civil war, in which it has backed embattled Syrian president Bashar al-Assad.
Iranian state television quoted General Ramazan Sharif on Monday as saying that "if they (Islamic State) carry out a specific action to violate our security, definitely there will be more launches, with intensified strength."
He spoke as part of a TV package about the missile launches, showing them shoot off into the night from the western province of Kermanshah. The Guard said it fired six missiles in total from Kermanshah and also from Iran's Kurdistan province into Syria's Deir el-Zour province, where Islamic State has been trying to fortify its positions in the face of a US-led coalition onslaught.
But the missiles sent a message to more than just the extremists in Iraq and Syria, Sharif told state television in a telephone interview.
"The Saudis and Americans are especially receivers of this message." Said Sharif. "Obviously and clearly, some reactionary countries of the region, especially Saudi Arabia, had announced that they are trying to bring insecurity into Iran."
Activists in Syria said they had no immediate information on damage or casualties from the strikes.
Deir el-Zour is home to both Islamic State militants and civilians. The extremists increasingly have fled to Deir el-Zour as the Islamic State group's de facto capital of Raqqa has come under punishing US-led airstrikes.
Five Islamic State-linked attackers stormed Iran's parliament and a shrine to revolutionary leader Ayatollah Ruhollah Khomeini on 7 June, killing at least 18 people and wounding more than 50.
That attack marked the first to hit Iran, shocking its residents who believed the chaos engulfing the rest of the Middle East would not find them in the Shiite-majority nation.
Iran has described the attackers as being "long affiliated with the Wahhabi," an ultraconservative form of Sunni Islam practiced in Saudi Arabia. However, it stopped short of directly blaming the kingdom for the attack, though many in the country expressed suspicion Iran's regional rival had a hand in the attack.
The attack also came as emboldened Sunni Arab states — backed by US president Donald Trump — are hardening their stance against Iran. Since Trump took office, his administration has described putting Iran "on notice" over the missile tests and put new economic sanctions on those allegedly involved with the programme.
Sports
Firstpost takes a look at some of the most exciting stories from Tokyo Olympics 2020
Sports
Zaza shot to fame overnight in her war-torn country last year after beating a Lebanese rival in her forties to win the West Asia championships, qualifying her for the Olympics.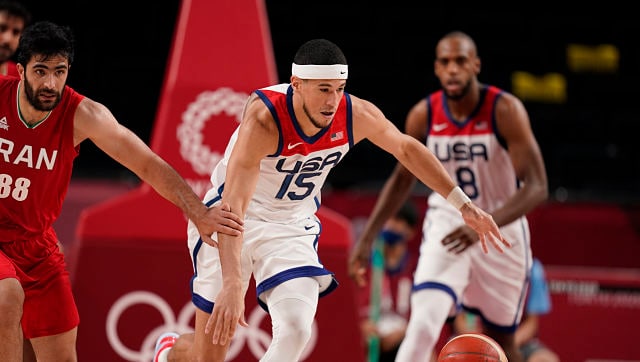 Sports
"The Olympics here are a venue and a time where sport transcends all that petty crap that you get from governments," said Team USA coach Gregg Popovich after his side's diplomatic masterclass off the court against Iran.